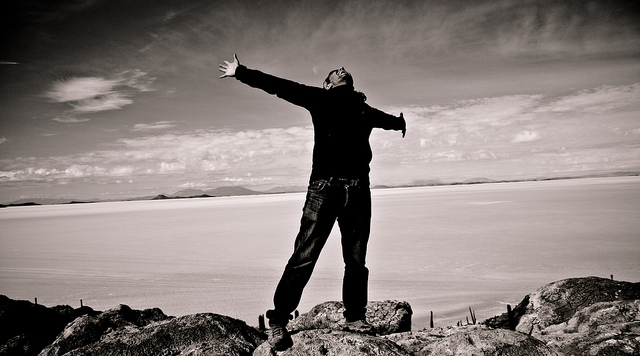 Editor's Note: This week we are running a 3-part series on sexual addiction and healing. We recognize this is an extremely sensitive subject, so even though Haley is not graphic or inappropriate, I would encourage any younger teens to check with their parents before reading this – or skip this series for now. We do hope Haley's words bring hope and encouragement to the many teenagers who are battling with these specific sins.
The previous article discussed 4 truths that those struggling with sexual addiction need to hear. As a follow-up, this article offers a starting place for an addict, including resources for further reading and recovery.
Eighteen months ago, I finally admitted that I had been a sex addict for 5 years.
That was desperately hard to do, but I knew that it wasn't enough to free me. I wanted to change. That was why I told someone in the first place.
The problem was, I didn't know where to start.
I wanted to heal, but I had no clue how to do it. There were no books, no websites, no experts.
Or so I thought.
Actually, there are quite a few resources out there. It turns out that there are books and websites and experts, a lot of them. Eighteen months later, I have resources to share for both guys and girls.
This is not a step-by-step journey to healing. It is simply a starting place for recovery.
The purpose of this article is to give a person struggling with addiction hope that there is a starting place.
There is a way to change — albeit painful, frightening, and at times downright humiliating. Don't dismiss any of these things with the excuse of, "I don't need this; I can figure it out by myself."
That is what the enemy wants you to believe, and it's a lie. As human beings, we are not strong enough to accomplish anything on our own. We need God and the community of believers that he created us to exist in.
Confess to another person.
Confessing and receiving grace is the only way to truly be free. It is easy to pretend that just confessing to God, asking for forgiveness, and promising yourself that you'll change is enough, but it's not.
To receive grace, you have to surrender yourself. That means laying your life bare before the Lord (and before others) and declaring that you can't do this yourself. You are out of control in this struggle, and you cannot get out. As terrifying as it is, nothing will change if you don't take this step.
You must come to the realization that you can't do it alone, and ask for help.
The person you confess to might be a trusted friend, a parent, a mentor, or a youth minister. I recommend finding someone of the same gender, and I also recommend finding someone who is older. Find someone who you trust completely and tell them everything.
Don't sugarcoat, and don't gloss over the seriousness of your struggle with sin. Find someone who will follow up and help you.
"Therefore confess your sins to each other and pray for each other so that you may be healed. The prayer of a righteous person is powerful and effective" (James 5:16).
Find a mentor.
One of the most important types of community, especially for teenagers, is guidance from those wiser than yourself. Mentors are older, wiser, and in the words of my pastor's wife, "someone who is running faster towards Jesus than you are."
Parents and respected adults who are willing to invest in you are an invaluable part of recovery.
I know that my own recovery journey would be nearly impossible without a few specific adults in my life that know my story; see me in my ugly places of addiction, grief, and pain; and yet are still choosing to invest time and wisdom into me. They love me even when I'm angry and questioning. They believe in God's saving grace at times that I question it.
"Where there is no guidance, a people falls, but in an abundance of counselors there is safety" (Proverbs 11:14).
To the teen with a difficult parent relationship.
Here on The Rebelution, there is a definite emphasis on parent-teen relationships. I am all for strong parent-teen relationships, but I also want to recognize that not every struggling teen has parents that are equipped — or feel able to become equipped — to deal with the messiness of addiction.
This is not always the case, but for some, the reality is that open communication with their parents is not always readily available. If you are that teen, I want to encourage you.
Your parents' disconnect from your situation doesn't necessarily reflect your parents' love — or lack of love — for you. They are people too, just like you, and while they care for your well-being, they may not always be clearly communicating that to you in a way you understand.
Your situation may also have triggered memories or fears that they struggle with personally, which makes it difficult for them to engage with you on the level that you need right away. While it can be confusing and painful, please fight the lie that your parents' action or lack of action is because they don't love or care about you.
That belief will only push you farther apart.
Get the help you need right now, but please don't give up on your parents just because they may not be actively engaging with you right now. It is perfectly okay if you need to find and reach out to other adults who can counsel and guide you when your parents feel distant.
I have done this in my own journey, and there is no way I would be where I am today without these mentors who have stepped into my journey and loved me unconditionally.
Get accountability.
Accountability is simply another person who — at your request and specification — consistently checks in on your fight with a specific issue. If you struggle with pornograpy, it might be through internet software. If it is fantasy or masturbation, it might be simply asking how you're doing every day via text.
It will take experimentation to determine what works effectively. Some people only need a text a few times a week, while others may need a face-to-face meeting. Don't be afraid to keep trying when one way doesn't seem to be working out.
The resources I am sharing at the end of these articles have plenty to say about accountability, so I will say only three things.
1) Accountability must be consistent, or it is useless.
2) Accountability requires complete honesty on your part, no matter what.
3) Accountability is not the solution to addiction; it is merely a tool to break habits.
"Though one may be overpowered, two can defend themselves. A cord of three strands is not quickly broken" (Ecclesiastes 4:12).
Find a group or class.
Another type of community that not everyone has access to is recovery groups. There are various 12-step groups that are available in certain areas. Celebrate Recovery is a Christian-oriented recovery group that some churches host.
I would always caution teens in using wisdom and advice when choosing whether or not to attend these types of groups. My own church hosts a Freedom class that I attend weekly, and it teaches tools for dealing with addiction and living in the grace of God. It is encouraging and helpful, but not every group is.
There are also online support groups available, although they sometimes have a fee associated with them. These groups provide same-gender online accountability, discussion, and Bible study. (XXX Church has both male and female groups available, and God Over Porn provides online accountability for guys.
Get counseling.
In my family, there is somewhat of a stigma towards counseling. In fact, when my pastor suggested counseling after I told him my story, I was somewhat taken aback. I thought that only people who were really messed up needed counseling.
Ironic, isn't it?
After attending counseling for about 3 months, I can tell you that it was the best choice I could have made. My counselor, who is a licensed Christian sex addiction counselor, is amazing. While she has been a great source for books and tools to use daily, she also focuses on healing the core issues that are driving me to unhealthy coping mechanisms.
After numbing everything out with sex for so many years, I was pretty confused about healthy relationships and emotions.
It turns out that I was angry. I was hurt. I was dealing (or not dealing) with abandonment problems, which is common for sex addicts. At the point that I went into counseling, I knew that I had pain that needed to be dealt with, but I didn't know how to do that. My counselor did.
The reason to seek out a professional counselor in addition to mentors is because addiction doesn't appear out of nowhere. There is most likely something that you are unaware of that is giving the enemy a place to stand and draw you into fake connection.
A professional is trained to teach tools for living life without sex and digging into past hurt that is affecting present behaviors.
If you or your family can't afford counseling, ask your church if they would be willing to help pay for it. Most churches have funds that are dedicated to that very purpose: helping people who want help get it.
Read literature and plan.
I am a doer. When I have questions or problems, I go look for a solution or answer. Generally, it is less straightforward than I want it to be, and sex addiction is no different. I did a lot of trial and error as I searched for books and experts and tools. It is imperative that, as Christian teens dealing with sex addiction, we read the right books, articles, and websites.
Here are some resources that I have discovered in the last eighteen months.
Internet Protection and Accountability:
+XXX Church*
+Covenant Eyes*
+Self Control App
+Bumblebee Systems
*These cost a few dollars a month. I highly recommend investing in them if the internet is a struggle for you. I use XXXchurch software on all my devices, and I have my mentor as my accountability. Make sure to pick someone as an accountability partner that is going to actually keep you accountable in real-time (not call you a week or two later to ask you about it). Just remember that internet accountability can always be evaded. It is simply a tool, not a solution.
Resources for Both Guys and Girls:
+Breaking Free Indeed
+Fight the New Drug*
*This resource is secular, not Christian-based. I included it because FTND explains the science behind sex addiction really well. They also have a program that is free for teens to help break pornography habits. Again, it is a tool, not a solution. Healing is done by God and takes place in the heart, not the mind.
Resources for Guys:
+XXX Church
+God Over Porn provides online accountability for guys.
+ Love, Honor, and Virtue by Hal and Melanie Young
Resources for Girls:
+Beggar's Daughter
+Phylicia Delta
+No Stones: Women Redeemed from Sexual Addiction by Marnie C. Ferree
+Beggar's Daughter by Jessica Harris
+Dirty Girls Come Clean by Crystal Renaud
Be Aware of the Enemy.
You now have the truth. You now have tools. You have the ability to confess and take on the good fight.
The enemy's hold is lessening, and he is angry about it. You are now in a war for freedom:
"For we do not wrestle against flesh and blood, but against the rulers, against the authorities, against the cosmic powers over this present darkness, against the spiritual forces of evil in the heavenly places" (Ephesians 6:12).
Don't take this fight lightly. The enemy will tempt you, lie to you, drown you in anger or hurt, distract you with school, illness, or a job. He will do anything to draw you back towards the darkness.
I don't say this to scare you. I just want to you know that just because you don't feel like it, or you are tired, or you are angry doesn't mean freedom isn't worth it.
Freedom is worth fighting the temptation in your life without rest or moderation.
I know freedom is worth it because I am living it.
And you can too.
There are quite a few suggested resources in this article, but I highly recommend checking out www.breakingfreeindeed.org , a ministry run by two fellow rebelutionaries. They've written articles and testimonies addressing sexual sin on their blog, and they would be happy to talk with, pray for, and encourage you on your own journey towards freedom.
---
Share Your Thoughts in the Comment Section!

There are currently __ Comment(s)
---
Photo courtesy of Ramon Rosati via Flickr Creative Commons.
---