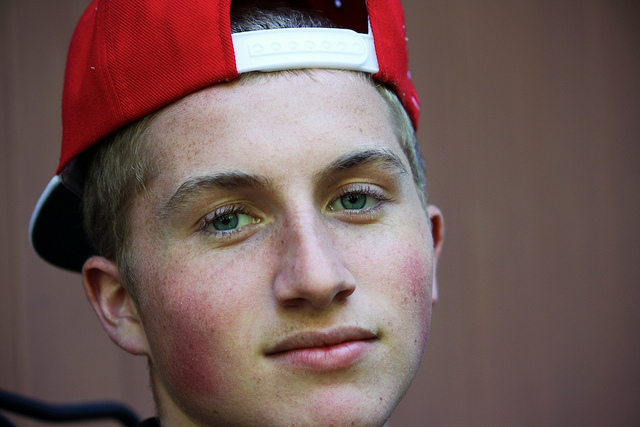 ---
This weekend, Teen Challenge came to my church.
They sang and shared powerful testimonies of God's transformation in their lives. If you've ever heard them or similar groups share miraculous stories of deliverance from drugs, alcohol, and gangs, I bet many of you can relate to this thought: I wish my testimony was less boring.
Of course, we don't wish we were addicted to drugs or involved in gangs; instead, we'd be satisfied with a near-death experience or a miraculous, road-to-Damascus encounter.
But instead, we're stuck with some variation of, "I went to a camp when I was seven and raised my hand to accept Jesus into my heart" (there's mine). It's great, of course; it's just not the kind of testimony likely to move people to tears.
I know what it's like to hear inspiring stories of lives transformed by the gospel and think, "What about me?"
If you have a "boring testimony," then let the three points below spark a fresh fire in your heart.
1. Your testimony is not your own.
What I mean is this: No one has ever saved themselves from sin. What makes testimonies powerful isn't primarily your experiences, but the experience of God's grace in your life. Whatever your story, ultimately it's the gospel that changes you.
This should change the way you approach your testimony. Is it amazing that you went to VBS and said yes to Jesus in third grade? Not from a human standpoint. But is it amazing that God in His mercy:
– Chose you before the foundation of the world (Eph. 1:4),
– Adopted you into his family in love (Eph. 1:5),
– Redeemed you from sin (Eph. 1:7),
– Opened your eyes to the mystery of salvation (Eph 1:9),
– Marked you with the Holy Spirit, the very presence of God in us (Eph 1:13)?
If you think that's boring, you need to get your heart checked.
2. Your testimony does not begin and end the day you were saved.
I'm convinced that a lot of young people leave the church because they think, "I was saved, so now I'm good." Belief in Jesus becomes fire insurance rather than a living and active relationship.
The same is true for our testimony. Your testimony certainly began on the day you first "accepted Jesus into your heart," but it doesn't end there. Your testimony is the story of your life from the moment you were born to today. Sometimes the best testimony you can give is not, "How did you get saved," but, "What is God doing in your life today?"
3. A radical testimony is not required to live a radically Jesus-centered life.
This clicked for me in high school. What do these people with radical testimonies have that I don't? Nothing. We've both received the same forgiveness and been given the same Holy Spirit and promises to trust.
Yes, the Bible says that those who have been forgiven much love much, and "he who is forgiven little, loves little" (Luke 7:37). This passage, while certainly addressing an individual experience, is better understood as a story about perspective. All of us are saved through faith from the consequences of sin and death—some people just see that more clearly than others. Yet all of us, through studying the Bible and seeing what God has done for us, have the opportunity to expand our perspective.
You have just as much of a right to radical joy and life and passion as a former drug-addict. If you're living a boring Christian life, it's not rooted in a "boring" testimony but in a boring perspective.
At the end of the day, I want to celebrate with the people who have radical testimonies. Yes, it's true—if God can save them, He can save anyone. He can even save you, the kid with the boring testimony, so that you too can live a radical life of obedience and faith in Jesus Christ.
A boring testimony is nothing short of miraculous. Your testimony continues today, is rooted in the power of the gospel, and empowers you now to live a life of faith. I wonder, do you realize how powerful your boring testimony really is?
---
Share Your Thoughts in the Comment Section!

There are currently __ Comment(s)
---
Photo courtesy of Paul Li and Flickr Creative Commons.
---