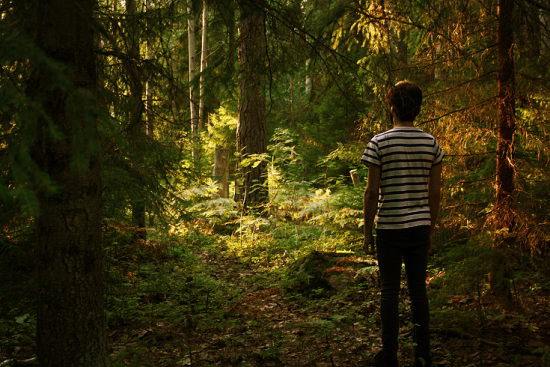 ---
Peter stood trembling with a heavy sword in his hand. At the other end of the sword a huge, snarling wolf crouched, ready to pounce at any moment. Peter gulped, unsure of his next move. Suddenly, the wolf sprang. Peter fell backwards, hoping that the wolf would fall on his outstretched sword.
The scene that I just retold should be quite familiar if you have ever watched or read The Lion, the Witch, and the Wardrobe by C.S. Lewis. I have seen and heard this story many times, but one day I realized that this famous story was actually encouraging teenagers to do hard things and rebel against low expectations, long before Do Hard Things was written.
In the above mentioned scene, Peter has only owned a sword for a few hours. He has zero training. He is merely a teenager trying to protect his family in a strange, mystical land. After a harrowing journey, Peter, Susan, Lucy, and the Beavers finally make it to Aslan's camp, and Peter assumes he can relax for the time being. But suddenly, the peacefulness is shattered by the sound of Susan's horn. Peter runs to find Lucy and Susan trapped in a tree with a giant wolf (who just happens to be able to talk!) snapping at their feet.
Peter, both young and totally inexperienced, finds himself engaged in battle with a vicious wolf to save the lives of his sisters.
At this point, it would seem reasonable to replace Peter with an older, more experienced fighter. However, when other Narnian soldiers tried to assist Peter, Aslan stopped them with the words, "Back! Let the Prince win his spurs".
Despite the fact that he had no clue what he was doing, Peter managed to vanquish the wolf. He gained the confidence he would need to fight many future battles. He took his first step towards becoming the High King of Narnia.
However, while he stood shaking with an unused sword in his hands, he probably did not feel anything like a king in the making. As he stared at the bloodthirsty wolf intent on killing him, his instincts were most likely encouraging him to cower or flee.  But Aslan knew that if Peter would face the challenge, he would succeed. He knew that this victory would be the first of many. More importantly, Aslan also knew that if Peter did not face this battle, he would fail to build the courage that he would need for future battles.
In our journey of doing hard things, we often face wolf moments. Face to face with a huge opportunity to test our swords, we either plunge into the fight or run.
Whatever we decide, our actions will have an effect on others. Other people will suffer due to our cowardice, just like Susan and Lucy in Peter's story. We have a choice. Will we obey God's directive to "Be strong and courageous" (Joshua 1:9), or will we believe the enemy's lie when he whispers discouragement?
Hopefully, like Peter, we will follow God's leading and act on His strength. We can look at our challenges with confidence because we know THE lion is right behind us!
God, our Aslan, is right by our side. We are never alone.
Always remember:
1)      Even if you feel unprepared for the task at hand, God will provide you with the strength you need to accomplish what He has called you to do.
2)       God has never chosen a "qualified" person to work for Him to this day. This is not to say that preparation is a bad thing, but there comes a time when we have to stop preparing and start doing.
3)      Courage is like a muscle. You have to exercise it at every opportunity or else you will not be prepared for future challenges. Facing the small battles with courage will give you the strength to win the large battles when that time comes.
The next time you are faced with a challenge that seems insurmountable, remember the story of Peter and the wolf. A battle that looks impossible to win is made possible by God. Your responsibility is to take action, thus giving God an opportunity to work through you. Take a step of faith and try out your sword!
---
Share Your Thoughts in the Comment Section!
There are currently __ Comment(s)
---
Photo courtesy of Laura Gommans via Flickr Creative Commons.
---