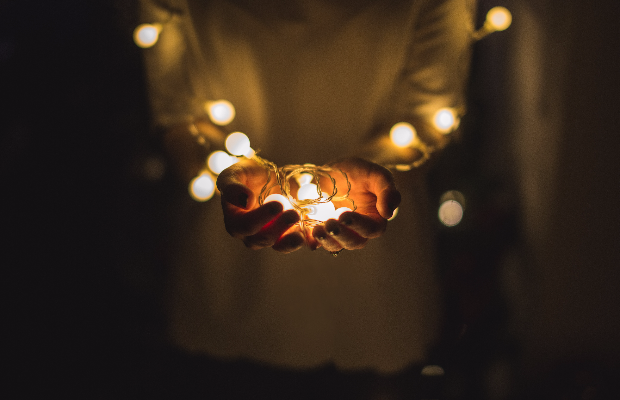 ---
Christmas is a wonderful time of year filled with secret shopping trips for your family and friends, hot chocolate, tree decorating, snow (if you don't live on the West Coast as I do), and beloved Christmas songs and carols. But all those things are not what Christmas is about. No, Christmas is more than the commercialism, and while the traditions are nice they are not the essence of Christmas.
Christmas is a busy season, and it's easy to get caught up in the "fluff" of the most wonderful time of year. It's easy to forget the meaning that Christmas should bring.
Christmas is about wonder and marveling at the best gift there is…. and that is the gift of salvation. We would be nothing without it, there would be no Christmas without it. This is the time of year that you should be celebrating the precious gift of eternity with Him, the joyous humility of a sovereign King and the abundance of His love. You should be celebrating the Trinitarian love that came to bring Jesus to this earth, so that He may wash His righteous blood across the blemishes of our souls that beg for healing.
This is the season for celebrating the life, death, and resurrection of Jesus, and the unstoppable Gospel that shows us how to live our lives for the glory of the cross. We are celebrating the unending grace of a Creator whose love is incomparable, and the redemption of His people that, without Jesus, would be impossible.
This is what we should be celebrating, but the fluff and ooey-gooey feelings that this world encourages and promotes are easy to get caught up in and we easily lose sight of the real meaning of Christmas.
Chrismas is more than the fluff, and if you've had a wake-up call while reading this post and are looking for ways to bring the real meaning of Christmas back into your heart, don't fret! Below are some simple activities that you can do each day leading up to Christmas to ensure that you are making the most of this Advent season.
1. Create a stocking
Get a stocking and fill it up with treats and gifts and place it (or them!) on the doorstep of a family who has lost a member of their family or is unemployed.
2. Make Christmas cookies for your local firehouse or police department
Our firefighters and police officers should not be forgotten this season, and decorated cookies will be sure to bring a smile to their face. Include a note of gratitude.
3. Volunteer
Set aside some time to go to your local homeless shelter or food bank and share the hope of the Gospel with people who so desperately need His word.
4. Write a letter
Letters are fun to receive and the person you are sending it to will appreciate the time you took to write them. Another way to do this is to write a note to each of your family members affirming your love for each individual and hiding them around the house for them to find.
5. Read a book reminding you of the reason for the season
Enjoy these gospel-rich books as they remind your heart and mind of the reason that we celebrate.
Come, Thou Long Expected Jesus by Nancy Guthrie
Hidden Christmas: The Surprising Truth Behind The Birth of Christ by Timothy Keller
Unwrapping The Names of Jesus: An Advent Devotional by Asheritah Ciuciu
6. Organize a group of carolers and go to a nursing home or children's hospital
I did this several times, and each time I am so glad I did. To see their eyes light up with joy as we came and sang to them was something I will never forget, and I feel so privileged to have been able to participate.
7. Give a surprise gift of service to your family
Jesus taught us to serve others by washing the disciples' feet, and that it is better to give than to receive (Acts 20:35). Give an unexpected gift of service to your family demonstrating Christ's love for us. Clean out a closet for your mom, do your sister's chores, or take your brother to an activity for your dad (if you are of driving age), etc.
8. Print out or download an Advent reading plan
Here is a link to a downloadable (and printable) Advent reading plan for December, and it makes for a perfect devotional either at night or in the morning before school. You can also make it a family event and do it together before bed or whenever it is convenient.
9. Make a stocking for Jesus
December is the month of gift-giving, and while we all receive something on Christmas day, I have noticed that our Loving Father never does. Hang an extra stocking for Jesus, and fill it throughout the rest of this month with notes of thankfulness and praise to the one who broke through the chains that bound us to a life of sin. In the morning, before opening your presents, read through the notes with your family and ground yourself in the meaning of Christmas before you are immersed in your gifts.
10. Have a yule log party!
In the past, yule logs were burned on Christmas Eve and friends and family would come over and have a night of prayer as the massive log burned. Host a yule log party and host members from your church or youth group, and serve refreshments such as hot chocolate, a log cake, and whatever your taste buds desire.
11. Make a meal for a single, busy, or new mom
A few mommas are a little frazzled this year; make their day by dropping off a casserole or any easy to reheat meals. They will be grateful, and you will feel good about blessing them. A win-win.
12. Pass out Bible tracts at the mall
Christmas is about celebrating the birth of Jesus, and the message of hope, restoration, and life that the Gospel gives. So why not share that message this year? Don't keep the Gospel to yourself; God's word is meant to be shared and I can't think of a better time than this Advent season. The Rebelution has a great article on this topic.
Teenagers, Please Share The Gospel.
13. Offer to help out at your church's Christmas concert, program, or evening service
Christmas concerts, programs, and Christmas Eve services are the perfect opportunity to serve the body of Christ and give back to your church. Offer to stay after for clean up, run errands, or do whatever needs to be done. Have fun serving others and helping things run smoothly.
14. Write a letter to a missionary
Missionaries who live overseas may not be able to afford to see their family this year, and I would encourage you to write a letter or a Christmas card to let them know you are thinking of them. The time you took to write will make their day, and be sure to include a message of encouragement as they pursue the Cross with all their heart.
15. Invite members from your church or youth group to go on a Christmas prayer walk
Prayer walks are so fun, and a great way to be engaged within your community. And since it is Christmas, why not make your walk festive? Wear light up necklaces, ugly Christmas sweaters, and any other Christmas accessories you would like to add. Pray for your fellow citizens, that they may find the peace that they desire through the power of the cross.
16. Donate to a Christian organization
Why not give the gift of food, water, or medicine to a third world country? The organization that my family and I like to donate to is World Vision, a Christan organization whose mission is change lives by providing wells of clean water, food, medical needs, and animals to impoverished families all around the world.
17. Invite an elderly neighbor or someone who will be alone for Christmas for dinner
Being alone for Christmas is depressing, and no one should have to be alone this celebratory season. Jesus encourages us to open our hearts and doors of our homes to our fellow neighbors and people we know (1 Peter 4:9), so I encourage you to open the door to your home a little wider and embrace them with Christ's supernatural love.
18. Reflect
Reflect on the reason we celebrate Christmas, on the joy and hope that the Gospel brings. Reflect on the unending grace and patience that God has on sinners like us, and let that motivate you to extend patience and kindness to everyone around you this year.
Reflect on the glory of the Cross, the triunity of God, and the love that He pours out over us each and every day. Reflect on the righteousness of God and let that inspire us to pursue holiness with vigor and determination. Reflect on the perfect life that Christ lived and let that spur us on our journey to self-control and the fruits of the Spirit.
Reflect on the faithfulness of God, and spend time immersed in His word, journalling your thoughts and setting aside time to just be held in His awesome wonder.
This could be the year that you intentionally set aside time to make the season more meaningful instead of allowing yourself to be caught up in the commercialism and worldly things of this earth. This could be the year that you are kinder to your siblings, and family, and this could be the year that you find the true meaning and joy of the Advent season.
Fellow teenager, this could be the year that you draw closer to Christ.
---
Share Your Thoughts in the Comment Section!
---