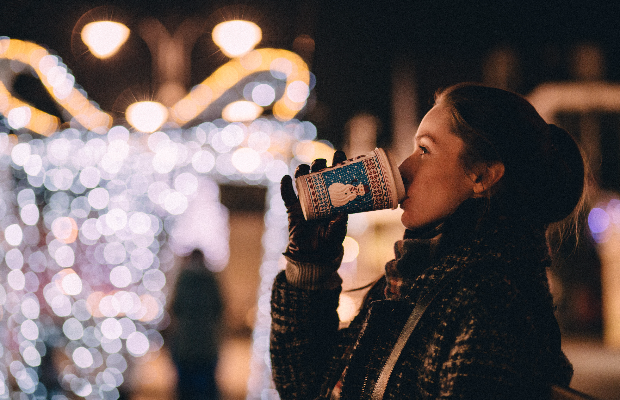 2017 was supposed to be the year.
Long ago, when my current age seemed fathomless years away and positively ancient, I determined 2017 would be the perfect time to meet my future husband.
I had it all planned. We'd meet early in the year, fall madly in love, and end the year beautifully with a proposal on my birthday at the end of December. Which would obviously give me the perfect amount of time to plan a spring wedding.
But none of this actually happened.
As much as I never really expected my childish dreams to come true, I still remembered them. Several times throughout the year, I wondered what my life would be like if they had, and felt a slight pang of disappointment that everything wasn't going according to plan.
Whether you're a girl who's dreamed up a dozen scenarios for potential relationships, or a single guy who would never admit to such a thing, I think we all have pre-defined expectations of what we think our relationship status should be and when. And I'll be the first to admit it's disappointing when it doesn't turn out that way, or on our timetable.
But here's my radical thought: even though I want to get married, I'm grateful for my current "still single" status—and here's why.
1. It's God's will
Elisabeth Elliot wrote in her book Quest for Love "If you're single today, the portion assigned to you today is singleness." For me, that's a very comforting thought. I may not be able to know when it's God's will for me to marry. I may not be able to know how long it's God's will for me to be single.
But I can know, without a doubt, it's God's will for me today. I can rest in the fact that I'm exactly where He wants me, because I'm daily living the evidence that He hasn't led me into a relationship yet. And while I still long for marriage, I long to be in the will of God more, and that gives me greater joy than even a relationship could.
2. It teaches me trust and surrender
I do struggle with singleness, don't get me wrong. I sometimes wonder if marriage will ever be God's will for me. But, along with realizing today's singleness is from God, I also have to surrender tomorrow's uncertainty and trust that His plan is perfect. Even on the hardest days, I'd be content if I knew that tomorrow I would meet my future husband. But I can't know.
That's where trust comes in. Daily, constant, complete, unconditional trust and surrender.
And I'm thankful for these lessons of trust, because I know throughout my entire life, married or single, I'll need to fall back on this foundation I've laid.
I'll need to trust when the checking account isn't lining up with the bills. I'll need to trust when unexpected sickness comes, or a tragedy knocks me off my feet and has me questioning God's goodness. I'll need to trust constantly throughout my life, for more reasons than just my relationship status. And I've learned that a day in which my faith is stretched is never a day without purpose.
3. It teaches me present joy and contentment
Be honest. Have you ever thought, "I'll be happy when (blank) happens"?
But when that thing does happen, are you immediately content and happy like you imagined you would be? Or do you move on to the next "I'll be happy when…"?
I know I'm guilty of that. But to give anything–a relationship, a person, an object–the power of being the one thing we think will satisfy us is elevating that thing into the place of God. In short, we're making it our idol.
To give anything the power of being the one thing we think will satisfy us is elevating that thing into the place of God.
Click To Tweet
There's only one thing that can be the antidote we're seeking–Jesus. He's the only One who can daily fill us with joy. The One through whom we can say, "I have learned in whatever situation I am to be content." (Philippians 4:11)
With Jesus, we can say, "In marriage or in singleness, I'm content. In sickness or health, I'm content. In abundance or need, I'm content." We can say this because joy and contentment isn't found in the depths of an object, but the unfathomably deep wellspring of love daily offered us by our High King of Glory.
4. Each day prepares me for marriage
Near the end of 2016, as I thought and prayed about the New Year, God laid two things on my heart. The first—preparation.
I'd dreamed of 2017 being a year of fulfillment. God meant it as preparation.
I see it now, as I look back and glimpse the big picture—all He's led me to do, and all the ways He's molded and refined me this year. And I am so thankful God led me down a different path than the one I'd planned.
Today is still another day of preparation, and if God deems tomorrow, the next day, even the whole year to be the same, I'm thankful. Because I wouldn't trade the plan God has for me for any other. Because I know every day is one in which He's leading me into His beautiful purpose and preparing me for the next season.
I know every day is one in which He's leading me into His beautiful purpose and preparing me for the next season.
Click To Tweet
5. It helps me fix my eyes on Jesus
The second thing God laid on my heart for 2017 was "get lost". To utterly lose myself in His love and go deeper in my relationship with Him. I was struck with the thought that when I'm single, I don't have the distractions a relationship might bring, and that I want my time of singleness to be focused on Christ.
What's more, my singleness actually helps me fix my eyes on Jesus. By not knowing the future, by battling discouragement or longing, I have to approach Him over and over again for help and hope. Choosing to trust when I'm doubting, praising Him for His plan, even when I can't see it. It's hard, but it's beautiful, and it compels me ever toward the throne room.
One day, I hope to be married and I plan on rejoicing and thanking God for it. But today, I have a choice. And I choose to rejoice and thank God, knowing this season is just as much a gift as marriage.
To all you single young men and women, I know you may want to be in a relationship. I know you might not be where you think you should in life. Maybe it's not even the area of relationships you're struggling in, but something else you thought would have happened by now. Whatever it is, let me challenge you: Even if you're not in the season you want, God has a purpose in it.
And His purpose is always perfect.
---