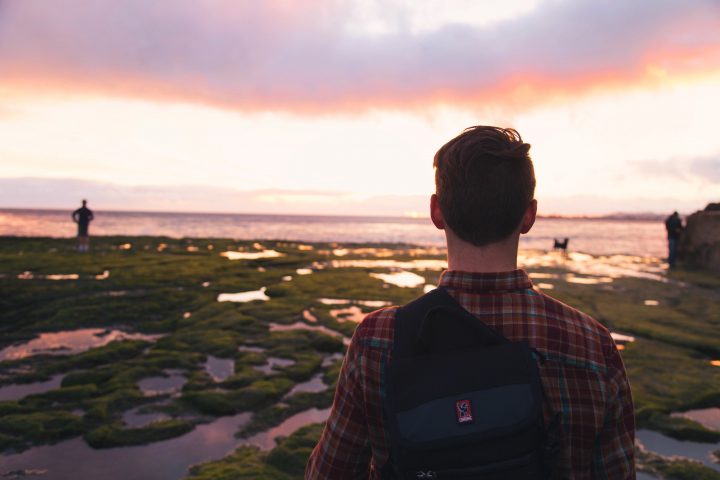 I've been there. One of the hardest parts of being a Christian is evangelism.
We live in a broken world with broken people, whose only solution is Christ. We're around unbelievers every single day, but we routinely act as if the hour is not at hand, as if we have our eyes set on the here and now and not on what's above.
We hide our light under a lampstand and create lies in our head that "someone" will witness to them, just not us. People come to mind that we know need to hear the good news of the gospel, but we listen to Satan's lies and miss great opportunities for the advancement of the Kingdom.
We forget that Christ has given us a responsibility to reach the lost through our life. In Mark 16:15, Christ commands us to "Go into all the world and proclaim the gospel to the whole creation." Christ told us take the initiative. The lost will never be reached if we're passive.
No, we're called to die to ourselves daily for the sake of Christ, and this includes seeking opportunities to share our hope with unbelievers. However, many times when opportunities arise, we fear man instead of God. We're scared of losing relationships and feeling awkward.
I know, because I've been there.
I've squandered more opportunities than I'd like to count where I had an opening to share the gospel, but I gave in to the whispers in my head. I'm now plagued asking the terrible question of "What if?"
What if I spoke to the new kid sitting by himself at lunch? What if I offered eternal hope to a friend that was in despair?
I now wait and pray that God will give me another opportunity because I missed the first one.
Matthew 16:18 says, "And I tell you, you are Peter, and on this rock, I will build my church, and the gates of hell shall not prevail against it." When many of us picture what's happening in this verse, we think of Satan and his demons bombarding Heaven and God's people.
However, if we picture the meaning of the verse like that, we miss the point entirely. We forget that it says that the gates of Hell. The gates are not an attacking force, but a defending one. Perhaps similar to a great wall outside of a city. No, we're not the ones defending, but the ones taking evil head on. The intent of this verse is not to resist darkness, but to attack it at its very core. We are to be on the offensive, to go directly into the enemy's camp and wage war against the captor.
Since we're commanded to take the initiative, here are three things to keep in mind while evangelizing to others.
1. God advances His kingdom through Evangelism
Yes, God is definitely the one that does the saving. It's not up to us.
However, almost all the time, we are the medium through which people come to a saving relationship with God. Romans 10:14-15 says, "How then will they call on him in whom they have not believed? And how are they to believe in him of whom they have never heard? And how are they to hear without someone preaching?"
Think for a moment about how you were saved. Most likely, it was through the preaching of the Word, or someone ministering to you in a small group or one on one. We've been given the wondrous opportunity and gift of being the tools that God can use to accomplish His eternal purposes.
Charles Spurgeon was spot on when he said, "If one should spend one's whole life for God, and win only one soul by the most earnest of efforts, it would be a rich reward to see that one shining star forever in the firmament of Heaven, to see that one gem glistening forever in the diadem of Christ, to see that one sheep feeding forever in the pastures of eternal life."
Just image the eternal significance if God used you to save one soul. Who would deny that immense joy and privilege?
2) Evangelism Keeps you Rooted Spiritually
When you are actively thinking about and praying for ways to evangelize, you naturally dwell more on the things of God.
From personal experience: when I've shared the gospel will others around me, I've had some of my highest spiritual highs. When you are focusing on evangelism first and foremost, it brings Jesus to the objective for your life. After sharing truth with others, you naturally pray more for them and search the Scriptures for verses that may be especially useful for your specific situation. These things not only eventually benefit the person that you are ministering to, but also benefit you!
3) We are Put Where we are Strategically by God
I don't know about you, but sometimes I look at missionaries that go to remote places across the globe and think to myself, "I wonder if my life could ever amount to something like that."
In actuality, our life is no less important than theirs. We're put into place exactly where we are by a sovereign God that is in control of all. While it may not be groundbreaking to talk to a student that we know about the gospel, it's still a great act of faith and is no less important than evangelizing to an unbeliever in a different nation.
God uses everyday people like you and me to save souls. Think about it, did God use a missionary from another country, a church planter, or someone that was eventually martyred to bring you to a saving faith? I know that God used someone that worked a full-time job, and by most accounts was just an "average" person to save me.
If we become centered on traveling to faraway lands and reaching people that we have never seen, we neglect the rich bounty of untapped potential that is sitting right in front of us.
It's Hard, But It's Worth It
One of the biggest reasons we refuse to share good news with others is that the world frowns on the advancement of the Kingdom of Light.
We're filled with fear and anxiety. We know Jesus told us that the gospel is foolishness to those who are perishing, but we're still unwilling to go outside our comfort zones. When we go to share the gospel, we forget that the saving is up to God and worry we won't present the gospel "well enough" for someone to understand. But God has promised that he will give us words to speak and nothing will stop his sovereign will from being accomplished.
Maybe the greatest reason that we aren't intentional about evangelism is that we are too inward centered. We have no problem spending time on our phones or surfing the internet instead of acting strategically for the advance of the Kingdom.
If we keep our actions in perspective, we'll be more apt to advance the call of the gospel. Again, let's remember Romans 10:14-15 that says, "How then will they call on him in whom they have not believed? And how are they to believe in him of whom they have never heard? And how are they to hear without someone preaching?"
Evangelism is one of the hardest spiritual disciplines of a Christian, but it must become a first priority in our lives.
We must keep our eyes fixed on eternity and be strategically planning on how to make Christ's name known to all people. As Christians, we were once bankrupt beggars, but then Christ showed up, and brought us to the marriage supper of the lamb, where we'll never hunger again. How can we not go to all people that are beggars (like we were) and show them where to find bread?
When we have the proper view of eternity, evangelism is an easy and a joyful endeavor. I challenge you to think today about who you can share the gospel with.
You won't be sorry you did.
---