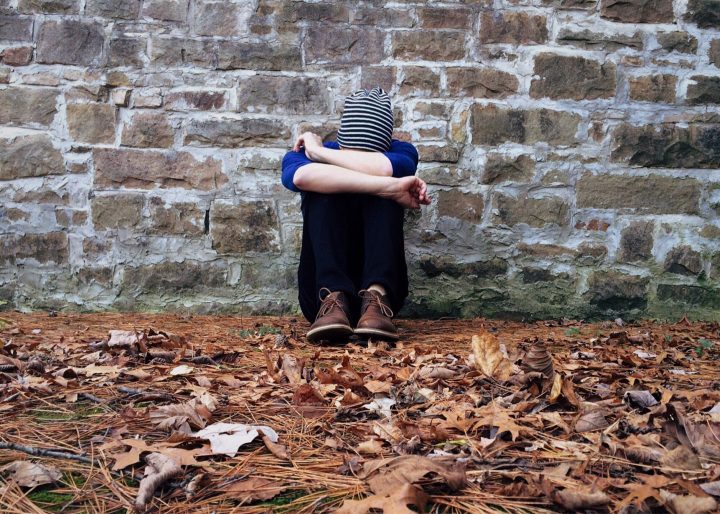 A common misconception about Christianity is that a relationship with Jesus will take away all of life's problems.
I grappled with this idea for years. If God loves me and I've done all he's asked of me, why do I still have faults and struggles and problems? If I'm supposed to be like Christ, who is perfect (Matthew 5:48), then why am I not that way?
I was a good, homeschooled, church-going boy growing up. I made good grades, had a good social life, and a bright future. I was able to hide my doubts, insecurities, and fears when I was younger, but as I got older, it became harder to keep those things to myself. I struggled with a desire to be perfect in the eyes of my loved ones because I wanted them to be proud of me. I felt I had to earn their respect, and this kept me from being open about my issues.
This sounds weird now, but I was afraid of dishonoring God with my imperfection.
I blamed God and asked him why he would curse me with arrogance and awkwardness and insecurity. One minute I think I'm better than everyone, then I get shut down, only to feel completely worthless and insecure about myself.
My insecurity covered different aspects of my life, whether it was in casual conversation ("Did I say something wrong?"), playing on my church's worship team ("I'll never be as good as *INSERT NAME HERE*"), or leadership in general ("Who am I to lead these people when I can't even get my act together?").
In the past year, I've become involved with a community of Christian young adults. At first, we bonded over movies and trivial things, but God meant for these people to play a much deeper role in my life. Being in this group made me realize I didn't have to be perfect to please God and to be a good witness. That's one of the reasons I believe good Christian community is so important. Together, we struggled with fears about cancer and its return. Some of us struggled with depression and suicidal thoughts and anxiety, showing that no one is immune to those things, even people with great social and home lives. Some of us went through breakups or our parents went through a divorce. Some had crises of faith where they doubted if God really loved them or if the Bible was even true. To see these experiences up close, to see them become real and affect the people I knew and loved, was a sobering experience for me.
So, I asked God, "Why are we suffering through all this when we have all promised to love and serve you?" He responded over time, but here's what I can conclude.
No amount of imperfection can keep us from the love of God.
Our problems and faults and issues are not from God. And even though salvation covers our sins and makes us clean, our problems don't go away. They're the result of the fallen, sinful world we live in, and one day God will redeem all that Satan and man have stolen from him.
No amount of imperfection can keep us from the love of God.
Click To Tweet
To that end, God in all his justice and mercy created a way through terrible pain to bridge that gap for those who would call to him. God brings salvation and healing through Jesus, who acts as our Perfecter and our Redeemer (2 Corinthians 12:9), someone who picks up our shortcomings, and makes them into something beautiful.
Then, God can use those shortcomings and imperfections to work together for our good and the good of others (Romans 8:28).
I believe one reason you may be struggling with an issue is so that you can be a witness to God's healing and redemption in that specific area you're struggling in. Whether you've had an abortion, or suicidal tendencies, or grief, or mental illness, or suffered abuse or addiction or insecurity, you can become the hero for those that need to hear of the redeeming power of God. Then they can carry on that same cycle.
You can be a witness to God's healing and redemption in that specific area you're struggling in. You can become the hero for those that need to hear of the redeeming power of God.
Click To Tweet
One of the ways I did this occurred earlier this year. I stepped outside of my insecurities and played with my church's worship team in a room filled with 2,000 people. The Holy Spirit came alongside me, so I didn't pass out, and I didn't derail the worship set. I shared that experience with my friends and family over Facebook, just wanting to detail my seemingly small victory. As the feedback started coming in, I realized that my story had deeply touched a lot of people in my sphere of influence. From then on, I've tried to make it a point to be open about my struggles, because I'll never know who needs to hear them.
In closing, I'll ask you, "What's your problem?"
Will you let it grow and fester in your life, or will you surrender and let God redeem it to impact the lives of others? Because the more we get outside ourselves and into the lives of people, the more we realize that our faults might not really be faults at all. Maybe the reason you have them is by design, put there to reach the one person who might never know the Redeemer without you having suffered first.
And to me, that's an empowering thought.
---