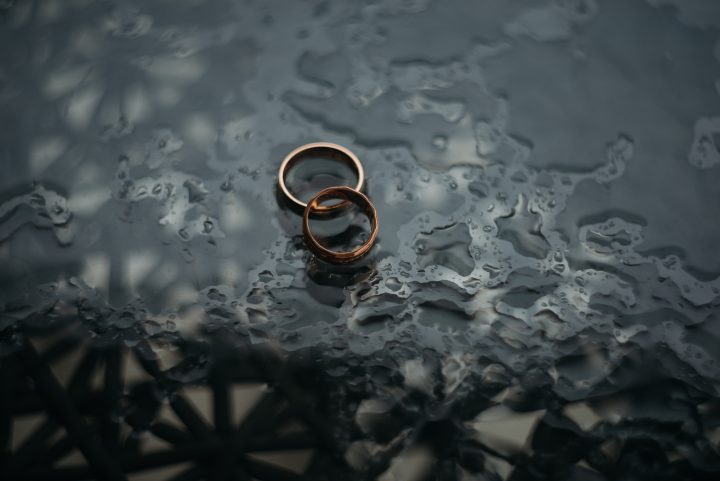 "Put not your trust in princes, in a son of man, in whom there is no salvation." (Psalm 146:3)
People often talk about marriage as if that is the highest goal in life. As if once you are joined with another soul you are finally complete. As if trusting fully in another person is the greatest thing to pursue.
A few weeks ago, I went to a conference that radically challenged me in my view of marriage and God. Do I truly believe my relationship with him is the most beautiful, satisfying relationship that exists?
Do you?
While many of us may theoretically believe this, I don't think most of us believe it so completely that it transforms our everyday lives.
Below is a common passage about marriage and our relationship with God:
"'Therefore a man shall leave his father and mother and hold fast to his wife, and the two shall become one flesh.' This mystery is profound, and I am saying that it refers to Christ and the church." (Ephesians 5:31-32)
I used to think, "Oh, come on Paul! Why do you have to talk about Jesus right now? All I want to know is how on earth should married people behave!"
Well, I've come to realize that Paul is making a crucial point. The relationship between husband and wife is merely a reflection of the greater reality—-Christ and the church. That means that Christ and the church are united as one flesh, just as the Father and Son are one. When you believe in Jesus, you have entered into an eternal covenant with him, and one day you and I will dine at the wedding feast with our dear Bridegroom, the Lamb of God, who has taken away the sins of the world!
Our relationship with God is certainly not like earthly romance. No, it's even better (I'm not kidding). It's an eternal romance, more satisfying than any other relationship we will ever experience.
And the best part is? Eternity starts now.
While our culture glorifies passion, sex, and romance, what we are really longing for is God Himself. As G.K. Chesterton said, "Every time a man knocks on a brothel door, he is really searching for God."
We shouldn't waste our time putting our trust in earthly princes or princesses. Human beings cannot save. They can't save us from our loneliness. They can't save us from our aching hearts. They can't save us from our need to feel loved.
Really, truly, absolutely. God can fill this hole inside our hearts, and he will if we simply let him. In his presence is fullness of joy (Psalm 16:11).
Whenever I realign my heart to him, he meets me where I'm at. When I direct all my hopes towards the One who has unfailing love for me, the neediness I felt before fades away.
In its place, I feel an inner peace that is such a refreshment to my soul! Nothing in this world can compare to the outpouring of love that the Lord offers to us broken human beings. Not even a romantic relationship.
Despite all the hype about marriage, there isn't any marriage in heaven. Jesus said, "For in the resurrection they neither marry nor are given in marriage, but are like angels in heaven." (Matthew 22:30)
Marriage won't matter after we die, so why are we spending our whole lives planning the day we trust in a spouse rather than right now choosing to trust in our Eternal King?
The relationship between husband and wife is a beautiful sacrament that reminds us of how beautiful the day will be when we meet Jesus face to face. It is good and honorable to marry, but just the same it is good and honorable to love others. Love friends, love family, love strangers, love God. All of this reflects the love of God, just as marriage does.
Friend, whether or not you're married or you will one day marry, please, right now, make much of Christ. Make much of your romance with him and less of your romance with people. Make much of your purity in him and less of your passion with other people. Make much of your hopes in him and less of your hopes in human beings who fail to satisfy.
Because he's worth it. I can't promise you anything, but he can promise you everything, and he does, over and over again in his Word.
I read Psalm 146:3 last night, letting it sink into me as I turned my affections completely to Christ. When I read further, I grew more in awe of the God who is nowhere near to being a frail human incapable of saving us. He is the God who saves:
Put not your trust in princes,
in a son of man, in whom there is no salvation.
When his breath departs, he returns to the earth;
on that very day his plans perish.
Blessed is he whose help is the God of Jacob,
whose hope is in the Lord his God,
who made heaven and earth,
the sea, and all that is in them,
who keeps faith forever;
who executes justice for the oppressed,
who gives food to the hungry.
The Lord sets the prisoners free;
the Lord opens the eyes of the blind.
The Lord lifts up those who are bowed down;
the Lord loves the righteous.
The Lord watches over the sojourners;
he upholds the widow and the fatherless,
but the way of the wicked he brings to ruin.
The Lord will reign forever,
your God, O Zion, to all generations.
Praise the Lord! (Psalm 146:3-10)
The Lord reigns forever; human beings do not. Who are you entrusting with the happiness of your soul? Only God can bear the weight of it, and fill your heart with total comfort.
Today, friend, trust in the Lord alone with all your heart. As ambassadors of Christ, let us show the world that a relationship with God is truly more satisfying and worthwhile than anything this earth can supply.
---