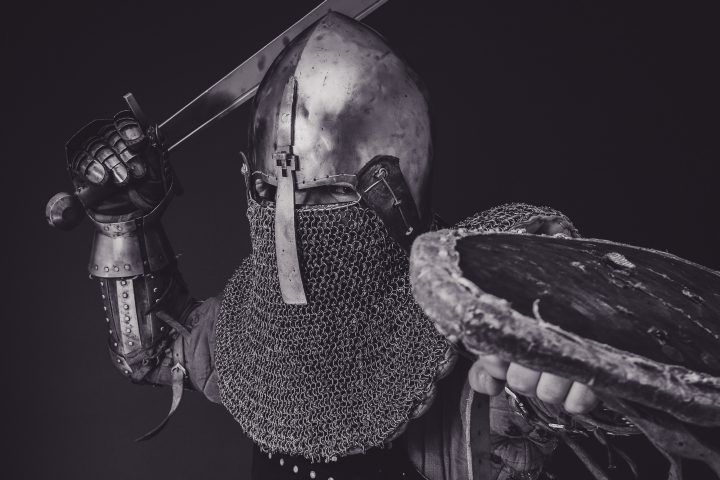 In the past year or so, I've thought a lot about joining the Army.
God hasn't yet revealed to me if I should take that path. I'm still unsure about what to do, and am still waiting and praying.
But one thing I've been reminded of recently is that I'm already a soldier. I am already in a war, under orders, and on a mission.
God's orders. God's mission.
I'm fighting a spiritual battle, under my Lord's command. But being a soldier in God's Army is tough. Really tough.
I know this for a fact, and it isn't intended to be easy. Our enemy, the devil, is persistent, seeking to devour, at all times. He is aware of our mission and is working non-stop to cause it to fail.
Our Enemy
"The enemy of your soul is hell-bent on taking you out."
I heard this in a sermon recently. The adversary of your soul wants you to quit.
Does this concern you? Do you believe it? And did you know that same enemy knows what scares you, what tempts you, what doubts you have, etc? He appeals to your fears to get you to the tipping point, and ultimately to give up. He sends his demons to torment you, tempt you and tweak truth.
This is true because 2 Corinthians 10:3 tells us, "For though we walk in the flesh, we are not waging war according to the flesh." Ephesians 6:12 tells us our enemies are not the people around us. They are spiritual, invisible, ranked forces.
Although the enemy's demons are powerful and can have influence, God has provided a way for us to defend ourselves against them: The Armor of God.
Our Orders
"Put on the whole armor of God, that you may be able to stand against the schemes of the devil…Therefore take up the whole armor of God, that you may be able to withstand in the evil day, and having done all, to stand firm." (Eph. 6:11, 13)
There is a spiritual armor available to us. We're told to put on the whole armor for our protection, so we can withstand in the evil day.
When you wake up, instead of scrolling through an empty social media feed, turn to Ephesians 6, and pray as you read. Ask God to clothe you with the pieces. We must be prepared. Praying on the armor of God re-sets our minds to the understanding that we are entering battle as soon as our feet hit the ground, and it forces our first thought to be of God.
Let's break down our armor:
Our Armor
1. The Belt of Truth — it gathers everything together, and holds it in place. In our culture, truth is often twisted into lies. Secure your belt of truth so that you can ignore the lies and hold truth in place.
2. The Breastplate of Righteousness — you can't fight with your own righteousness. It is Jesus' righteousness that the enemy hates. The Devil will work to convince you that your unrighteousness condemns your soul. Not so, for the true believer. The breastplate also protects the most vital organs. In a spiritual sense, our souls.
3. The Shoes with the Preparation of the Gospel of Peace — These can be taken two ways, both of which I think are correct. One, they are designed to help you stand strong and be prepared for the onslaughts of attacks, as the enemy reigns blows down upon you. They provide sure footing, on slippery ground. Two, remember the gospel is good news. Ask God for opportunities to spread the Good News to the people he loves. Then when those opportunities come, don't pass them by.
4. The Shield of Faith — To extinguish the fiery darts of the evil one. This means darts of doubt, worry, fear, etc. But when we have faith, we can advance through anything. You want faith to lead your life, not just your own intellect.
5. The Helmet of Salvation — Our thought life can be a nest of craziness, at least it can be for me. Many times, that's where Satan gets to us; our heads. This helmet must be put on to block out the temptations and clear our thoughts. It saves us from being influenced by lies, thinking the wrong things. Our salvation also protects us–we are saved by the blood of Jesus and the enemy cannot steal our salvation.
6. The Sword of the Spirit — The Word of God. We are to use this as a weapon against the evil one. Defend your faith with it. Memorize it so that you can win battles with truth. Lies are easily be severed with a sharp spiritual sword–God's Word.
7. The Last Piece– Another thing that isn't part of the armor, but is every bit as essential, is prayer. Eph. 6:18, right after listing the armor says, "praying at all times in the Spirit, with all prayer and supplication. To that end keep alert with all perseverance…" You cannot do it alone. You must pray.
The only part of our body that is not covered with the armor of God is our back. God Himself hedges us in "behind and before" (Psalm 139:5) and "the glory of the Lord shall be your rear gaurd" (Isaiah 58:8) And that's also where our brothers and sisters in Christ come in. They have our backs covered. Our fellow believers help us through the warfare and the battles, encouraging us and exhorting us in the Scriptures, just as they are commanded to do (Acts 14:22).
Are You Suited Up?
To wrap it up, the armor of God is not to stop the warfare, but to protect the mission. Satan wants to destroy the mission of the Christian, so when we clothe ourselves with the armor, we are prepared and ready for our duty. Don't you want to be the one God sends? Put on your armor! Without it, you are vulnerable and subject to onslaughts of attacks from the enemy and his demons.
Warren Wiersbe said, "The Christian life is a battleground, not a playground." Do not be naive. Guard your heart (Proverbs 4:23), and be prepared for the fight, so that when it comes, you have girded yourself in the strength of God and with his might and armor.
Now, soldier, you are ready to be on a mission, in the spiritual battle.
"…Be strong and courageous and do it.
Do not be afraid and do not be dismayed,
for the Lord God is with you.
He will not leave you or forsake you…"
-1 Chronicles 28:20
---