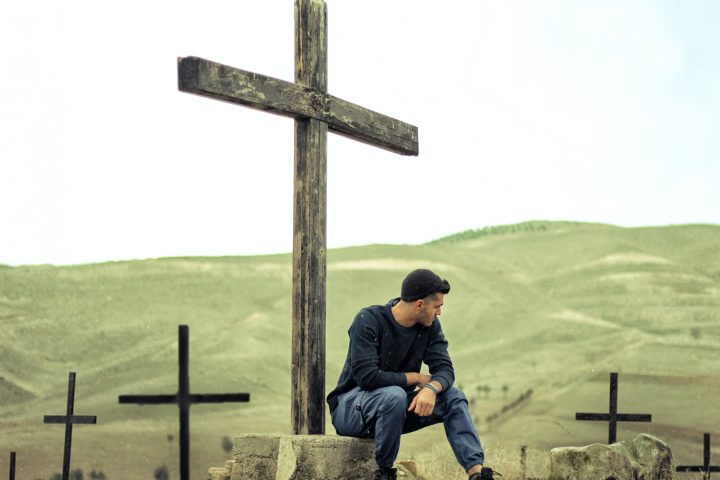 Cold stones surround me. Little light drifts in through the window, but the darkness doesn't stop me from hearing.
Nothing can block out the noise. Not even the heavy doors and firmly built walls that hold me captive. The sound increases and I wonder how many people are standing outside. There must be hundreds.
My chest tightens. I know the effect a mob can have. Tilting my head, I concentrate. A shiver runs down my spine. Chanting. The people are chanting. Until this point, I could only hear yelling.
Now I understand the words.
"Crucify him! Crucify him!"
I know this is the end. Cold and lonely, despondent, I wait in my cell. And then I hear the tell-tale sound. Footsteps. The guards are here to take me away. The heavy lock clangs and the door is swung open.
I know that this is what I deserve, but I know I'm not ready for it. I'm not ready to die.
Barabbas—A man who deserved death
When I think of Barabbas, the first thing I think of is a "bad" man. Someone who deserved to be in prison and maybe even deserved death. The Bible does not tell us much about him, but we know he's referred to as a rebel and a murderer (Mark 15:7).
It was only a few years ago that I thought about the crucifixion story from his perspective. I wondered what he might have thought. I wondered if he had ever met Jesus in person. If he had maybe seen a miracle or heard him preach.
And then I thought about what he went through in the one hour just before Pilate spoke Jesus' verdict. Could Barabbas hear the people chanting from his cell? Could he sense that someone would lose their life? Did he expect it to be himself? We don't know. We can only imagine.
Barabbas—A man died in his place
Every year at the Passover, Pilate released a prisoner. This time he wanted to release Jesus, but the crowd was against it. "Crucify him!" they yelled. "We want Barabbas!" Pilate tried to change the mob's mind by saying he had found Jesus to be free of any guilt, but they were adamant. "Give us Barabbas!"
Jesus and Barabbas switched roles. Barabbas was released in Jesus place. He had to pay no debt for what he had done.
Jesus died in Barabbas' place.
Barabbas—A man died in his place… twice
Have you read the book "Twice Freed" by Patricia St. John? She writes about Onesimus, a slave mentioned in the New Testament. As the title indicates, Onesimus was freed twice. He ran away from his master—to freedom, yes, but that wasn't it. The second time he was freed by Jesus himself. Jesus freed him from his sin.
Barabbas is similar. Jesus died in his place, not only once, but twice. Barabbas was released instead of Jesus, but there is more. Jesus' story isn't finished. He went from standing before Pilate to hanging on a cross. Not because of anything he did.
No, he died for Barabbas. He died in Barabbas' place, so Barabbas would have the possibility of coming to God. We don't know the end of Barabbas' story. We don't know what happened to him after he was set free from his physical chains. Did he ever know what man died in his place? Did he ever realize that the man who'd hung on the cross he deserved was the very Son of God? Did he ever receive the spiritual freedom Jesus offers? The Bible doesn't tell us. But what we do know is that Jesus died for him.
Barabbas—A man who represents humanity
Barabbas was freed because a man died in his place. Not only once, but twice.
But again, that is not the end of the story. Because the same man who died in Barabbas' place, also died in mine.
I deserved death—eternal death, being separated from God forever. I should have been the one being mocked and flogged, and eventually hanging on that cross, but Jesus took my place.
Jesus died for me.
It was only when I looked from Barabbas' perspective that the amazing sacrifice of Easter came alive to me. Because I . . . am Barabbas.
"But he was pierced for our transgressions; he was crushed for our iniquities; upon him was the chastisement that brought us peace, and with his wounds we are healed." (Isaiah 53:5)
---