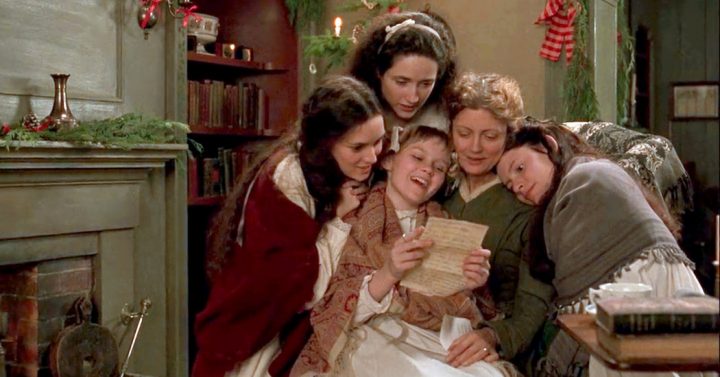 Though Alcott herself was not a Christian, many biblical themes are woven into her timeless classic, Little Women. These themes first appear at the beginning of the book, when the March sisters, bemoaning their situation (no father, no presents), learn four very important and valuable lessons about gifts. This Christmas season, we can learn those same lessons today.
1: Contentment with what we have
With their father off at war and no presents to look forward to, the March sisters are certain their Christmas will be the worst. On top of what their holiday season is already lacking, they must endure knowing most other girls have what they do not.
However, instead of giving into their self-pity and grumbling, they turn their thoughts to what they do have. Beth leads this change of mindset by saying, "We've got father and mother and each other, anyhow."
This idea of finding contentment despite misfortunes is rooted in the Bible. "But godliness with contentment is great gain, for we brought nothing into the world, and we cannot take anything out of the world. But if we have food and clothing, with these we will be content." (1 Timothy 6:6-8).
Contentment is emphasized again in Hebrews 13:5, "Keep your life free from love of money, and be content with what you have, for he has said, 'I will never leave you nor forsake you.'"
No question, this year was crazy and unexpected. Perhaps this coming Christmas looks rather bleak. However, we can still find contentment in Christ and remember what blessings we do have.
2: Giving is better than receiving
After dreaming about what they could buy with their own savings, the sister in Little Women decide to use their money on Mrs. March instead of themselves. Amy, the youngest, buys their mother a small, cheap bottle of cologne, saving the rest of her money to spend on herself, but she returns it in exchange for a larger, nicer one for her mother, keeping nothing for herself.
Amy's actions embody Acts 20:35, "it is more blessed to give than to receive." Too often, the modern American mindset of Christmas is all about the "getting" and less about the "giving." (What do you want from Santa Claus?) While wanting things is not at all bad, it can easily cross the line into greed and selfishness. Would it have been so bad if she spent a little on herself as well as her mother? No, but with a Christ-like selflessness she desired to bless and show her love to her mother more than she wanted to get something for herself.
3: Giving is about selflessly serving, even when it requires sacrifice
On Christmas morning, Marmee, as they called their mother, asks them to give their special breakfast to a poor and starving family. The girls cheerfully give up their morning meal to feed a less fortunate family.
"For I was hungry and you gave me food, I was thirsty and you gave me drink, I was a stranger and you welcomed me, I was naked and you clothed me, I was sick and you visited me, I was in prison and you came to me . . . . Truly I say to you, as you did it to one of the least of these my brothers, you did it to me" (Matthew 25:35-36, 40).
Alcott painted a beautiful picture of selfless sacrifice in this scene. The March sisters are very hungry that morning, and they don't seem to have much to celebrate that day, yet they still care for, love, and meet the needs of strangers.
Giving comes at a price. It costs us time, energy, and resources. When you give, remember Christ freely gave us everything—even his own life. That is the kind of attitude we need to assume as Christians.
4: There is reward in doing good
That evening, after giving up their special Christmas breakfast, the March sisters find a nice, fancy supper on their table sent by their rich neighbor, because he had heard what they had done for the poor family.
Paul writes in one of his epistles, "And let us not grow weary of doing good, for in due season we will reap, if we do not give up" (Galatians 6:9). Similarly, he writes in Ephesians 6:8, " . . . knowing that whatever good anyone does, this he will receive back from the Lord, whether he is a bondservant or is free."
While it doesn't happen all the time, there is a reward for doing good, just like the Marches' received, though it may  look different than ice cream and cake. A reward can be as little as a "thank you" or simply knowing that God is pleased with obedience. Even if we are not rewarded in this life, we will be in the next.
During the holiday season this year, let us remember why we give—because God gave us the greatest gift of all: his son, Jesus Christ.
---