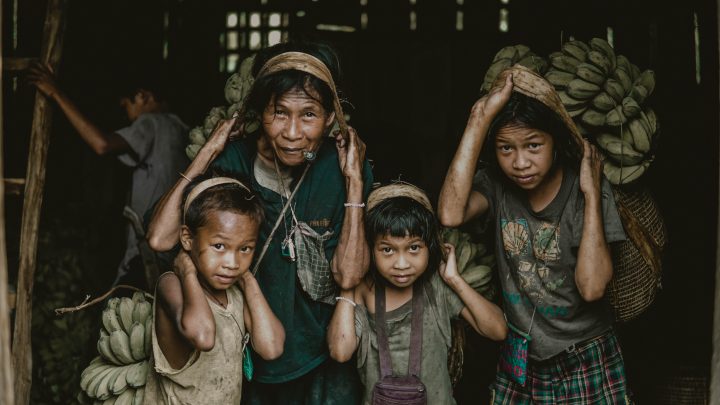 Footsteps! I clicked off my flashlight and hid my book under my blanket, waiting for my parents' footsteps to pass. The next two minutes seemed to take forever as I waited to make sure they weren't walking by again.
The coast was clear. Breath in. Breath out. I really should go to bed, but just a few more pages until the end of the chapter . . .
Surely, I wasn't the only one doing this in middle school! As I got older, I realized my parents probably knew all along.
What were the books that so captured my imagination (and sleeping hours)? Missionary biographies. I grew up reading and rereading books like God's Smuggler, Kisses from Katie, and Bruchko. The adventure, the heartache, and the faith of the heroes in those books inspired me.
Somewhere along the way, a seed was planted in my heart to do mission work. To get my hands dirty, to learn another language, to share the gospel, and do great things for God.
My Dream Died (And I Almost Did)
Except, I began to wonder if my desire to do missions was only because I desired some kind of adventure. Missionaries seemed like the epitome of cool to me, so maybe I was just after the thrill and excitement. I tried to set the dream aside.
Then, in high school, I got sick. Very sick. I was bedridden and chronically ill. In that time, I really did begin to give up my dream. How was I supposed to go to the "ends of the earth" if I couldn't make it to the other side of my bedroom? Soon my sickness became life-threatening, and I surrendered that dream completely.
It's a long story, but God spared my life. He orchestrated a thousand details so that I could receive the treatment I needed, and slowly my body began to heal. I learned to walk again, and the pain began to fade.
Beyond The Honeymoon Phase of Ministry
As my strength grew, I joined a local youth outreach ministry. It turned out to be exactly what I needed. My body and mind recovered as I poured myself into loving my kids. I learned how to bridge cultural gaps, I learned how to share the gospel outside my comfort zone, and I learned how to endure.
As wonderful as youth outreach ministry was, it was also hard. Most nights, I'd get home and just weep from the sheer emotional weight of the horrors many of my kids were living through. I called hotlines, I slept little, and I was even bitten by one kid. But as two years turned into three and the excitement of ministry faded, I found that I still loved what I was doing.
It wasn't a romanticized adventure anymore. It was real, it was daily, and it was exactly what God created me to do. The dream-seeds of mission work were starting to grow into established plants.
One day, I looked a friend in the eyes and said, "I can't not go." I knew God was calling me into this. He had planted the seed in my heart. He'd helped me wrestle with what exactly missions meant. And He had prepared me with hands-on training.
We Can't Not Go
As I started to explore how I could get to the mission field, I encountered a man who told me his own "can't not go" story. He was a professor on a trip to a closed country. On this trip, he visited a school, and the students wanted to practice their English with him.
So, he stood in front of the class and they asked him get-to-know-you questions. When they found out he was a teacher, they asked him, "What do you teach?"
"I'm a Bible teacher."
They looked at him, waiting.
"You know, like the book. A Bible? About Jesus?"
They had no idea what he was talking about. These highly educated college students did not even know what a Bible was and had never heard the name Jesus. They belonged to what is called an "Unreached People Group".
Pioneers defines an Unreached People Group as, "a people group within which there is no indigenous community of believing Christians able to evangelize this people group." There are still 7,000 Unreached People Groups in the world.
Friends, we can't not go.
Not everyone is called to be a traditional overseas missionary, and we'll talk about that more in a minute, but the harvest is so great, and the workers are so few.
I think back over my own story. I faced death, but I had hope. I knew what would happen if I died. But millions of people all over the world don't even have the opportunity to reject salvation! They are living and dying without ever even hearing the name of Jesus.
Rebelutionaries, how can we stand by and do nothing?
What We Can Do About It
I'm not saying that everyone who reads this article needs to drop everything and move across the world –though I genuinely hope some do; it's worth every bit of sacrifice it takes. The fact is, there is great need everywhere, including our next-door neighbors and in our hometowns. Need that should not be overlooked. There are so many important places to serve, starting with our own churches. As teenagers especially, we are uniquely equipped to be effective in those areas, and it is crucial for us to focus on those areas.
But unreached people groups are some of the most underserved groups of people. So, what can we do, as teenagers, to reach unreached people groups?
1. Raise awareness. So many in the church don't even know what an "Unreached People Group" is, or why they are so important. I certainly didn't! As teenagers, if we can help make people aware, starting with educating ourselves, that's the first step in more resources and missionaries getting to Unreached People Groups.
2. Partner with missionaries. Senders are the third leg of the stool for missionaries going to unreached people groups. Without them, the stool cannot stand. As teenagers, we are not too young to be senders. Senders raise funds, senders battle in prayer, senders encourage. Senders make all the difference in the world in the fruitfulness of a missionary.
So, friend, that's why I'm going to Japan. Because so many there have never heard the name Jesus. The area I'm going to has a population of 1.1 million people – and less than 10 known Evangelical missionaries. It's heartbreaking.
Let's not forget Unreached People Groups – out of sight, out of mind should never be a reality. Instead, let's learn, share, support, encourage, and pray.
---