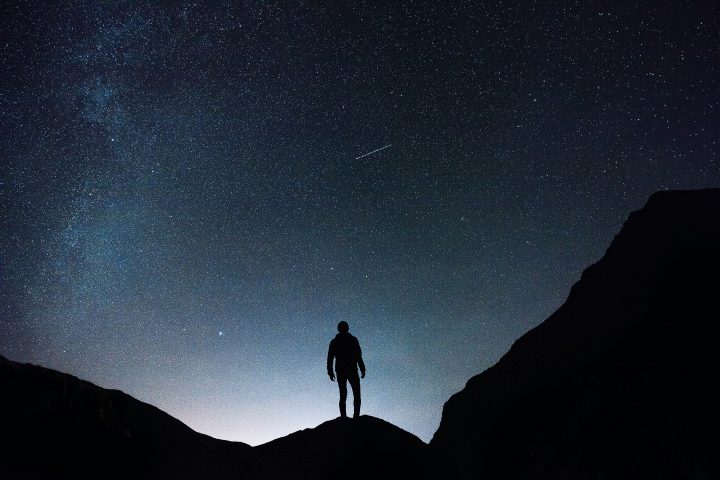 "You are the light of the world. A city that is set on a hill cannot be hidden." – Matthew 5:14 (NKJV)
We live in a crazy world. A world that's crazy lost, crazy blind, and crazy dark. It's easy to sink into despair when we realize just how much evil surrounds us. It's easy to think there's no hope.
But there is hope.
As believers we know that hope is found in Jesus. And He has given us a job to do—to share the hope of Christ with others.
In Matthew 28:19-20, Jesus tells us, "Go therefore and make disciples of all nations, baptizing them in the name of the Father and of the Son and of the Holy Spirit, teaching them to observe all that I have commanded you."
Jesus is telling us as Christians to go into the world and tell others about Him. He's telling us to be a light amid the darkness that covers the earth.
Little Ways to Shine for Jesus
One way we can be a light is by telling our stories to others. We can share the hope and life we've found in the gospel message and everything God has done for us. We can share how His love has impacted our lives and how it can impact theirs. Sharing our testimonies is a wonderful way to tell others about Jesus, and whenever we have that opportunity we should take it without hesitation.
But we don't always have the opportunity to shine His light in that way. How can we shine then?
There are many other ways to share the love of Jesus with those we encounter in our everyday lives. Even the littlest things have the potential to lead others to Christ. It doesn't take much. It doesn't have to be a long, drawn-out project, or something we slave over daily. The simple, small things can be life-changing for someone; all we have to do is make a conscious effort to do them.
People watch what we do and listen to what we say. In that way, we can be a light to those around us.
Saying "Good morning" or sincerely asking, "How are you?" can make someone's day, making them feel cared for and seen.
Donating clothes that you never wear to a charity store or women's shelter can help someone struggling financially.
Greeting your grumpy neighbor down the street can till the soil of his heart, making him more accepting of the Gospel.
Returning extra change when the cashier accidentally gives you too much shows integrity and could even provide an opportunity to tell that cashier about Jesus.
Helping your grandma wash her windows because it's too hard for her when you'd rather be at home eating popcorn and watching a movie–that's being a light.
Even something as simple as smiling at a stranger radiates the love that you have because of Jesus.
These are all ways that you can show the love of Christ and there are still countless more. In every little thing you do, you can be a light in this dark world.
The Light of Christ Makes a Difference
You might never know in this lifetime if your small, seemingly insignificant actions made a difference, but God knows. And, trust me, everything you do for others does make a difference when you do it as unto God.
You shine for Christ when you choose to take those small steps. They might seem useless or trivial, but trust me, people see those little things that you do.
They notice how you're different. They notice your joy, kindness, and love for others. People see how you forgive without a second thought. They see your generosity and the way you lend a helping hand to those who need it. And those simple actions will make them wonder what makes you so different, leading them to look to Jesus.
See, the thing about being a light is that others see how brightly you shine and run to you. In a world filled with darkness, many people want to follow the light. Your actions, no matter how insignificant they seem, shine magnificently for all to see and people will desire what you have. And you have Jesus.
By your simple actions, you are shining brightly. You're making visible the path that leads to Jesus, helping others see the way in the pitch blackness of this world. You're being a light, a star pointing to the only One who can save.
And the thing about stars is that they're never alone in the night sky. There are thousands, even millions of them.
So, yes, the light of Christ in you will make a difference, because, when there are millions of others shining right alongside you, the darkness doesn't stand a chance. Together we can push away the darkness, each with our own light, and point the way to Jesus.
Shine for His Glory
You can be a star shining brilliantly in the night, pointing others to your Savior. There are so many ways to lead people closer to Christ and so many small things you can do for His glory. All it takes is a little bit of courage, faith, and sacrifice.
Don't be afraid to be different. Don't be scared to let your light shine. The world needs Christ in you.
Click To Tweet
Don't be afraid to be different. Don't be scared to let your light shine. The world needs Christ in you. There are thousands of lost souls out there looking for answers. Looking for truth and hope.
Answer the call. Be bold. Be brave. Be different.
Be like a star. Shine.
---