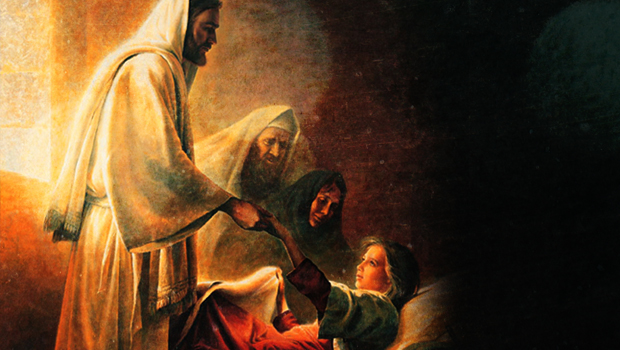 How do we strengthen our character? What methods should we utilize in order to be men and women of integrity? There are few answers as fitting as this: become acquainted with Jesus Christ.
It is wonderful for us to understand and embrace doctrines of faith, grace, justification, and sanctification. They all provide strength to resist sin and a steady arm to help us back up when we fall. But it is much, much better to be familiar with Jesus Christ Himself, to see His face, and to catch a glimpse of His splendor. This, according the J.C. Ryle, "is one secret of eminent holiness." If we wish to become stronger in resisting sin, what better way than to study Him "who has been tempted in every way, just as we are—yet was without sin" (Hebrews 4:15)?
Here we are, lacking in strength, courage, and patience. Lacking the power to stand, to move forward, and to make a difference in our evil world. We find it so easy to conform to this world and so very difficult to go against the flow. We seem to fall back two steps for every one step we take forward and all our "firm" resolutions turn out short-lived and useless.
This is the beauty of Christ's sufficiency! In Christ alone "all fullness dwells" (Col. 1:19)—in Him alone do we find all that we need to successfully combat sin. We are strong Christians only in proportion as we lean on Him. It is only when we stop hoping in our own strength and place all our confidence in Christ that we will accomplish great things.
To know Christ and the power of His resurrection is the true secret of spiritual strength. Then only are we armed for life's battles. Then only are we ready to journey through life, and move forward. Then only will we overcome the world and cause change. "I can do all things," says Paul, "through Christ who strengthens me" (Phil. 4:13).
Our own weakness highlights the power of Christ to strengthen our will! He promises "my grace is sufficient for you, for my power is made perfect in weakness." (2 Cor. 12:9) Let us, as the Apostle Paul did, boast all the more gladly in our weaknesses so that the power of Christ might rest on us.
With this in mind what better way is there to fortify our character than to dwell on Jesus Christ? Yet how do we do that? Here are two ways:
1.) Read the Gospels: It would be so beneficial if Christians studied the four Gospels more than they do. Of course, all Scripture is profitable (2 Tim. 3:16), and I don't mean to esteem the Gospels at the expense of other sections of Scripture. But it would be good for those who are very familiar with the Epistles to become more acquainted with Matthew, Mark, Luke, and John.
Why do I say this? Simply, because the Gospels were written that we might familiarize ourselves with Christ. Think about it for a minute, the Holy Spirit has told and retold the story of His life and death, the things that He said and the things that He did, four times over. Four different witnesses have drawn a picture of our Savior and our Helper. Four different inspired hands have communicated to us His ways, His manners, His feelings, His grace, His patience, His wisdom, His love, and His power. How can we ignore such an open invitation to study and internalize these attributes and qualities?
2.) Talk With Him: How many of us wonder that our relationship with Christ isn't strong when we neglect to invest the time and effort necessary to any friendship? I would challenge you, pick your closest human friend and then imagine what would happen if you invested the same amount of time and effort into that relationship as you do in your relationship with Christ. Would you be just as close? Closer? Or would you barely see each other, barely talk to each other, and barely care that you weren't? Think of it this way: closeness with Christ will keep you from sin or sin will keep you from getting close to Christ. You decide.
I would encourage you, don't hesitate to run to Christ this day. He is "a friend that sticks closer than a brother" (Prov. 18:24), who understands your weaknesses and turns them into strengths. We must be consumed with Christ or we will be consumed with this world and by this world.
J.C. Ryle, "Holiness"
"Ought not the patient to be familiar with the Physician? Ought not the bride to be familiar with the Bridegroom? Ought not the sinner to be familiar with the Savior? Beyond doubt it ought to be so. Surely we cannot know this Christ too well! Surely there is not a word, nor a deed, nor a day, nor a step, nor a thought in the record of His life, which ought not to be precious to us."
Note: I have kidnapped J.C. Ryle. By force I took him as my co-author, and together we wrote this post. I cannot more heartily recommend his writings—especially "Thoughts For Young Men" and "Holiness." Furthermore, I'm probably not going to release him until we finish this section on Character. Finally, if you see Kris Lundgaard, author of "The Enemy Within," please warn him that I plan to kidnap him as well. Ransom notes will be coming soon.