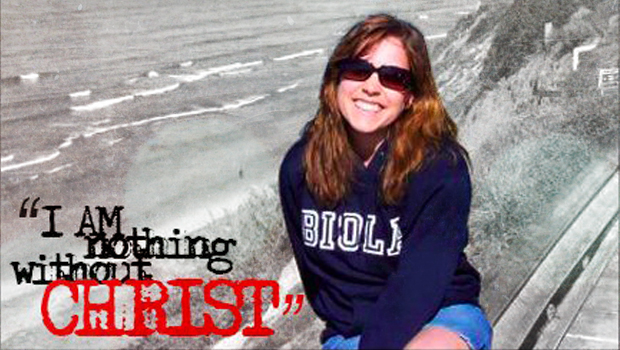 This post serves as coverage central for Brittany McComb's story. Updates will be added directly below in reverse chronological order. For first time vistors, the original post is below the updates.
UPDATE #10: Read an interview with Brittany McComb conducted by Richard Abowitz of the latimes.com blog.
UPDATE #9: Read the legal brief submitted by The Rutherford Institute in the First Amendment lawsuit they have filed in Brittany's defense. It includes a detailed account of the events leading up to the graduation.
UPDATE #8: Watch an extended video of Brittany's graduation speech. (Source: The Rutherford Institute)
UPDATE #7: Read the Christ-honoring letter Brittany wrote to thank her friends and supporters, posted on her Myspace blog.
UPDATE #6: Watch Brittany McComb on the Today Show with her parents. (HT: Counting Stones of Faith)
UPDATE #5: Watch a video with clips of Brittany McComb's speech and hear the audience's response when her mic is turned off. (Courtesy of NBC5i.com)
UPDATE #4: Read the full text of Brittany's McComb graduation speech. (HT: Review-Journal)
UPDATE #3: You can watch Brittany McComb on Hannity and Colmes or just read the excerpt.
UPDATE #2: Reverend Jerry Falwell's column, published June 24th on WorldNetDaily, covers Brittany McComb's story in the context of what he calls "a national effort to eradicate our religious freedoms."
UPDATE #1: LifeSite.net just published an article that contains excerpts from Brittany's appearance on "Jay Sekulow Live!" and AgapePress announces that Foothill High School will be sued as early as next week for silencing her.
"She knew her speech as valedictorian of Foothill High School would be cut short, but Brittany McComb was determined to tell her fellow graduates what was on her mind and in her heart.

But before she could get to the word in her speech that meant the most to her — Christ — her microphone went dead." (cont'd article @ reviewjournal.com)
In "Noah Rineresque" fashion, 18-year-old valedictorian Brittany McComb of Foothill High School in Henderson, NV, delivered her original graduation speech — complete with two references to the Lord, nine mentions of God and one mention of Christ — instead of the politically-correct version approved by school administrators. Brittany credits her faith in Christ as the primary reason for her success in school, and said she couldn't give her valediction without thanking and acknowledging Him. But before she was half-way through, the school cut her microphone.
Now Brittany is using the unasked-for, but unavoidable national platform the controversy has thrust upon her to campaign for religious freedom and to testify for her Lord and Savior before thousands upon thousands of watching eyes.
Brittany, The Rebelution applauds you for your stand and for your committment to our Savior, Jesus Christ. Thank you for your example. Our prayers are with you.
For more information, go read the Associated Press article, Ben Shapiro's column over at WorldNetDaily, and the Rutherford Institute's press release announcing its decision to legally-represent Brittany in filing a lawsuit against the school district.
REACHING A VERDICT
Read the following interaction from the post Brittany McComb: Legal Brief Available, where we address the argument that Brittany lied and the question of whether we would be just as supportive if she had been Muslim, Buddhist, or Hindu.
Ian Timothy: The only reason I am not just overwhelmingly supportive of this whole McComb ordeal because after all she did LIE. No matter how valiant it might appear to mention the things of Christ that she did you can't get around the fact that she did what she said she would not do. As much as I want to support her my conscience can't let that one small, yet pivital fact be ignored.
The Rebelution: Ian, I really appreciate your comments on this issue, because I know that a lot of people (myself included) have had similar thoughts.
From what I have read, watched, and listened to (i.e. almost everything), I would not say that Brittany lied. To be more precise, I don't believe that she said she would present the edited version of her speech while still planning to give the non-edited version. I think the final decision to go with the original speech came much closer to the actual ceremony.
I think it's also important to note that, at the time, the McCombs and their attorney were in the midst of their attempts to contact and/or meet with the school district attorney to discuss the speech. According to the legal brief, none of their calls were ever returned.
After giving this a lot of thought, the conclusion I believe best explains the facts is that, when Brittany said that she would give the edited version of her speech, she was still hoping that her parents would be able to settle the matter with the school district attorney, whether favorably or unfavorably, prior to the graduation ceremony. It wasn't intended to deceive. Instead, it was intended to appease them until her parents could resolve the issue. Of course, when the school district attorney repeatedly failed to return their calls requesting to meet with him, Brittany was faced with a last-minute decision. She could 1) go along and give the edited speech or 2) give the speech that God had placed on her heart. From the little I have seen of Brittany's heart for Christ, I don't believe she could have stood before her classmates and their families and given a speech with only a generic reference to a "divine being."
However, from an admittedly limited perspective on the last several days and hours before her graduation, I believe that it probably would have been better for Brittany to communicate her decision to the school officials prior to the ceremony. It would likely have resulted in a similar censorship and violation of her freedom of speech/religion, but would have given the school district no basis to say that she was trying to be deceptive.
Hindsight is always 20-20 (or at least, closer to it). But what I can say with confidence is that Brittany's motivation was and is to do whatever God has called her to do (see the full text of her speech). From what I can tell, Brittany has honored her parents in this situation from the beginning. She was certainly not trying to draw national attention. She was simply seeking to share the message God had placed on her heart. Because of that, she has our support.
Suzannah: May I ask if you would have been similarly supportive if it had been a Jew, Muslim, or Hindu who had done the same thing as Brittany?
The Rebelution: Suzannah, I do not expect secular school district officials to act in accordance with my Christian presuppositions. Because of that, my opposition to their actions stems from what I see as a violation of Brittany's constitutional rights of free speech and freedom of religion, as well as violating Clark County school district regulations, which state:
Where students or other private graduation speakers are selected on the basis of genuinely neutral, evenhanded criteria and retain primary control over the content of their expression… that expression is not attributable to the school and, therefore, may not be restricted because of its religious (or anti-religious) content. To avoid any mistaken perception that a school endorses student or other private speech that is not in fact attributable to the school, school officials may make appropriate neutral disclaimers to clarify that such speech is not school sponsored.
In answer to your question: I would be similarly opposed to the school district, even if Brittany was a member of another religion. However, my support of Brittany goes beyond the district regulations or the text of the Constitution or the Bill of Rights. In that sense, my support would differ. Does that make sense?
For more discussion, click here.