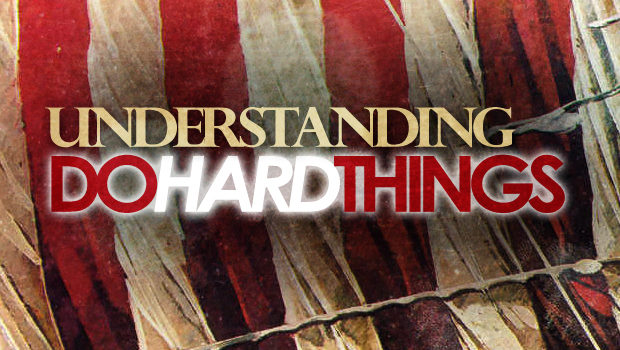 The motto of The Rebelution is – Do Hard Things. I understand it now.
The first time I went to the site and read that, I didn't really know what to think. It was a cool blog and all, but didn't quite know what to do about 'hard things'. I had a good life. God was changing me. I was learning. Sure, life wasn't perfect, but it wasn't bad. I was pretty good with where I was. And I was confident that if God wanted me to do something hard, He would tell me in His time.
I didn't understand the motto. I thought it was all just 'nice.' Pleasing to the ears. But then last week, I started understanding it. Finally.
I had gone to a youth conference down in Portland. I had to struggle with being judgmental there, as I saw girls and guys interacting with each other in ways I considered inappropriate—girls from youth groups primping in the bathroom for the teenage boys who would invade my personal space and flirt with all the pretty girls.
Oh yes, my first thoughts were not humble. Arrogance spun around in my mind as I "thanked God" that the people in my youth group would not ever act like this.
In the midst of that, I started to see a glimmer of something. "Wait a second!" I thought. "This must be what the Rebelution talks about when they say to rebel against low expectations!" Nobody in my youth group had these kind of low standards. We must be at the top! We must have finished! Success was in sight!
God suddenly spoke to my heart: "But that's not all."

"What? We're doing pretty good!"

"Just because you may have higher standards than the youth groups
standing next to you doesn't mean that there's not more."

"There's more?"

"Don't be satisfied with where you are at. Keep going further."
In reality, it does no good to compare ourselves to our peers, Christian or no. If we try to compare ourselves to other people, all that will happen is that our standards will sink lower and lower, and our pride will rise higher and higher. Comparing ourselves to others is worthless. We will become discouraged or arrogant.
Poncho Lowder once said that "you can't leave here [from an experience with God] and go back living the same [lifestyle] expecting a different result. You have to live different." C.S. Lewis wrote, "We're like eggs at present, and you can't go on indefinitely being just an ordinary, decent egg. We must be hatched or go bad."
Quit comparing yourself to others. Go after God. And Do Hard Things.
About The Authoress: Elisabeth is a sixteen-year-old artist, God Chaser, and musician. She is currently involved in driver's ed, youth group leadership, and sings on the worship team at her church. She is taking British Literature, Algebra 1 & 2, Rosetta Stone Russian, and teaching her siblings science. On the side, she blogs, paints, draws, makes tapioca pudding, practices violin, piano, and whatever else needs practicing.