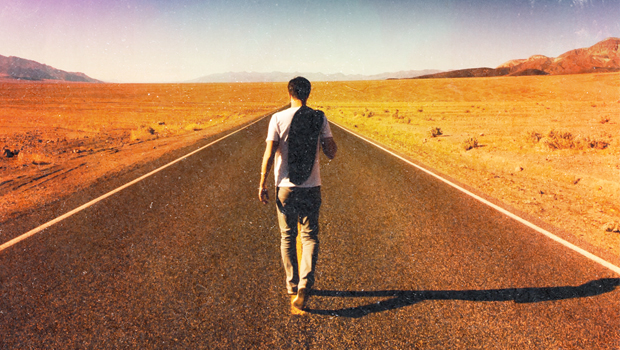 When we are faithful where we are God is faithful to open doors to bigger things. But we still have to move to get through them. So many young people say they are waiting on God's leading, yet they are not moving to explore the opportunities right in front of them. Some of this stems from laziness, some from fear of failure, and the rest from simply misunderstanding how the leading of God works.
There is an old saying that goes, "The door of opportunity opens only to those who knock." The point of the saying is that opportunities arise when you are looking for them. Jesus tells us to ask, seek and knock. Things usually start to happen once you start moving.
God's leading often works the same way. He rarely plops opportunities onto the laps of couch potatoes. His favor rests on those who have prepared for bigger things through faithfulness in small things — and especially on those who have prepared, are looking for an opportunity, and keep on moving.
There is no better biblical example of this principle than the story of The Macedonian Call in the Book of Acts:
Acts 16:6-10 (ESV) "And [Paul, Silas, and Timothy] went through the region of Phygia and Galatia, having been forbidden by the Holy Spirit to speak the word in Asia. And when they had come up to Mysia, they attempted to go into Bithnynia, but the Spirit of Jesus did not allow them.

So, passing by Mysia, they went down to Troas. And a vision appeared to Paul in the night: a man of Macedonia was standing there, urging him and saying, "Come over to Macedonia and help us." And when Paul had seen the vision, immediately [they] sought to go on into Macedonia, concluding that God had called [them] to preach the gospel to them."
At first glance this seems like a boring passage with a bunch of funny names in it, but if we look closely we can that God is teaching us important things about how He leads us to do His will. Put yourself in their shoes and see what you learn.
First, notice that they know that they are not supposed to go to Asia. That's a lot like us sometimes. We know what we are not supposed to do, but we aren't so sure about what we are supposed be doing.
Second, you see them setting out for Bithynia. We can guess they probably sat down and had some sort of pow-wow and decided that Bithynia was the place God wanted them to be. Imagine how easy it would be for them to get discouraged when on their way to do what they thought God wanted them to do the Holy Spirit stops them.
Now, if God has ever slammed the door in your face when you thought you were doing His will, you can probably relate to the confusion and the discouragement that this group may have been tempted to feel. What is God up to? What does He want me to do?
The most beautiful part of this story is the next line, where it says, "So… they went down to Troas." Now this might not seem all that significant if you don't take into account the context. They have been kept out of Asia and after thinking that God wanted them in Bithynia they have been kept out of there too. Twice the door has been shut in their faces. From a human standpoint they have every reason to say, "God, we have no idea what you want us to do, and frankly, we no longer care. Until you are willing to tell us plainly we are going to stay here and get comfortable."
And to be honest, this is the way we are often tempted to respond. But instead, in a radical display of faith in God's leading, they kept moving — they went down to Troas. And in Troas God sent a vision to Paul calling them to Macedonia and they were able to go immediately — the door was wide open.
Now to some people it may seem confusing that God waited until they got to Troas to call them to Macedonia. It would make more sense for Him to let them know right after He closed the door to Bithynia — kind of the whole "close a door, open a window" idea. But instead we see that God wanted them to keep going, to keep moving, even after two doors had been closed. Then, in response to their persistence, He opened the door of opportunity wide open.
Prayerfully Pursue Every Opportunity
What we see in the story of The Macedonia Call is a situation we can relate to and a principle that we can live by. We see how God was clearly guiding these early Christians, even when things seemed confusing or looked bleak to them — and we are encouraged in our own struggle to discern God's will for our lives.
Furthermore, we learn God wants us to pursue every open door, confident that He will close them if they are not His will. As long as we are faithful to take advantage of what we have — our minds, God's Word, the counsel of our parents, etc. — then we can move forward with full confidence that God will shut the door if we are not supposed to go through it.
This principle is crucial because many young people get paralyzed with the fear that they will choose the wrong college, the wrong career path, the wrong spouse, etc. and they stop moving. We are not saying that God will prevent us from ever making a horrible decision. But what we are saying is that when we are faithful to walk within the little bit of light that we have from our own knowledge and experience, from the advice of our parents and counselors, and most importantly, from God's Word, we can make decisions confidently trusting that God will honor our steps of faith by clearly opening or closing the door — our part is to keep moving forward.