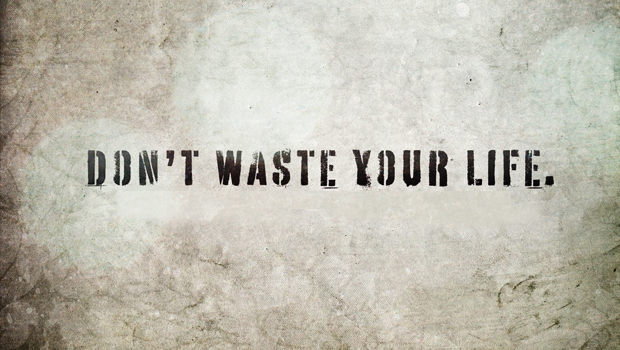 This world would have you think that your best life would be a life in which you were able to completely avoid responsibility and effort. But such a life would be as pale and flabby as the body of a man who had never moved and never seen the sun. It could be compared to the strange fish that live in the complete darkness of the deepest parts of the ocean, who never come in contact with a hard object their entire lives, and whose flesh has become completely translucent. That is a picture of what we're asking for when we desire a life of ease.
John Piper, in his book Don't Waste Your Life, shares this story:
I will tell you what a tragedy is. I will show you how to waste your life. Consider a story from the February 1998 edition of Reader's Digest, which tells about a couple who "took early retirement from their jobs in the Northeast five years ago when he was 59 and she was 51.

Now they live in Punta Gorda, Florida, where they cruise on their 30 foot trawler, play softball and collect shells." At first, when I read it I thought it might be a joke. A spoof on the American Dream. But it wasn't.

Tragically, this was the dream: Come to the end of your life—your one and only precious, God-given life—and let the last great work of your life, before you give an account to your Creator, be this: playing softball and collecting shells. Picture them before Christ at the great Day of Judgment: "Look, Lord. See my shells." That is a tragedy. And people today are spending billions of dollars to persuade you to embrace that tragic dream. Over and against that, I put my protest: Don't buy it. Don't waste your life.
We don't want to waste our lives. That's why we do hard things, and why we challenge you to do hard things as well.
Theodore Roosevelt said it best when he said, "a mere life of ease is not in the end a satisfactory life, and, above all, it is a life which ultimately unfits those who follow it for serious work in the world." Such a life is a tragedy — a wasted life.
When we fail to do hard things, we not only disobey God, but we set ourselves up to fall short of our true, God-given potential. Even worse, we act as if God is not worthy of our effort — or as if He is unable to accomplish through us what He has called us to do. These are strong words, but we say them because there is something we want you to avoid.
We want you to avoid being like Moses, who when God called him to lead the people of Israel said, "Oh, my Lord, I'm no speaker" and kindled God's anger.
We want you to avoid being like Jeremiah, who when God called him to be prophet said, "Ah, Lord God! I'm just a kid" and God rebuked him to his face.
We want you to avoid being like the lazy servant in the Parable of the Talents, who failed to invest his Master's gifts and was thrown out into the street.
We say all this because we want you to glorify God. And God isn't glorified when His children limit themselves to what comes easily for them. He isn't glorified when His children aren't willing to do hard things. The Christian calling is hard, but it is also the only calling worthy of such extraordinary effort. It's the life you were made for.