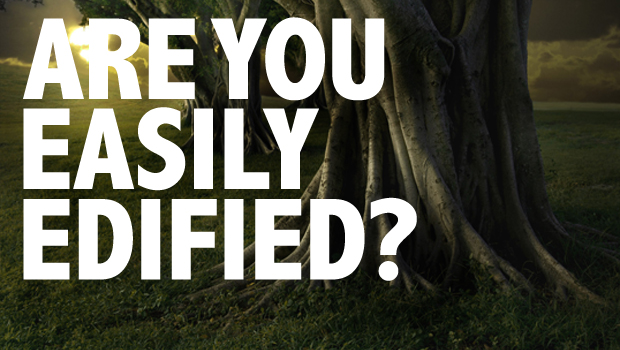 I don't know about you, but I sometimes find myself suffering from a sense of over-familiarity with God and the gospel. Reading my Bible doesn't excite me. Listening to sermons becomes routine. Even worship feels common and mundane. At times like these I crave something new and compelling to jolt me out of my spiritual rut. I figure that if I only had a better devotional book, a more powerful preacher, or a worship band with slightly more musical gifting, then my heart would become responsive again. Sin makes us stupid like that.
Of course, I'm not denying that there are better devotional book or more powerful preachers. We should read great books, not mediocre books. We should look for churches where God's Word and the gospel are faithfully preached. But I often find myself dissatisfied with truths — however poorly presented — that should thrill me.
"A mature Christian is easily edified."
Two weeks ago I stumbled across that statement by Dr. Harold Best — and it hit too close to home. Easily edified? That doesn't sound like the Brett Harris I know. To borrow from friend and blogger, Justin Taylor, too often an accurate assessment of my life would reveal that I am easily annoyed, easily irritated, easily impatient, easily hurt, easily angered, easily distracted, easily arrogant, etc. Justin concludes:
Wouldn't it be great if those who knew us best could honestly say, "It is so easy to edify him. It doesn't take much. It doesn't need to be the best sermon ever preached or the most excellent song ever composed or the most powerful book ever written or the most theologically eloquent statement ever uttered. Just the simplest truth was enough to refresh his heart in Christ."

Not a bad way to pray — for ourselves and for others.
Over the past few months God has been working in my heart to restore a sense of awe and amazement — to ignite the idle sticks of my heart into a roaring blaze — but I am still God's work in progress. Pray for me, as I pray for all of you, that we would grow together into men and women after God's own heart.
"In the way of your testimonies I delight as much as in all riches. I will meditate on your precepts and fix my eyes on your ways. I will delight in your statutes; I will not forget your word. I will run in the way of your commandments when you enlarge my heart!" — Psalm 119:14-16, 32
Heavenly Father, enlarge our hearts we pray!