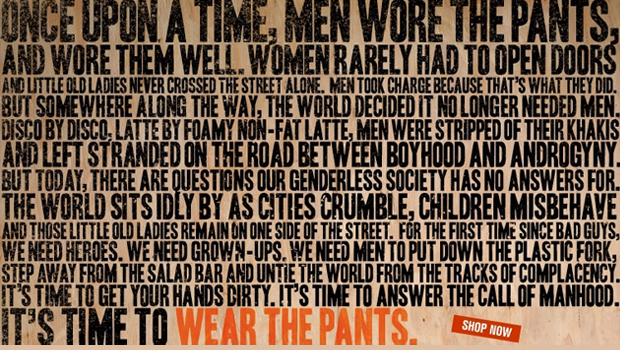 Dockers, the khaki brand of Levi Strauss & Co., is asking men to man up and wear the pants. In a world of advertising that constantly buffets men (and women) with distorted views of manhood and womanhood, the campaign seems like a breath of fresh air. Yes, they are trying to sell pants — but there are good ways to sell pants and bad ways to sell pants. This seems like a pretty good way.
In an interview with Brandweek, Jennifer Sey, Dockers' vice president of global marketing, said that "sensitivity, chivalry, ambition and decisiveness" are the traits they wish to highlight. The new promos hopefully will "inspire today's men to be men," she told Brandweek. In today's world that is pretty bold.
Check out the manifesto by clicking on the image to the right and share your thoughts. What do you think about Dockers' vision of manhood? In what ways is it accurate? In what ways is it inaccurate? What really makes a man a man?