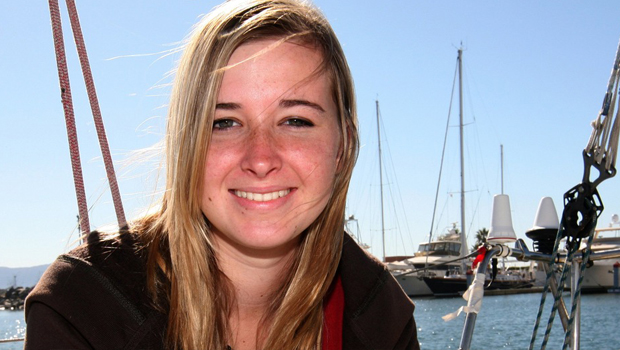 Abby Sunderland and her family have come under a lot of criticism in recent weeks — most of it by people who have not met them and never will. We know them personally. They have our full support, prayers, and shared joy as they welcome Abby home and welcome their newest brother — Paul — to the family.
Today Abby and her older brother Zac held a press conference to tell her story and answer questions about her attempt to sail around the world. Catherine Saillant of the Los Angeles Times provides a great account:
---
Abby Sunderland says her difficulties in trying to sail around the world had nothing to do with her age
Facing dozens of cameras, 16-year-old sailor Abby Sunderland thanked her rescuers on Tuesday, recounted how she got through her most terrifying moments at sea and spoke about how her family has gotten through sharp criticism of the voyage.
Responding to those who said she was too young to sail around the world by herself, Abby defended her abilities. On boats since she was a toddler, she has worked as a crew member on sailboats piloted by her father, a shipwright, and her older brother, Zac, who made his own circumnavigation last year at age 17, before departing on her trip in late January.
After she traveled 12,000 nautical miles, her voyage was stopped only because a rogue wave turned her boat upside down and snapped her 60-foot mast, she told reporters at a news conference in Marina del Rey.
"I've crossed two oceans and two capes," she said. "The questions about my age should have been done months ago…. My trip didn't end because of something I did wrong."
People who know Abby best say she's always been a can-do girl. She raised her family's 25-pound Thanksgiving turkey two years ago. At 13, she decided she wanted to sail around the world. While onboard her 40-foot-sloop, Wild Eyes, she said, she read "Do Hard Things" by Alex and Brett Harris, which rails against society's low expectations of teenagers.
Last week, while some other teenage girls were camping outside a Los Angeles theater to catch of glimpse of the stars of the latest "Twilight" movie, Abby was on a French patrol boat making her way back to her Thousand Oaks home after her rescue at sea.
"Never much into vampires," she responded to a question about whether she had seen any of the wildly popular movies based on the "Twilight" books.
---
A week and a half ago, we were on the set of the 'Huckabee' show, taping an interview with Governor Mike Huckabee. The Governor has met the Sunderland family and personally requested that we respond to the criticism being thrown at them — which we were glad to do. That interview will be broadcast on July 17th — exactly one year to the day after we posted our letter to Zac.
But we also want to speak directly to our fellow rebelutionaries.
The Rebelution movement is not about sailing around the world, but it is about raising expectations for teens. Zac and Abby and their parents share that vision. How many more lives have been wasted because of low expectations and parental neglect, than because of young people who dared to accomplish something greater — and whose parents provided the guidance and support they needed?
Juxtaposed with the story of Abby's safe return on the L.A. Times website is the tragic headline, "Teen girl, 15, dies of suspected overdose after rave at Coliseum." More lives are thrown away by teens failing to take responsibility than will ever be lost by teens attempting to take on "too much" responsibility.
What we said to Zac last year remains our position on feats like the ones he and Abby have undertaken. They have a place — if only to force our society to rethink their unbiblical, counter-historical assumptions about what young people can and should accomplish. If not weekend raves, if not rogue waves — what?
God doesn't call all teens to sail around the world — but He does command us to dream, to dare, and to do. Abby and Zac are doing just that. Many of their peers are not. High-profile or low-profile is not the goal, but faithfulness to Christ and His call. From what we know of the Sunderland family, that is their goal as well.
---