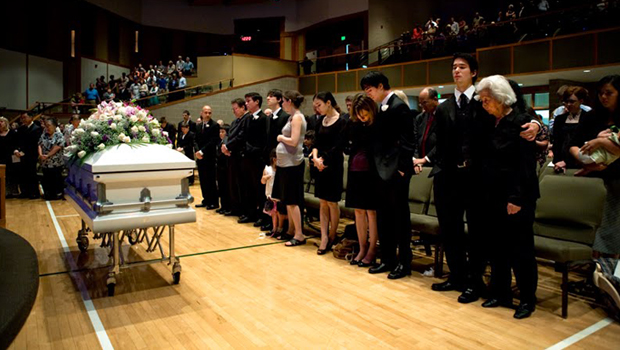 Thank you all for your support of our family after the passing of our mother. We have been overwhelmed by the love, prayers, and stories of lives changed by God's grace through our mom's faithfulness. Please, keep them coming!
By God's grace, we are doing well — inexplicably well, apart from hope in Christ. The weekend before last, we held a conference in Atlanta — just 20 days after mom's death. Everyone would have understood if we had cancelled it, but we knew she would want us to carry on. As one friend reflected, we could almost hear her saying, squeezing our hands, "Don't give up… Don't you dare waste this time."
By God's grace, over 100 people came to know her Savior that day.
When Hard Things Happen
If anything, our experience this summer has helped us to more deeply sympathize with the suffering around us. Our family is not the only one feeling the sting of death — defeated as it is. We are not the only ones who have lost a parent. Cancer and disease ravages this fallen world. Things are not as they should be.
Even in America, where we have so much for which to be thankful, drug and alcohol abuse, crime, car accidents, and broken homes are just a few of the constant reminders that we live in a fallen world. The Rebelution calls teens to do hard things, but what about when "hard things" come to you?
What follows are four things that have upheld us through this trial. We hope God will use them to encourage those of you who are also experiencing a season of suffering, and to equip all of us for the trials that will inevitably come.
Photo credit: Andie Jael.
1.) Amazing Grace
In the past, we would hear stories of friends who lost loved ones — or read about Christian martyrs who endured incredible suffering for the sake of the gospel — and wonder how they endured. Was it sheer fortitude or the power of conviction? Yes and no. Fortitude, made strong by grace. Conviction, kept safe by grace.
Hebrews 4:16 says, "Let us then with confidence draw near to the throne of grace, that we may receive mercy and find grace to help in time of need." The courage, the strength, the endurance we lack, comes to us as "grace to help" in the moment of our need. This has been our experience. God has been faithful.
Our mother was perhaps the greatest source of God's grace in our lives. But even in her earthly absence, the God of grace remains. We have no cause to fear.
2.) Reminding Ourselves of Truth
Suffering is a battle for the heart and mind. That is why we must remind ourselves of truth. God is good. God is wise. God is sovereign. These are not theological bullet points in the midst suffering — they are the Rock on which we stand.
As rebelutionaries, we must remember that just like doing hard things makes us stronger, so experiencing hard things makes us stronger (James 1:2-3), purifies our hearts (Zechariah 13:9), and is intended for our good (Romans 8:28).
As our mother herself once wrote, "[I]t seems that [Christ's] servants who are used in special ways often experience commensurate trials. These are simultaneously burdens God gives to keep them utterly dependent; and thorns which pin back the veil that hides His face. In a fallen world, they are gifts."
3.) Keeping an Eternal Perspective
This world is not our home. It feels like we have always known this, but nothing focuses your thoughts on eternity like the death of someone you love. We can all imagine mom, a beautiful dancer, dancing and leaping before the throne of God.
And yet we at times been struck and saddened by how foreign it felt to contemplate Heaven — by how little accustomed we were to orient our present lives towards future reality. God is using this experience to make Heaven more real to us, and to confront our sinful neglect of meditating on the true fulfillment of His kingdom.
Recently, we have been reading Randy Alcorn's outstanding book Heaven, as well as his beautiful illustrated children's book Tell Me About Heaven. They both do a wonderful job of unpacking biblical truth about our eternal home.
4.) Grieving with Hope
Mom has lost nothing (quite the opposite!), but we have lost much. It seems like each new week brings a fresh revelation of experiences and memories we cannot share with her — and of how much we will miss her influence in our lives.
There is reason to grieve. We have, and we do. And yet we do not grieve as those who have no hope. As believers we have a great hope and secure foundation. We can have joy amidst sorrow and, as John Piper says, "sing happy songs with tears."
What is more, we can carry on in the work Christ has entrusted to us. Despite hardship, we can continue to do hard things — sustained by grace, grounded in truth, with our eyes on the prize of the upward call of God in Christ Jesus.
Soli Deo gloria!