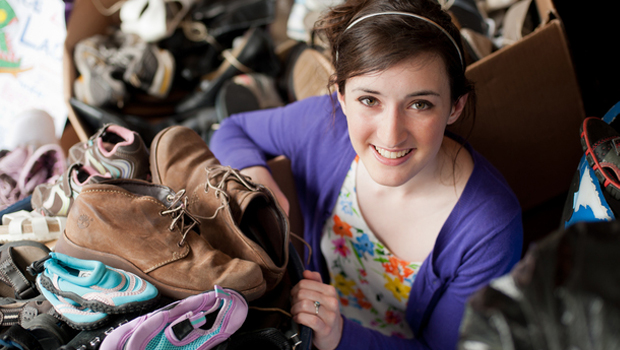 Three years ago, we blogged the story of Jaime Colman—a 16-year-old girl from Pennsylvania who collected thousands of pairs of shoes for the village of Karogoto in Kenya. Since then we've shared her story dozens of times at conferences and in Start Here. It's a beautiful example of how God can take our small steps of faith and turn them into something bigger—something that can inspire others.
Well, one of the people who Jaime inspired is 15-year-old Hannah Vaccaro from Merrimack, New Hampshire. This Saturday (June 2) she is hosting Race2Lace, a 5K run/walk race and shoe drive to benefit a new orphanage in La Gonave, Haiti. With four days to go, Hannah has already collected over 1,000 pairs of shoes.
Hannah's project has rallied her entire community, from her public high school to local churches, businesses, and the press. Today she was the subject of a great feature in the Merrimack Patch—a must-read for all rebelutionaries:
---
A Lesson in Community Kindness
by Carolyn Dube

There are book titles that make us appreciate the fact that we aren't meant to take them literally. Who really wants to know "How to Eat Fried Worms?" And it seems dangerous to surrender to "A Dance With Dragons." But when Merrimack teen Hannah Vaccaro read the book "Do Hard Things," by Alex and Brett Harris last year, she took it to heart.

Vaccaro, 15, is brushing up against the finish line in a months-long project she decided to emulate after reading the book by the Harrises.

This Saturday, when runners take off from the starting line at the Race2Lace 5k, she won't be running with them, she'll be running the show.
---
Praise the Lord for Jaime and Hannah! Now, who will they inspire next? If you live anywhere near Merrimack, NH, we hope you'll show up at Merrimack High School this Saturday morning—whether to walk/run or just to donate your gently-worn shoes, listen to live music, and partake in a raffle for great, local prizes.
If you don't live anywhere near Merrimack, NH, we hope you'll pray for Hannah and Race2Lace and share her story with others. More than that, we hope that you will copy Hannah like she copied Jaime! In fact, we're pretty sure that Hannah would love to help! Email alex [at] therebelution [dot] com and we'll pass it on.
Way to go, Hannah! Rebelutionaries are rooting for you!
+ Race2Lace Website // Race2Lace on Facebook +