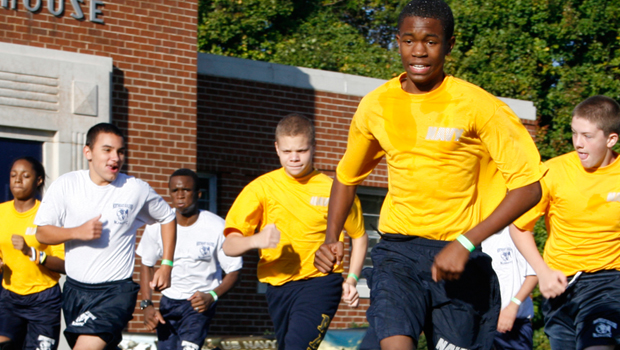 Don't miss out on the dozens of blog posts linked on the sidebar. This blast-from-the-past is an important reminder of the biblical basis for doing hard things. Check out the original post and three others in the series here.
We've all heard people say that God wants us "on fire" for Him. Maybe your youth pastor has talked about being "sold out" for Jesus or a conference speaker has challenged you to serve God with "total abandon."
We're used to that kind of talk. It's almost cliché.
But has anyone ever told you that God commands you to do hard things? For some reason that sounds more extreme. Being "on fire" or "sold out" for God sound like positive emotional states where nothing can really get to us. Even serving God with "total abandon" doesn't make us feel uncomfortable as long as we leave it general and vague. But "do hard things" sounds so — well, hard.
We don't like hard things in our society, especially as teens under the influence of the Myth of Adolescence. We avoid hard things as much as possible. Unfortunately (or should we say, fortunately), there's no avoiding them in the Bible.
Hard Things in the Bible
All of God's commands in Scripture are hard. Of course, our tendency is to just say that God's commands aren't "easy" or that it's only by His grace that we can obey any of them — and both of those statements are 100 percent true — but why can't we ever come out and say that God's commands are hard? When Christ commands us to love our enemies, why can't we just call it what it is?
Everything God commands is hard. Repenting is hard. Forgiving is hard. Turning the other cheek is hard. Overcoming sin in our lives is hard. Honoring our parents is hard. Sharing the gospel is hard. Reading our Bibles is hard. We could go on.
Part of our hesitation to call things hard can be that we're afraid to come across as unspiritual. After all, if we're truly "on fire" for Jesus, shouldn't it be easy for us to read our Bibles every day, say no to sin, and share the gospel with others?
But when we think that way we're missing something huge that God wants to teach us about personal growth — and that's what we want to talk about in this post.
The Way We Grow
In James 1:2, we're told to consider it "pure joy" when we're faced with challenges, trials, and obstacles, because they test our faith and makes us stronger. Think about that. The God who created you and loves you cares about your growth — and the way He has designed you to grow is through challenges.
It's just like the way your muscles grow stronger when you work out and the way your brain grows new neurons when it is challenged. You grow stronger, in both character and competence, when you do hard things.
In order to do hard things we need to get over the idea that God's love means He wants us to go through life with as little effort or discomfort as possible. This is similar to the mistaken notion that we don't need to change because God loves us just the way we are. God does love us just the way we are, but He also loves us too much to leave us the way we are. He wants us to grow.
Of course, none of this is to say that God wants us to live joyless and pain-filled lives, but it's a joy that's rooted in more than our temporary circumstances, and at times pain is necessary in order to gain something of greater value.
A Radical Argument
The Rebelution makes what sounds like a radical argument. It's not just saying that hard things happen and that you can benefit from them. It's not even just saying that you have the ability to do hard things. It's telling you that you should do hard things because it's the best and only way to experience true growth in your life.
Can you think of any period of growth in your life (as a Christian, student, athlete, musician, etc…) that didn't involve effort and even some level of discomfort? The truth is that all growth involves discomfort. Think of growing pains.
These are not a new ideas. We're don't want to reinvent truth. But we do want our generation rediscover what has always been true — and one thing that has always been true is that in order to grow we must do hard things. We must challenge and stretch ourselves, step outside our comfort zones and do something difficult. It's how we've grown before, and it's the only way we'll grow for the rest of our lives.
+ Share Your Thoughts +