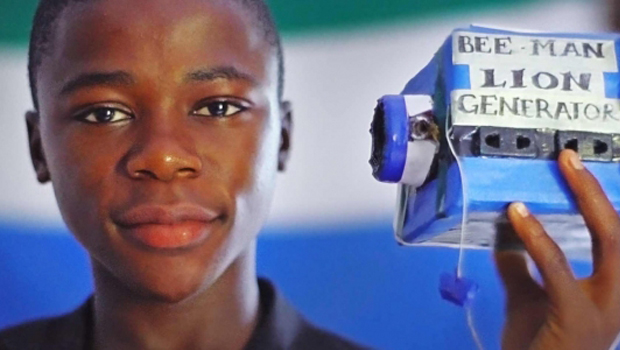 Kelvin Doe (aka, DJ Focus) is a 15-year-old engineer from Sierra Leone — and only the latest motivated and competent teenager to be labeled a prodigy, just because he's doing something with his life. That's too bad, for Kelvin and for us.
The bad thing about the term "prodigy" is that it immediately places Kelvin in a category by himself — a category all of us "ordinary" young people could never hope to occupy. It makes him a celebrity to entertain us, rather than an example to inspire us. Yet any young person in the world can be a Kelvin Doe if they so choose.
Fortunately, that's a message that Kelvin and his friend David are able to communicate in the above video — even as the filmmakers label Kelvin a prodigy. David says, "I want there to be many more Kelvins. I did not want it to be a one-off thing. It's a movement. It's: How do we create thousands of young people who are inspired by making stuff and solving the problems in their neighborhood?"
---
How To Be Like Kelvin Doe in Two Steps
---
1) Pursue your delights.
Behind every so-called "prodigy" is a prodigious delight in their particular field. Kelvin is delighted in electronics. Eva Vertes and Jack Andraka are delighted in science. These delights lead them to spend every moment they can spare pursuing their hobbies, until eventually, they truly excel.
According to the 2006 Teen Trends study conducted by the Harrison Group, teens (ages 13 to 18) spend 72 hours a week interacting with electronic media (cell phones, the Internet, television, music and video games).
Imagine if you took all that time and devoted it to something important — like learning how to build an FM transmitter for your village. If you spent ten hours a day on your favorite hobby (e.g. sports, music, science, carpentry, writing, etc.), don't you think you could get pretty good at it? Don't you think you could accomplish something significant? Of course you could.
Your delights are probably different than Kelvin's — but what it takes to develop those delights is the same for everyone. It takes time and dedication to excel in anything. You can be like Kelvin if you shun distractions and pursue your delights.
2) Look for opportunities to serve those you love.
Kelvin wasn't looking to become famous — he just wanted to serve his community. His obvious love for his country, his village, and his family was what motivated him.
Ultimately, Kelvin is just an ordinary young person who loves his family. He is typical 15-year-old who sees problems and challenges around him as opportunities to serve his community. He is a normal teenager who doesn't think being a teenager keeps him from making a contribution.
You may not share Kelvin's knack for electronics, but you should share his focus on loving others. Whatever you gifts, whatever your interests, you can be like Kelvin if you choose to use your talents to serve those around you.
---
Join the discussion by answering the following questions:
What delights you? What do you enjoy doing most?
What is keeping you from devoting more time to your delight?
What are ways you could use your delight to serve others?