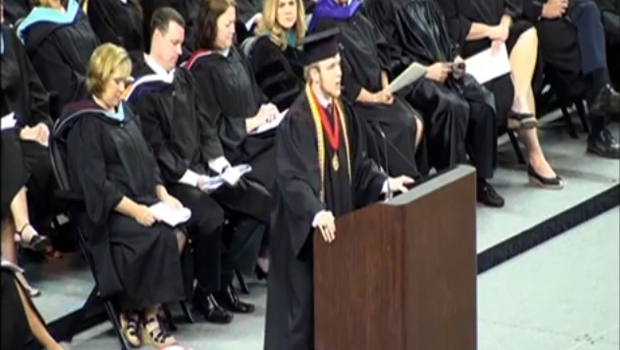 ---
(Christian News Network) – A high school valedictorian from South Carolina ripped up his approved speech on stage this past weekend, and minutes later, delivered the Lord's Prayer in defiance of the school district's decision to no longer include prayer at graduation ceremonies.
Roy Costner IV drew loud applause and cheers when he surprised attendees of the Liberty High School graduation at Clemson's Littlejohn Colliseum on Saturday.
"From the ACLU sending FOIA requests to every district in the state this year after the Chesterfield County case, then the Freedom From Religion Foundation sent us a complaint about religion at board meetings and some other issues as well," Pickens County School District spokesman John Eby said, the district has been under fire.
Therefore, officials decided to end invocations at all school functions and replace prayer at high school graduations with a moment of silence.
However, Costner wasn't going to let activist groups kick God out of his graduation. After taking the podium, Costner took his approved speech and ripped it in half for all to see.
"They write their speeches," Eby told local television station WYFF. "They send them to someone on staff to have them approved."
After speaking from a separate script for a few minutes, Costner then began to thank his parents for his Christian upbringing.
"Those that we look up to, they have helped carve and mold us into the young adults that we are today," he said. "I'm so glad that both of my parents led me to the Lord at a young age."
"And I think most of you will understand when I say…" he continued, surprising the crowd with what came next.
"Our Father, who art in Heaven, hallowed be Thy name," Costner declared. "Thy Kingdom come…"
---
Leave a Comment: What do you think of Roy's decision? What would you have done? Share your thoughts below. There are currently __ Comments.
---