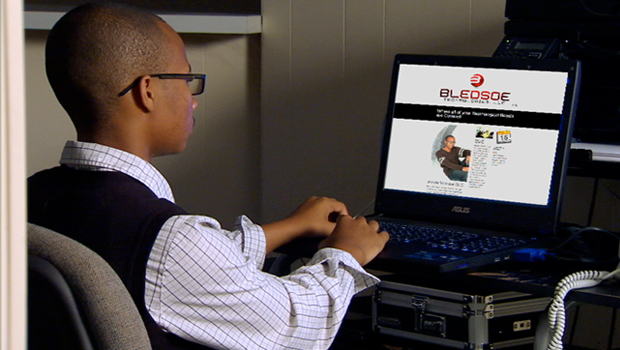 ---
(Uptown) — Many of today's household names in technology began their companies young. Steve Jobs was 21-years-old when Apple Computers was born, and Mark Zuckerburg started Facebook after his sophomore year in college.
For 15-year-old Jaylen Bledsoe, there's still plenty of time to join their ranks. The high school sophomore founded Bledsoe Technologies just three years ago, and the global web design firm is now worth a reported $3.5 million.
Jaylen, of Hazelwood, MO, first developed an interest in web design while taking classes through his middle school's gifted-education program. The company, which he started with just two employees, now has a staff of over 150 people nationwide. On the Bledsoe Technologies website, his background reads like that of someone twice his age.
He has expertise in start-up businesses, entrepreneurship, Venture Capital Funding, & directing marketing platforms targeted towards small and mid-sized businesses. In the past 3 years, he has focused on expanding Bledsoe Technologies, LLC and growing the number of youth involved in start-up businesses. Under Jaylen's leadership, Bledsoe Technologies, LLC has achieved consistent revenue & client growth, quarter over quarter, and has built a roster of hundreds of customers worldwide. Some typical clients include Hazelwood West Middle School, NLAthletics & many other private clients. He is a frequent speaker on youth entrepreneurship, youth rights and start-up financing.
Jaylen plans to attend Duke University and then Harvard University in the future, where he wants to major in both Business Administration and computer science. He was given this advice by his mentor, grocery store chain CEO Scott Schnuck.
"Take risks. As a minor, there's nothing you can do that will shoot you down for too long. You can always jump back up and keep going."
---