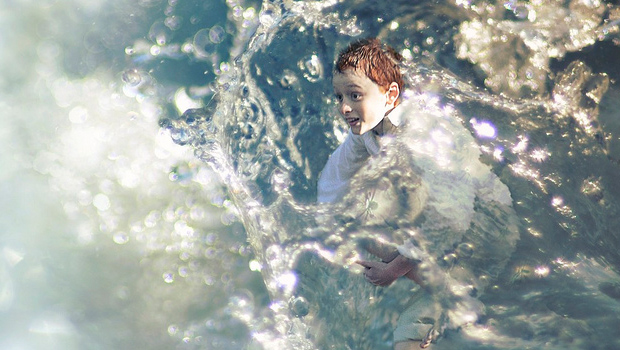 ---
(Boston Globe) — Sometimes, the world can seem overwhelming. Overbearing. If only you were tiny enough to build a house out of cards and climb inside, or escape to a miniature treehouse suspended between stalks of broccoli.
Or better yet, just fly away. Fold a giant paper airplane, then grasp its thin fuselage for dear life and sail across a field into summertime.
Such is Zev Hoover's fanciful photographic take on reality. His arresting images evoke a wonderland of imaginary environments, built from f-stops and pixels, and hinting at characters with secret stories to tell.
Hoover's work, which he posts on the photo sharing site Flickr using the handle "Fiddle Oak" (a play on "Little Folk"), has caught fire across the Internet. He has been profiled in the media and on design and photography blogs. On Monday, he will fly to New York to appear on ABC's "Good Morning America Live" webcast.
One post touting his "surreal photo manipulations" has received 108,000 Facebook likes.
"Maybe a million people saw it," said the slightly stunned Hoover, who is only 14.
"He's enjoying this little ride," said his father, Jeff. "But he's familiar with Andy Warhol's idea of 15 minutes of fame and realizes this may be transitory."
The skinny teen deadpanned, "If I was older, it wouldn't make as good of a story."
But it's Hoover's talent that has captured imaginations. A film production company contacted him about designing a movie poster. He has been approached by a publisher for a potential narrative photo textbook project. Nikon World magazine asked him to contribute a photo. A lens manufacturer sent him a free lens, saying only: "Take some pictures with it."
No doubt he will. Plenty of his peers would be happy playing soccer or video games, but not Hoover. He needs to be creating. "I get anxious if I'm not doing something," he said, sitting outside his family's Natick home this week. "What's next?"
His series of "Little Folk/Fiddle Oak" images began during a walk in the woods with sister, Aliza. He remembers thinking, "Oh, wouldn't little people be cool?" Crouching near the ground, he imagined seeing the world from their perspective. He felt the miniature genre had never been done in photography — "at least not very well."
"There's a fine line to walk between having it be too abstract and having it be too cheesy-obvious," he said.
He performs his sleight of hand in Photoshop, which he taught himself via Internet tutorials.
Hoover started shooting pictures six years ago. "I put a camera in his hand when he was 8 years old and told him about f-stops," said his mother, Michele Gutlove. "See what he did with that little bit of knowledge?"
Click on the images below to enlarge. All courtesy of Zev Hoover.
---