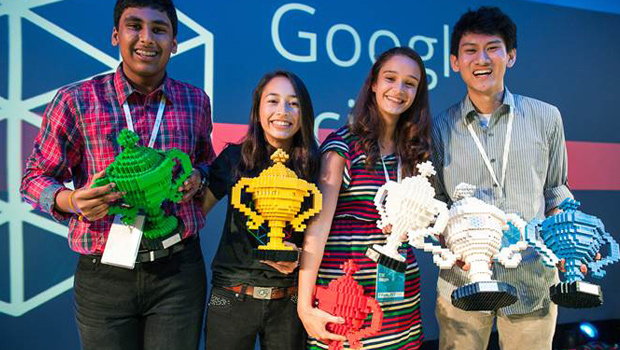 ---
(Mirror) — Not many people can claim to have changed the world but for one lucky group of teenagers, they may well get that chance.
The winners and finalists from the Google Science Fair 2013 were announced last night with young people from across the globe gaining plaudits for their futuristic sci-fi, medical and technology-based ideas.
Youngsters aged 13-18 from more than 120 countries entered the awards with the best invited to Google's HQ in California to present their potential projects to judges.
Each of the winners received prizes from Google and Science Fair partners including LEGO, National Geographic and Cern, the body responsible for the Hadron Collider in Switzerland.
The 2014 awards open in January for entries and on its blog, Google said: "Science and technology are crucial to solving many of the world's greatest challenges.
"We started the Google Science Fair to support and foster the next generation of scientists and engineers. We look forward to seeing you change the world!"
Here we take a look at the winning entrants from 2013, regional winners and identify some of the most interesting finalist projects.
Winner — 13-14 age category
Australian teenager Viney Kumar was desperate to solve the problem of emergency vehicles getting stuck in traffic when on the way to fight a fire, solve a crime or save someone's life in a medical emergency.
He aimed to tackle this by developing a new early warning signalling method called the PART (Police and Ambulances Regulating Traffic) Program for the likes of police cars, fire engines and ambulances so they could be seen and heard better.
He hoped it would enable the traffic ahead of them to move out of the faster and more effectively.
It uses an Android app and Google mapping technology to alert drivers to an emergency vehicle approaching from behind giving them 67 seconds to get out of the way.
Winner — 15-16 age category
Ann Makosinski, from Canada, has invented a torch that is powered purely by the heat generated from the palm of the user's hand.
Called The Hollow Flashlight, she wanted to use it to save the harmful effect batteries can have on the environment if not disposed of properly.
Ann also believes it would help those in the Third World where batteries may not be so easy to come by or be so affordable.
It uses a system called Peltier tiles to absorb the heat from the hand on the outside while the other side cools it using air inside the hollow torch, creating electricity.
Winner — 17-18 age category and Grand Prize Winner
Eric Chen was the big winner of the Google Science Fair 2013 for his project hoping to combat the flu virus.
The teenager from San Diego in America has been using computer models and biological studies to work out how flu pandemics happen.
He claims to have discovered new methods that could inhibit growth of the flu and he now wants to use the boost he'll generate from winning the Science Fair to go on and help develop a more powerful and successful flu vaccine.
Winner — Voter's Choice Award
Turkish teen Elif Bilgin may only be 16 years old but she thinks she has found a way to create bioplastic from discarded banana peel.
She believes it can be used to insulate cables and even in cosmetic surgery.
Benefits include cutting down on the environmental effects of making plastic based on petroleum and it's got to have a great positive side effect too of stopping people slipping on banana peels left on the pavement.
---