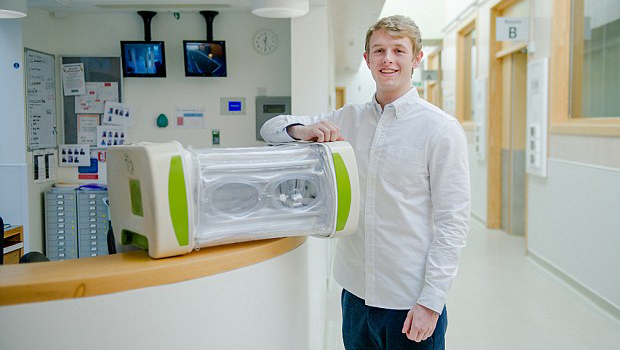 ---
(FOX News) — A recent college graduate in the U.K. has designed a low-cost, inflatable baby incubator for use in the developing world.
The brainchild of 23-year old James Roberts, the MOM system is a collapsible incubator, which can be blown up manually and is heated using ceramic elements. A screen on the device shows temperature and humidity, which can be custom set depending on the baby's gestation age. The incubator sounds an alarm if the desired temperature changes.
A phototherapy unit is also built into the device for babies suffering from jaundice. Designed to run in areas plagued with power outages, the incubator runs off a battery, which lasts for 24 hours.
On Thursday the incubator won the U.K.'s prestigious James Dyson Award. Industrial design guru James Dyson, founder of the Dyson company, was impressed by the level of innovation shown by the young designer and his team.
"James' invention shows the impact design engineering can have on people's lives," he said, in a statement. "The western world takes incubators for granted — we don't think about how their inefficient design makes them unusable in developing countries and disaster zones. By bravely challenging convention, James has created something that could save thousands of lives."
MOM costs just $400 to manufacture, test and transport to the locations where it is needed, significantly less than the $45,000 price tag for a typical incubation system.
As part of the award, Roberts and his team won $45,000 for prototyping and testing, with the goal of eventually mass-producing MOM.
The designer's alma mater Loughborough University will also receive $15,000 as part of the prize.
Roberts, who sold his car to build the first prototype, was inspired to build the incubator after watching a documentary on the high death rate among premature babies in refugee camps.
"It motivated me to use my design engineering skills to make a difference," he said, in a statement. "The dream would be to meet a child that my incubator has saved — living proof that my design has made a difference."
According to the World Health Organization, 75% of deaths resulting from premature birth could be avoided if inexpensive treatments were more readily available across the world.
In addition to Roberts and his team, other organizations are also looking to tackle this problem, such as Embrace, which provides low-cost, life saving incubators in countries like India, Afghanistan and Uganda.
---
Share Your Thoughts in the Comment Section!

There are currently 6 Comment(s)
---
Photo courtesy of the James Dyson Foundation.
---