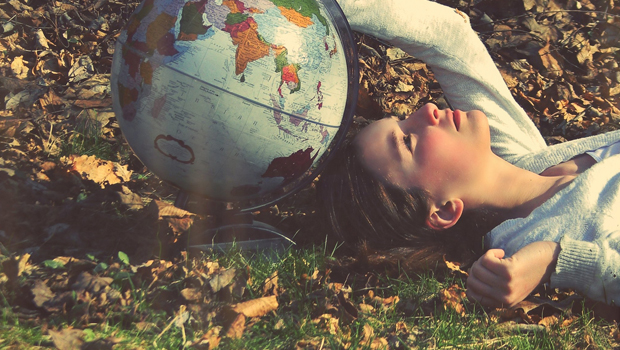 ---
I wanted to do big things.
I was the 8-year-old enthralled by missionary stories, the teen excited about "doing hard things." I dreamed and planned and prepared. God surely had awesome plans for my future.
Funny, but the future doesn't look like I expected. Two years out of college, I tutor and own a small music studio. I watch my friends follow God's calling: to be a missionary, to marry a man in the ministry. To "go."
I rejoice, but after the commissioning service and the wedding, I went home. I'm still there.
Questions have nagged. Why not me, God? When I have deeply longed to serve You? Is there something wrong with me? Why have You given them the desires of their hearts and withheld mine?
As I grade algebra and count quarter notes, there has been no epiphany. Just the Voice, still and small. You have much to learn.
So much for being post-graduation. I've been schooled in subjects not listed in academic catalogues. I think my major is either "Waiting in Uncertainty" or "Doing Rather Small Things."
Perhaps you also find yourself involuntarily enrolled. Your lessons may be different from mine, but here are four things I've needed to learn.
Humility
I peel away layers of complaint and find pride. I wouldn't verbalize it, but my attitude whines: "Look, God. You have enabled me. Don't you want to use me? Why am I still on the sidelines?"
Truth: God doesn't need me. I have nothing to offer that He did not give me first. He is not impressed with me or obligated to use me. Serving God in any capacity is a privilege, not a right.
He allowed me to experience rejection and failed opportunities — and showed me that I am powerless. My gifts and drive aren't enough. I am weak and I need God desperately. And anything that teaches me this is grace.
Trust
There were many tears. Why, God? I'm hurting. Help me make sense of this. God didn't always give answers for my failures and His denials. He held me, crushed and bruised, and gave me the ultimate answer — Himself.
It became a litany.
"Isn't God powerful?"
Yes – nothing is impossible for Him.
"Isn't He wise?"
Yes. God has perfect understanding and knows what is ultimately best.
"Isn't God my Father who loves me and gave His Son for me?"
Yes!
"If He gave His Son, will He withhold any other good thing?"
Absolutely not.
That was – and is – all I needed to know: I can trust this God who is powerful, wise, and who loves.
Contentment
Sometimes it felt suffocating. Could I bear it if all I ever did was stay in my little town, teaching in my little studio, working with little kids, and being little me?
Today, I say yes. The things I craved — a successful career, a relationship, a dynamic ministry — aren't the answer. I know because I have crazy, surprising joy without them.
God withheld my deepest longings and gave me Himself. As I pursued Him through His Word, prayer, and worship, I was startled to find that I was satisfied. Circumstances didn't matter. As I delighted in God, His ordering of my life became delightful.
Willingness
"Wherever, whatever You want, Lord! I'm in!" It was easy to say that and believe I meant it. But what if God's mission for me didn't involve a foreign country – what if He wanted me to slip a gospel tract to the cashier at the grocery store or witness to my neighbor?
Was I serious about service and evangelism? I was open to missions or vocational ministry, but would I be faithful with no title? Would I be zealous for the gospel if I was just… normal?
I had to learn to accept quiet ministries, even when they were unseen and unapplauded. If my desire was to glorify God and proclaim the gospel, it wouldn't matter if I had a title or recognition. I would do anything – boring, mundane, trivial – to further His cause.
And Today….
I'm still home. I don't have an explanation for God's workings — not that He owes me one. God gave me a great blessing when He gave me Himself instead of answers.
By His grace, I now have more experience in humility, trust, contentment, and willingness. I haven't arrived, but I'm not where I was. When the next tests come, I pray that I'll be more prepared to face them.
And you? If any of this sounds familiar, I pray that God gives you grace to walk through this time with Him. May we be willing to do whatever He tells us, to go wherever He leads us — even if it means to stay and be small — so that He becomes great in us.
---
Share Your Thoughts in the Comment Section!

There are currently 6 Comment(s)
---
Photo courtesy of MartinaK15 and Flickr Creative Commons.
---