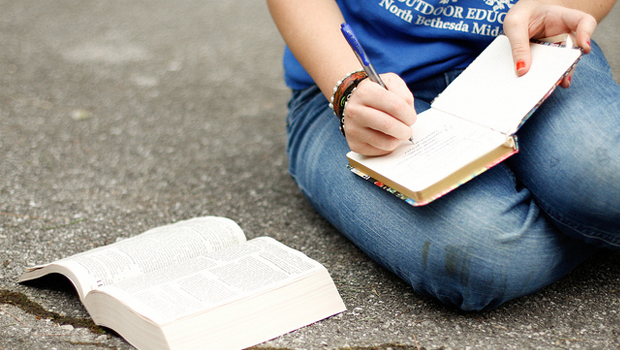 ---
"Don't be known for what you're against, be known for what you're for."
We as Christians are called to be winsome for Christ in an uncompromising way. Being overly negative or critical can hinder how attractive we are to the world. Although criticism does have its place, a winsome group will not focus on what they are moving away from, but rather on what they are moving towards.
There are at least five crucial things that I believe our generation should and is moving towards. This is obviously not a comprehensive list, but a few thoughts to get us started.
1) Worship
Worship must penetrate every area of our lives. Of course, I'm not talking about the singing part during a traditional Sunday service. I'm talking about attitudes and lifestyle: making every moment of every day a pleasant "offering" to God and constantly giving thanks. It's the reason we live. Worship isn't really something we do, it's something we are: our whole lives should be worship to God.
This became real to me this past summer during the two week long Evening Bible Camps that my church hosts annually. About thirty out-of-state young people come in every year to bless our local community in Northeast LA, particularly the kids through the Bible Camps.
At the end of each day, after working hard and watching God move, we would get together for a time of prayer and singing. This time is very special to me because it is our way of saying "God, everything we did today was for you! May you be honored! May your name be blessed in this community! Thanks for what you did! You are amazing!"
This shouldn't be our attitude two weeks out of the year. It should be how we live everyday. "Jesus, I live for you. You are my purpose, my life. Everything I do is for your glory. I love you. Thanks for loving me so much!"
2) Hard Work
Pretty much all of life, including worship, takes hard work. Hard work isn't the type of thing we naturally want to do, that's why it's hard! Just like worship, a good work ethic should saturate our lives. This is definitely an area where I need to grow. I am an incessant procrastinator; everyday I must fight against the "I don't feel like it" urges.
Discipline, hard work, perseverance — whatever you want to call it — is really part of our responsibility in bringing redemption to Earth. Ever since the curse, chaos has increased. Jesus came to break the curse and bring redemption to the whole world. This means that merely getting out of bed on time is part of our redemption work.
As the old carol says: "No more let sins and sorrows grow, Nor thorns infest the ground! He comes to make His blessings flow, Far as the Curse is found…" (Joy to the World). In other words, His redemption goes as far as the curse did.
While striving to work hard, we need to reject condemnation. It's good to be disciplined, but remember that our work does not determine God's love for or pleasure in us. He redeemed us for good works (Ephesians 2:10); obedience is an expression of our love for Him (John 14:15); but He loved us long before we did anything to deserve it (1 John 4:19; Eph. 1:4).
If faith is like a pregnancy, then works are like the birth: they will happen unless something tragic prevents them.
3) Love
Christians too often belittle love. We either place too little value on it or we make it out to be little more than fluff. It is completely unbiblical to dismiss the Love of God.
1 Corinthians 13 is very clear that anything done without love is a waste of time. 1 John 4:8 says that God is love. Technically, you can flip this around and say love is God. This sounds kind of weird, doesn't it? But it's what the Bible says, not me! To my knowledge, no other character quality or fruit of the Spirit is given equal status with God.
Let me explain.
It's all in the grammar: Holiness is a noun; holy is an adjective. Mercy is a noun; merciful is an adjective; likewise, love is a noun and loving is an adjective. Nowhere in the Bible does it say "God is holiness" or "God is Justice" or "God is mercy," but many places it says that God is holy, just, merciful. In other words, love is not just a way to describe God: God is love itself.
"Wait a minute!" you might say. "The Bible says God is light. You cannot say 'Light is God." This is a good point. However, both phrases "God is love" and "God is light" are metaphors. With the metaphor "God is light," the Apostle John was describing how God shines into your life and expels darkness. Therefore, in the metaphor the light represents God — the light is God.
Again, this is merely a metaphor. Do not start worshiping the sun, or photons, or anything like that. Similar with love: We do not worship the affection between parent and child or the romance between lovers, but we worship God who is the very epitome of love.
Therefore, since God is love and, metaphorically speaking, love is God, if a group of people say "We have love!" but do not have the one, true God, then they do not have true love. On the other hand, if people say "We have God!" yet love is nowhere to be found, then they do not really have God.
If you can't remember what 1 Corinthians 13 says, go read it again. It is a powerful chapter. This time, replace the word "love" with "God." All those qualities which describe love, also describe God. Isn't that amazing!
Now get this: in Christ, we partake of God's divine nature (2 Peter 1:4). Not that we become gods, but rather His nature is implanted into us. We become one with Him in Spirit (1 Corinthians 6:17). That includes His love as well. This isn't something we have to strive for or obtain, it is part of the new identity God has given us through Christ. Just rest in it and allow God to make love reign in your life.
4) Rest
I don't completely understand it yet, but I am learning more and more about the necessity of resting. I do know that through Christ, we have entered into God's rest, which is clearly for today but culminated in Eternity.
"For we who have believed enter that rest… for whoever has entered God's rest has also rested from his works as God did from his. Let us therefore strive to enter that rest so that no one may fall by the same sort of disobedience." — Hebrews 4:3,10-11
The Israelites disobeyed God by not "striving to enter" the Promised Land (God's rest) and therefore were kept from entering it.
In the New Testament, the phrase "put on" literally means "sink into" (Strong's G1746). This is an extraordinary revelation! "Put on" indicates an action of work, whereas "sink into" indicates surrender and rest.
Instead of working hard everyday to "put on" the Armor of God, I can "sink into" it, knowing that in Christ, it's already on (Ephesians 6:11; Romans 13:12). "But [sink into] the Lord Jesus Christ, and make no provision for the flesh, to gratify its desires" (Romans 13:14); "You were taught…to be made new in the attitude of your minds; to [sink into] the new self, created to be like God in true righteousness and holiness" (Ephesians 4:22a, 23-24).
5.Community
We were not meant to be alone. When creating the world, the only thing God said that was "not good" was an alone person. Even the Trinity has never done anything alone? They are one, they are always together, they are never alone: God does things in community.
Friends sharpen our thinking, challenge the way we think, reveal areas of weakness in our character, and encourage us toward health, toward God. Be friendly and make friends (Proverbs 18:24).
What does Community look like exactly? I don't know, but I'm pretty sure it involves games, singing around camp-fires, spontaneous Communion, and doing ministry with friends. It requires hard work, lots of love, attitudes of worship, and people who know how to rest.
We'll sometimes hurt each other and need to apologize and forgive. Sometimes we'll want to give up, or it will seem like no one wants community anymore — that's when it really begins! Keep pressing on, it's worth it! We need each other—so let's be there for each other.
Yes! Let's pursue these! Let's unleash our generation by letting worship saturate our lives, hard work push us toward our goals, love overwhelm us, surrender take us to rest, and community strengthen us.
---
Share Your Thoughts in the Comment Section!

There are currently 7 Comment(s)
---
Photo courtesy of Wayne Miller and Flickr Creative Commons.
---