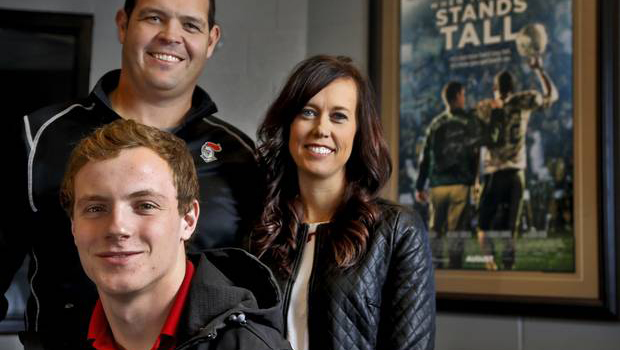 ---
[ For more background on Christian's story, check out our exclusive article, written by Christian's neighbor, rebelutionary Madison Woodard. ]
(The Oklahoman) — Christian Osterhout will live every football player's dream.
He's going to the Super Bowl.
---
The senior linebacker from Crossings Christian School has won the NFL's "Together We Make Football" contest. After nearly two months of online voting, he emerged at the top and won a trip to the Super Bowl next month in Arizona.
"Just a couple years ago, I thought … seats to the Super Bowl would be almost impossible," Osterhout said. "It would be something I'd never get to do. But now, I'm in the spot where I get to go to the Super Bowl, I get to be on the field before and after the game."
He paused.
"It's just been unbelievable."
And it's just getting started.
Osterhout, whose parents both died in the past few years and was adopted by Crossings football coach, Chris Roberts, was surprised earlier this week with the news that he'd won. The NFL called to say that it wanted to send some cameras to the family's Edmond home to get some footage, but when the crew arrived Monday evening, it brought a special guest.
"As we're eating," Roberts said of wife, Sarah, as well as Christian and their other four kids, "Deion Sanders came back into our house."
Sanders visited several months ago to let the Christian and Team Roberts know that they had been selected as a national finalist in the contest. This time, the former NFL great brought the news that they had won.
The reveal was taped and aired Friday morning on The Today Show.
---
Winning the national contest was quite a feat for Christian — he was the only finalist in the contest who wasn't in an NFL city. The rest of the finalists had teams promoting them, sharing their stories and asking for votes. All that Christian and Team Roberts had was their story, but clearly, it resonated with many.
"We felt like it was the best story," Chris said. "(The focus of the contest) was how football impacted your life, and I don't think there's any more it could impact your life than when it adds to your family. That's what we felt like made it a good story.
"The whole time we felt like, 'We're the best team, but sometimes, the best team doesn't always win.' We were really content if we didn't win. It was a great experience, and we got to tell our story."
---
Share Your Thoughts in the Comment Section!

There are currently 15 Comment(s)
---