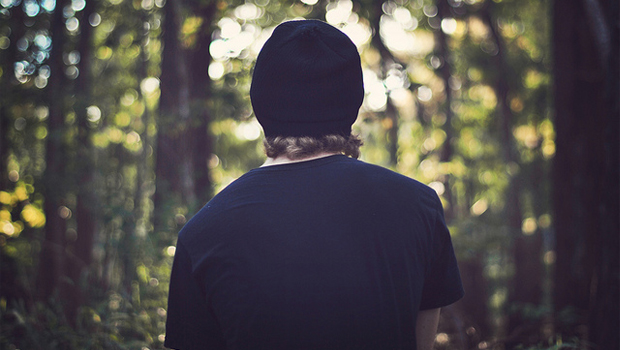 "Immediately Jesus made His disciples get into the boat and go before Him to the other side, while He sent the multitudes away. And when He had sent the multitudes away, He went up on the mountain by Himself to pray. Now when evening came, He was alone there." — Matthew 14:22-23
He wasn't coming.
I wonder if that's when the fear first lodged in their throats.
I wonder if the sons of Zebedee exchanged nervous glances.
I wonder if Peter did what he always did and said what everyone else was thinking. "Lord, aren't you coming?"
I wonder if Jesus gave them an answer as He walked along the shore. Maybe He just smiled in that way of His that John would always remember. It was the look that said, "I know what I'm doing, but you don't have to."
I wonder if an uneasy sense of doubt surfaced as they watched Him walk away.
I wonder if you've ever felt that way.
I wonder if there's an area in your life right now where God has given you the tools and the instructions without telling you what He's building. If He's called you out of your comfort zone just far enough that you feel that little knot of dread in the pit of your stomach.
It's not that romantic leap of faith that you thought it would be. It's not anything you would even define as life-threatening or dangerous. So why does it keep you up at night?
Why are we so afraid to step out in faith?
We walk with Jesus every day. We read His words. We know He's never left us before. And yet when He tells us to move we freeze, terrified to step out.
Every time we try, a thousand reasons not to loom in the distance like storm clouds on the horizons of Galilee, and deep inside the question flutters with our palpitating heart. "Lord, aren't you coming?"
We are so afraid we're alone in this. We're so scared of the unknown ahead. And the first thing the Enemy will use against us is this fear:
He's not with you. This is all your idea. You think this is what He told you to do, but you're just hearing what you want to hear. God would never tell you to do this because ______________________.
Fill in that blank.
What lie has the enemy told you lately?
God would never tell you to do this because…
You're not spiritual enough?
You're not smart enough?
You're not experienced enough?
You're not old enough?
You're not young enough?
You're not attracitve enough?
You always mess things up?
You've failed so many times before?
The Enemy has all sorts of lies he likes to throw our way, but his first weapon of choice since the Garden of Eden has been, "Did God really say ?"
If he can convince us that we're alone in this he knows the best of us will stop dead in our tracks. As well we should.
Just like Moses begged the Lord in Exodus 33, "If Your Presence does not go with us, do not bring us up from here."
We know we can't move without the Lord, but how many times does He have to tell us to do something before we actually do it?
Yes, there's a time for all things. Yes, we should have faith like Gideon and put our fleeces out before the Lord. But there's a time to wait, and there's a time to sit the seat of our pants in that boat and cast off.
We serve the God that said, "Have not I commanded thee? Be strong and of a good courage; be not afraid, neither be thou dismayed: for the LORD thy God [is] with thee whithersoever thou goest" (Joshua 1:9).
I don't know about you, but I'm always wondering if the whithersoever really means whithersoever.
Anywhere? Really? Are you sure? What about over here? What about over there?
Have you ever read Green Eggs and Ham by Dr. Seuss?
Silly question. Of course you have. Sorry.
The other day I was worrying about God's sovereignty in an area of my life when I started laughing at myself. My doubts and my worries sounded exactly like that irritating little imp of a Seuss character, Sam-I-Am.
God said, "I will be with you."
And I'm like,
"Would You could You on a train?
Would You could You on a plane?
Would You could You in the park?
Would You could You in the dark?"
Everywhere I go I'm questioning whether or not He's with me. It shouldn't surprise me at this point, but God has no boundaries.
He never has to avoid foreign airspace. He never has to turn around. He never has to find another way.
That's not to say He won't turn us around, or redirect our path. But if God's going somewhere, He's going to go, and all those things He has in store for us are going to happen.
But we've got to get in that boat. We've got to believe that, even if we can't see Him, He is with us.
So what is the reason we're afraid to step out in faith?
We're afraid He's not coming.
But once we believe that He is truly with us, the scope of our future is beyond all imagining.
"No weapon formed against you shall prosper" (Isaiah 54:17).
Whithersoever thou goest.
---
Share Your Thoughts in the Comment Section!

There are currently 17 Comment(s)
---
Photo courtesy of Lauren Rushing and Flickr Creative Commons.
---