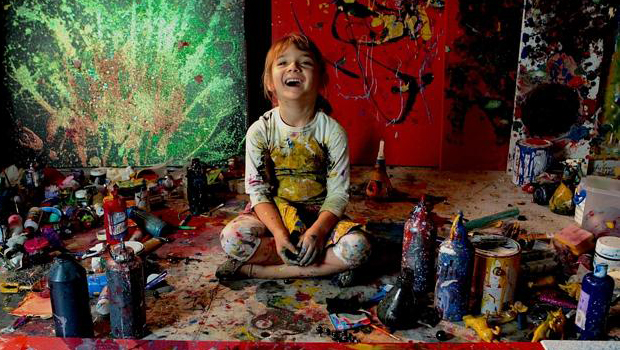 ---
(news.com.au) — Aelita Andre has done things many of us can only dream of, all before the tender age of 10.
She has showcased her work in sold-out galleries in New York, London, Italy and Hong Kong, painted live in front of more than 20,000 people, has been featured in Forbes magazine and interviewed by Good Morning America, CBS, NBC, BBC and The Washington Post.
She was compared to Jackson Pollock by The New York Times, labelled "the Mozart of the visual arts" by a professor at the St. Petersburg Fine Art Academy and has even written a book.
The Melbourne-born daughter of Australian Michael Andre and Russian Nikka Kalashnikova is most comfortable with buckets of paint and a canvas.
But the pint-sized painting prodigy opened up to news.com.au this week about life in the spotlight, where she gets her inspiration and what she sees in the splashes of colour that have afforded her a life of travel and fame and been an outlet for her freedom of expression.
And before you ask: she's a normal, happy young girl who wouldn't have it any other way.
"The fact that I grew up with so much attention and famousness is like, I feel really happy that," she said.
"I'm famous for my amazing art and so happy to be known around the world and when I go into shops and things and they say, 'Oh, I remember you, you're that famous artist Aelita' I feel so happy in that moment and I'm really glad about that. I feel special."
She is special. Born in 2007, Aelita was the youngest person ever to have their own accomplishments listed on Wikipedia.
Her parents say she began to paint "professionally" aged nine months. Her first works, acrylic on canvas, were exhibited when she was 22 months old, at Melbourne's Brunswick Street gallery, and seven of her 15 works — priced between $300 and $3000 according to The Guardian — sold before the show even started.
By age four, a single piece of her work had fetched $24,000.
From there it's been exhibition after exhibition.
---
Share Your Thoughts in the Comment Section!

There are currently 6 Comment(s)
---
Photo courtesy of NewsComAu.
---