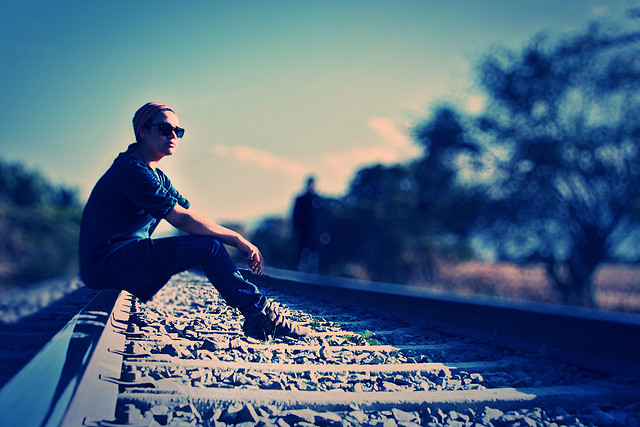 Two Thursdays ago, eight Christian students were killed for their faith in a college campus shooting.
When I read about that tragic event in the headlines later, I realized that what surprised me the most was not that a gunman invaded the campus that morning. Certainly, that was an awful thing to do.
But I was more surprised that in the face of certain death, there were still eight students who chose to stand up for Christ that day. There were eight people who knew what would happen if they declared Jesus.
Eight people who were unafraid to face death.
Eight people who would still be alive today if they had chosen to deny Christ.
But they stood up anyway.
Headlines like that rock our Christian comfort zones, don't they? Do they make you feel anxious? Relieved? Motivated? Scared?
Rebelutionary, are you afraid of death?
If you don't like your answer to that question, read on. Here are four reasons why I think Christians shouldn't fear death.
1. We have an eternal hope.
We are not lost. We are not hopeless. Death is not the end for us. If our God has truly defeated death, what do we have to fear?
First John 4:18 says, "[God's] love has no fear, because perfect love expels all fear. If we are afraid, it is for fear of punishment, and this shows that we have not fully experienced His perfect love."
What does it say to a world in need when Christians cower at the thought of death, the very thing we say we're freed from by eternal life?
In Isaiah 51:12, God says, "I, yes I, am the One who comforts you. So why are you afraid of mere humans, who wither like the grass and disappear?"
Fear shows that we don't fully trust God's plan when it involves things that scare us or make us feel uncomfortable.
2. Heaven is our heart's desire.
You've probably seen cartoons where characters in heaven float around on clouds, play harps, and look bored all the time.
Or you might picture heaven as a somber place full of frowning angels where God scowls and judges the world all day.
Both pictures are way off. Heaven was made by God to be the paradise of the soul.
Revelation 21:3-4 says, "He will live with them, and they will be His people. God Himself will be with them. He will wipe every tear from their eyes, and there will be no more death or sorrow or crying or pain. All these things are gone forever."
Heaven was designed to be the fulfillment of all we could ever want: peace, love, hope, purpose, fellowship, worship, and, most importantly, constant face-to-face interaction with God.
3. God is keeping score.
When Christians are persecuted for their faith, God notices. He doesn't turn His head and just let it happen.
He watches. He strengthens them through their trials. And when their lives are over, He receives them into heaven with open arms and says, "Well done, my good and faithful servant."
Revelation 14:13 says, "Blessed are those who die in the Lord … for they will rest from their hard work; their good deeds follow them."
And not only does God reward those who stand for Him, He also judges their persecutors. In Revelation 22:12, God says, "I am coming soon … to repay all people according to their deeds."
God is just, and He will avenge those who die for His Name.
4. Death is a powerful witness.
These students and other martyrs' deaths sometimes witness louder than any other actions could. The fact that those eight people valued Christ more than their lives has struck a chord in this nation.
All over social media, hashtags like #PrayforOregon and #IAmAChristian are going viral. Blog posts, articles, and videos inspired by the incident are calling Christians to get real in their faith and stand up for Christ.
Stories of unashamed teenagers like those who died at Umpqua can spark a reaction in the lives of both believers and nonbelievers alike. Willingly laying down your life for Christ speaks volumes in a world where protecting yourself first is a priority.
Death for a Christian is not hopeless. It is the joyful fulfillment of God's promise of salvation. It is the beginning of a new life with Christ forever. It is the doorway to absolute satisfaction in God.
Is that scary? Have we just swallowed the world's concept that death is frightening without really evaluating what it means for us?
Seriously, what about death should make a Christian afraid?
Those eight students probably felt frightened as they stood up for God that Thursday morning. Yet they were brave enough to act anyway—despite their feelings.
"Courage is not the absence of fear, but the triumph over it," Nelson Mandela said. What about you? Will you chose to stand for God, even when your belief might cost you?
Christian, are you afraid of death?
---
Photo courtesy of Maryl Gonzalez and Flickr Creative Commons.
---