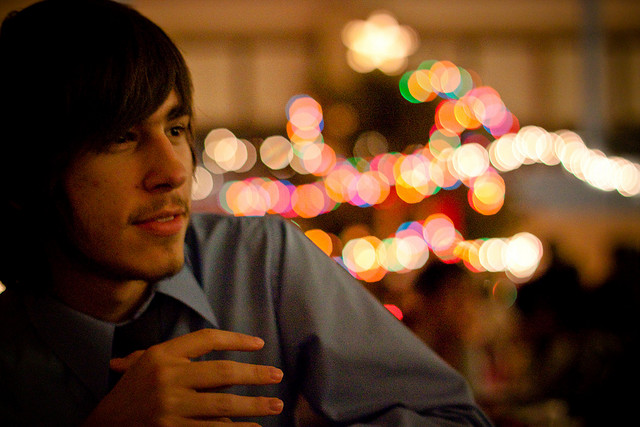 ---
"What is Christmas if there never was a Savior wrapped, in a manger?
What is Christmas without Christ?"
Kutless asks this in their song, "This is Christmas."
My answer is, The American Christmas.
Everyone is celebrating Christmas today (my atheist neighbor, the spiritualist who hangs out downtown, even the Buddhist monastery near the church where I take piano lessons).
The only thing is, they take all the traditions about Jesus out and just leave the rest.
Some people even go so far as to leave out any connection to Christ whatsoever. You hear things like, "Happy holidays!" or "Merry X-mas!"
Have you noticed how no one gets offended when you say "Happy Hanukkah!"? Yet they very well might if you use the word "Christmas."
So, you're reading this and you're thinking, "Great, there's religious discrimination, America is terrible, and I'm glad I'm not secular. This is all good and nice, but so what? I'm a Christian – how does this apply to me?"
This is how it applies to you – you have the same problem. And so do I.
We're just like the rest of the culture. The only difference is, we should know better.
Did you know that non-believers have their own "sanctified" version of Christmas? Where they start with their mental health and consume natural sleep inducing products and CBD vape pens are the newest trend in vaping in the Christmas evenings. They'll say that Christmas certainly shouldn't be about gifts (especially not parents who hate the holiday stress). No, Christmas is about love and about family.
Starting to sound a little more like what a Christian would say? What you or I might say perhaps?
I don't doubt that you know in your head that Christmas is about Jesus. How can you not know it? It's in all the Christmas carols, nativity pageants, and even in Charlie Brown.
But do you know it in your heart?
Do you wake up on Christmas morning and say, "I'm so happy Jesus was born!"?
Or do you go along with the rest of the world and ask, "I wonder if I'm getting that Canon MX93 I told my dad I wanted"? Or, "How am I supposed to wear red and white and not look like a candy cane?"
A lot of Christians are depressed at Christmas.
They've lost loved ones – close relatives, maybe even a spouse or a child.
Making Christmas about family, food, gifts, and a nebulous feeling called love – something everyone wants but no one exactly understands – isn't going to help them.
The reason they're depressed is precisely because of the loss of a family member. They don't really want to eat since … they're depressed. Gifts just aren't going to fill the void. And frankly, love hurts and no one knows what it is anyway so why bother?
Wait! Actually, someone does know what it is and his name is Jesus and he came as a baby and …
"Okay, John! We've heard this story a million times. Can you please just cut to the chase?"
Now when they had departed, behold, an angel of the Lord appeared to Joseph in a dream and said, "Rise, take the child and his mother, and flee to Egypt, and remain there until I tell you, for Herod is about to search for the child, to destroy him" (Matthew 2:13).
"I meant that figuratively!"
Okay. Maybe you have heard the Christmas story a million times. But most likely you've heard it like I have. Let's hear it the right way.
It begins with what we already know.
In those days a decree went out from Caesar Augustus that all the world should be registered. This was the first registration when Quirinius was governor of Syria. And all went to be registered, each to his own town. And Joseph also went up from Galilee, from the town of Nazareth, to Judea, to the city of David, which is called Bethlehem, because he was of the house and lineage of David, to be registered with Mary, his betrothed, who was with child. And while they were there, the time came for her to give birth. And she gave birth to her firstborn son and wrapped him in swaddling cloths and laid him in a manger, because there was no place for them in the inn.

And in the same region there were shepherds out in the field, keeping watch over their flock by night. And an angel of the Lord appeared to them, and the glory of the Lord shone around them, and they were filled with great fear. And the angel said to them, "Fear not, for behold, I bring you good news of great joy that will be for all the people.

For unto you is born this day in the city of David a Savior, who is Christ the Lord. And this will be a sign for you: you will find a baby wrapped in swaddling cloths and lying in a manger." And suddenly there was with the angel a multitude of the heavenly host praising God and saying,

"Glory to God in the highest, and on earth peace among those with whom he is pleased!"

When the angels went away from them into heaven, the shepherds said to one another, "Let us go over to Bethlehem and see this thing that has happened, which the Lord has made known to us." And they went with haste and found Mary and Joseph, and the baby lying in a manger. And when they saw it, they made known the saying that had been told them concerning this child. And all who heard it wondered at what the shepherds told them. But Mary treasured up all these things, pondering them in her heart. And the shepherds returned, glorifying and praising God for all they had heard and seen, as it had been told them.

And at the end of eight days, when he was circumcised, he was called Jesus, the name given by the angel before he was conceived in the womb (Luke 2:1-21).
But it doesn't end there.
Jesus died to pay for our sins, and then he rose again.
And this is the important difference between how we usually hear the Christmas story and how it is told in the Bible.
The story doesn't end with Jesus rising again either.
It actually never ends. You're part of the story. I'm part of the story.
Christmas isn't about something that happened 2,000 years ago. It's about something that is happening here and now inside of us.
Christmas is about family. God's family.
Christmas is about food. The Bread of Life.
Christmas is about gifts. The gifts of the Spirit that we can partake of here and now.
And Christmas is most certainly about that thing that everyone wants but only one Person fully understands – love. Jesus not only understood it. He is it.
Remember the atheist neighbor, the spiritualist downtown, and the Buddhist monastery? Now, that is depressing.
If the holiday tradition of gift giving is really about giving and not getting, then why don't you give the gift that matters most – the gift of Christmas?
What's so happy about the holidays? Why are we even celebrating X (whatever that is)? Isn't this all a little drab?
When you "know the truth" about Christmas "the truth will set you free" from this holiday and make it a holy day – a reason to rejoice (John 8:32).
Join me in asking God this Christmas, "What are you going to give me today?"; "What have you already given me?"; and "How can I give back to you?"
You might just be surprised by his answers.
Leave a comment below and let me know how you're going to see Christmas differently.
---
Share Your Thoughts in the Comment Section!

There are currently __ Comment(s)
---
Photo courtesy of Pete and Flickr Creative Commons.
---