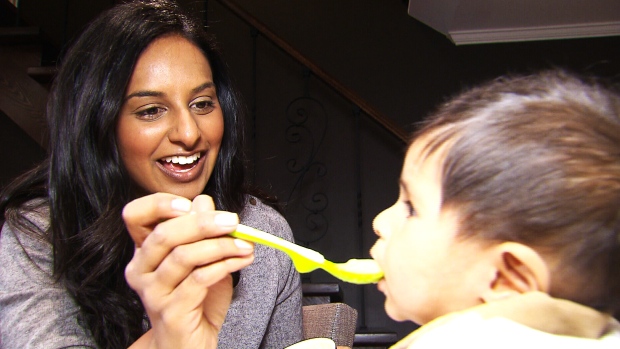 ---
(CTV News) – A pair of B.C. teens is hoping to change the way we eat by creating cutlery capable of scanning each bite for bacteria, allergens and nutritional content.
Designed by 16-year-olds Madeleine Liu and Angela Wang, Culitech cutlery uses technology called "near-infrared spectroscopy" to analyze food's molecular breakdown.
The compact cutlery comes in fork, spoon or chopstick form, and each utensil features a detachable mini-spectrometer.
The spectrometer uses infrared waves to examine food's makeup, the inventors explain in an online video.
Because different types of food molecules vibrate in different ways, they each create a unique "optical signature," which the cutlery can recognize and use to identify what's in the meal, the teens say.
"Each food molecule vibrates in its own way to create the optical signature, and then you have to match it up to a database to see what type of food it is and if it's an allergen or not," Liu told CTV's News Channel on Tuesday.
Liu, a Grade 11 student at Vancouver's West Point Grey Academy, says she was inspired to create the product when she saw how friends and family struggled with allergies and infections caused by the bacteria Helicobacter pylori.
According to the Australia-based Helicobacter Foundation, Helicobacter pylori bacteria are believed to be transmitted orally, and can infect the stomach and lead to ulcers.
"We knew that there are Helicobacter pylori bacteria in the world and it's especially common in China, where it spreads through cutlery," Liu said on CTV News Channel on Tuesday. "We wanted to think of a way to prevent it before it spreads."
In North America, where the bacteria is less common, Liu says Culitech cutlery can be used to identify allergens and provide nutritional information.
"There is a need and this is the way, I think, of combating the issue," she said.
Liu and Wang took home the top prize when they unveiled their smart utensils at Startup Weekend Vancouver in November.
Now, they're working to create a final product and get it to market.
Read the rest here.
Share Your Thoughts in the Comment Section!

There are currently __ Comment(s)
---
Photo courtesy of CTV News.
---