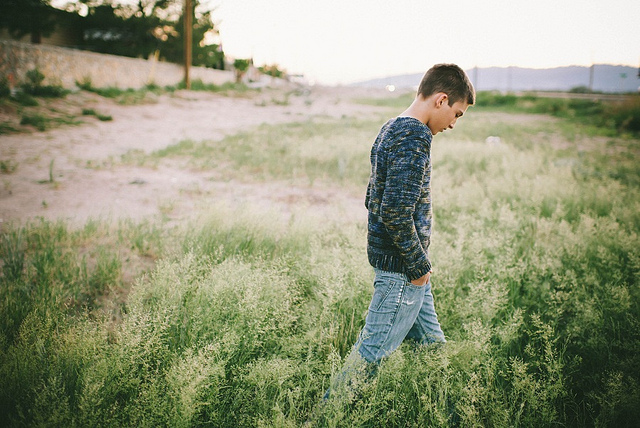 ---
It's a constant surprise to me how much small things can make such a big difference.
I can think of a hundred different times when someone offering to get my coffee, someone helping me with my kids, or someone following up with me after an event has made a supernova of gratitude and thankfulness explode through me.
All these small things take seconds, but I know a lot of them have changed me and allowed me to see past my own pain to the bigger vision God has for my life.
I can think of one instance in particular.
At the end of my high school years, I had a friend, Sam, who told me he was an atheist.
We talked through some of his questions, and at the end of what had become one of the most interesting conversations of my life, he told me his verdict: he was still an atheist.
It was crushing to me because I had really done my best and worked hard to give the truth. Yet it had amounted to nothing changing.
It was at that moment I had a bit of a surprise answer to an unspoken prayer.
After I confessed to Eric, one of Sam's friends, that I didn't think anything I had done had made a difference, he told me that wasn't true.
Eric assured me that Sam had told him he'd learned a lot from me.
I was shocked, because it didn't seem like I had done a good enough job.
In fact, while I had grown up in the church, I had failed God miserably.
And though the years have passed, my small offerings on the Christian faith still might make some difference.
I might never know that, but I do know what made a difference to me.
Eric and I were not close friends, and he was pretty popular (whereas I was the shy girl who was smart and the teacher's pet type.)
He did not have to talk to me. He did not have to do anything for me.
He owed me nothing in any sense that friendship, peer politics, or even faith would have prompted him to tell me that small kindness of talking to me, post-verdict, and letting me hear the news I had made a difference, even if it wasn't the one I had been hoping for.
Eric's talk made a deep imprint in my memory that day.
Sometimes when I think I'm failing as a Christian, I think of that moment and receive its comfort all over again.
What happened in the span of maybe five minutes has echoed again and again in my life.
I know a lot of people might look at The Rebelution and see "Do Hard Things" and think that means big things.
But "hard" and "small" tasks don't necessarily have to be mutually exclusive.
Small moments have everlasting consequences.
Small deeds can make big differences to the people who see nothing but trouble.
Small things can make big hearts swell, big egos smash, and big deals break through.
Small prayers can package the biggest faith.
Do something small today for God.
You might not see what a difference it makes in this world. You might not get a standing ovation.
You might not feel important to the world.
But doing something small might just make all the difference in the world.
So do something small to make the world a better place, even if it is a small thing. In fact, do something small today especially if it is small.
You never know who might need it, and in what ways it could help them see God better.
And it just might make you see the "small things" in your own life in a different light.
---
Share Your Thoughts in the Comment Section!

There are currently __ Comment(s)
---
Photo courtesy of Amanda Tipton and Flickr Creative Commons.
---