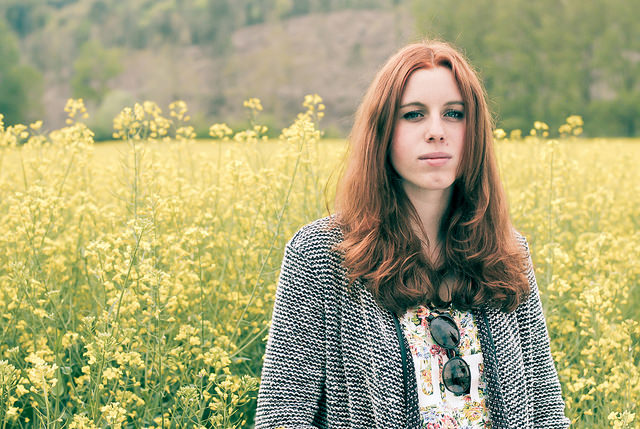 ---
Where are you going to college?
What are you going to study?
What are you going to do with your life?
As a junior in high school surrounded by many well-meaning adults, I hear these questions on almost a daily basis.
For years, my standard answer was a cheerful "I don't know yet!" accompanied by a bright smile and an inward groan.
The adult would invariably respond, "Oh, don't worry. God will show you His plan."
I didn't doubt that God knew His plan for me, but when would I know it?
I'm the type of person who needs everything planned out months in advance. I'm obsessed with my daily planner and gel pens (blue for school assignments, purple for church, red for softball practice, green for work. Any questions?).
Every night, I would lie in bed wondering and worrying about what was to come.
It turns out those adults I never believed were right.
I'm here to tell you that, yes, God will show you His plan for your life sooner or later.
But it may not be in the way you expect it.
I'm a high school softball player hoping to continue my career in college. Last summer, the summer leading up to my junior year, was supposed to be my breakout summer: college camps, my skills video, big tournaments, the works.
Yet after one misstep in the VBS bouncy house, I found myself in the orthopedist's office, being told that I needed major surgery and couldn't touch a softball for six months.
It looked like things couldn't really get worse from there—but then they did.
Just a couple of weeks after my surgery, I found out that a friend of mine had taken his own life. He was fifteen years old and, as far as I knew, a Christian. The whole thing shook me deeply.
I spent days in a fog, asking God one question: why?
It was during this time, in these moments of my deepest pain, that the miracle started to happen.
Bits and pieces of ideas, things that I had thought about months before as I lay in bed running down my mental list of career options, began to gather and solidify in my mind.
Since I wasn't allowed to play softball last fall, I decided to coach an 8U team. I've always loved kids, and I figured I would still get to be around the game.
Why not?
As the season got underway, I enjoyed coaching. In fact, I loved it. But I still wasn't entirely sure.
I wanted to know absolutely, positively, beyond a shadow of a doubt what I was supposed to do with my life.
One evening it was raining lightly as we prepared for the girls' game. I was warming up two of my favorite players, Abigail and Logan (names changed).
Abigail was homeschooled and had a great family that was in the stands rain or shine. She was polite and mature and the best player on the team; I absolutely loved her.
Logan was tiny, blond, and sassy. She was rough around the edges—the kind of little girl whose shoelaces are always untied and who has an attention span of about twenty-five seconds.
I'd never seen any type of parental or guardian figure at our games or practices; she got dropped off and picked up, and that was all.
She was seven, she had the sweetest yet most mischievous smile I had ever seen, and she had no one to watch her games.
I loved her too.
As we began the trek to the dugouts, I noticed Logan slogging bravely through the mud, trying to juggle her bag, bat, glove, miniature Gatorade cooler, and helmet.
Unlike the other girls, she'd had no one to help her pack up her bat bag when we finished warm-ups.
I caught up with her and said, "Logan, do you need help?"
She looked up at me, her blue eyes filling with relief.
"Yes," she said simply, putting the strap of her bat bag into my waiting hands.
I could see it written all over her face: the relief that she didn't have to try to drag all of her things through the mud while her teammates ran on ahead with their families.
The gratefulness that someone stopped to help her. There was almost a bit of surprise that I asked, and that hurt my heart the most, because it was like she was used to doing for herself.
Really, I had known from the first practice that coaching was it. I just wanted something else—a final confirmation.
God gave it to me on a rainy September night in the blue eyes of a seven-year-old.
I was meant to coach. But that wasn't all.
There was something more, something that I realized through my friend's suicide.
Yes, I was supposed to be there for the little girls like Abigail, to laugh with them and listen to them and love them and then wave as they went home with their loving parents.
Yet more than that, I was supposed to be there for the ones who were alone, who had no one to help them carry their bat bag, no one to cheer for them in softball and in life.
I am supposed to be there for the Logans.
Many questions are still unanswered.
I don't know where I'm going to college or what I'm going to study, and yes, that scares me.
But I know I'm meant to be a foster parent and a missionary working with kids through baseball and softball after college, and the thought of that brings me indescribable joy.
So, I'm asking you: what are you going to do?
Where do you feel God is calling you?
And if your answer is a fake grin and an "I don't know yet!", then I just want you to know: God will show you His plan.
It may be painful, it may not be fun, but the end result will be more amazing than anything you could ever have dreamed.
---
Share Your Thoughts in the Comment Section!

There are currently __ Comment(s)
---
Photo courtesy of Clokka and Flickr Creative Commons.
---