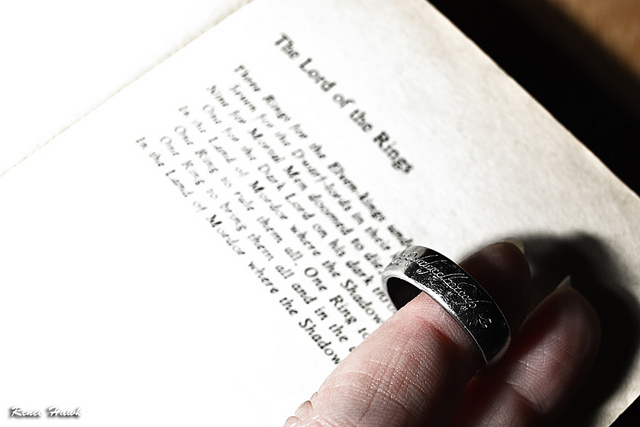 ---
"The One Ring to rule them all …"
If you've ever read (or seen) Lord of the Rings by J. R. R. Tolkien this probably sounds pretty familiar.
It happens to be the writing on the Ring of Power.
Recently my mom and I were watching The Fellowship of the Ring, and every time I watch this movie, Bilbo's reaction and mannerisms when he had to leave the Ring, and when he saw the Ring after being apart from it for so long, somewhat haunted me, along with Gollum's obsessive actions.
The gleam in their eyes was not of love or care; it was a selfish drive to appease their flesh. They wanted this Ring more than anything else.
"One Ring to rule them all, One Ring to find them. One Ring to bring them all and in darkness bind them."
The Ring obviously had a powerful effect on the owners' lives. They couldn't seem to be without the Ring for very long for fear of leaving behind a peace that was so dear to them.
This One Ring was more powerful than any others; it had control over them and nothing trumped it.
This One Ring had power to tie you to the dark side. It could bring the most evil about ever imagined if you wanted it to.
"One Ring to rule them all …"
As I watched this, I started wondering if we have "Rings" in our lives – obsessions that take our focus off of God and reflect the world.
For a lot of us, this could be electronics. It could be an addiction or something you think about constantly.
Think about this for a minute.
If you have a "Ring" in your life that has so much power over you, you could be Gollum or Bilbo. It freaked me out to look in their eyes when their focus and thoughts were on that Ring.
I know I never want to be seen that way and I am sure you don't either, so I challenge you to start working towards making your One Ring into Jesus.
Make Him the center.
Obviously we will never be perfect, but this is something we need to work at. And I totally get liking your electronics or enjoying shopping or listening to music. It's normal for us to like doing this stuff. And it isn't inherently bad. It just depends on the priority level it has.
It was extremely noticeable when someone was under the power of the Ring. My question is, what kind of change would happen if you were so in love and drawn to Jesus that everyone could notice it?
Would this start a revolution if we did this?
Are you willing to make Jesus your Only One?
---
Share Your Thoughts in the Comment Section!

There are currently __ Comment(s)
---
Photo courtesy of Renee Hawk and Flickr Creative Commons.
---