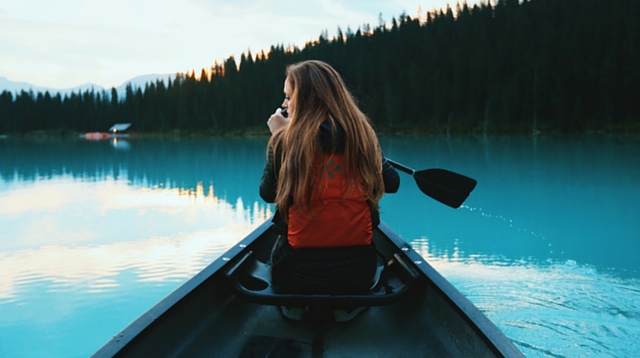 ---
"You're going to learn so much from college."
"You'll love it!"
"It's the time when you really find out who you are."
Words people had spoken to me filled my mind when I filled the grey car with the brown shelves and black backpack.
The words created an atmosphere of hope.
I pushed a pillow into an open space. I'm going to come right in to school and insert myself into all the areas that are open and needing change. I lifted a box of shoes on top of kitchenware. I'm going to lift myself right up to the top—the top of grades, success, and happiness.
Hope in itself is not a bad thing. However, misplaced hope can lead to disillusionment (and lead there quickly).
By month three of my college experience, I'd had a major reality check. Program applied and denied. Race ran and lost. Ideal job desired but withheld. It wasn't only external reality checks, though. I'd been wondering even more deeply.
Who really are you, Deborah? What makes you the person you are? What do your "skills" and "talents" and "natural bents" even matter? Do you really even have them in the first place?
Maybe you're not as smart as people have said. Look around; you're really not as good as everybody else. Who really are you, Deborah?
I had hoped. I entered college expecting I would immediately embrace who I always was and chase my dreams without hesitation. Reality was, I soon started hoping for one thing: that (one day) I could find myself again.
I felt lost, weak, and incapable. I was unhappy with this reality I did not expect.
However, it's often in our deepest moments of weakness that we experience the deepest moments of His strength (2 Corinthians 12:9-10). And learn? I did.
Identity Matters
You might think the quest to find yourself is for your own benefit. It's so you can be your full self and unlock full happiness.
Well, sometimes those elements result, but they result as a side effect.
The true reason finding identity is vital is because, then, you lose your preoccupation: you can lose your preoccupation with yourself.
You can recognize your most strong giftings and then turn from inside yourself and use them most strongly in serving others.
You can see what passions ignite you and then turn from inside yourself and see how these passions can let you shine light into the lives of fellow humans.
You see, identity isn't actually about you, and that is one of the most important realizations of how to find who you really are.
It's Not about You
Identity is not about embracing who you really are. It's about embracing who Jesus really is, and in embracing His truth, finding who you actually are.
Jesus is Lord (Luke 2:11). This means your identity is a servant of an All Powerful God (2 Corinthians 6:4). Jesus wants you to follow Him (Matthew 16:24). This means your identity is a follower of the God-Man.
He is the truth and the life (John 14:6). This means we are able to find the truth: the truth about our identity and the way to live "as our full selves." You see, He tells us very specifically how to find our full life.
You Need to Lose This
"For whoever wants to save their life will lose it, but whoever loses their life for me will find it" (Matthew 16:25).
The final step in finding who we are can be seen as this: completely losing ourselves to Jesus. When we continually surrender our life to Jesus on deeper and deeper levels, we will continue to know Him more. In this knowing (ultimately) we lose ourselves because we see truth—see Him—more clearly. We lose our focus on us and our desires and, instead, desire Him more and more.
This changes our actions. "The best way to find yourself is to lose yourself the service of others" (Gandhi).
In acting to lay our life down, we are able to pick up more of true, full life.
Why would we not?
My personal journey with identity (well) was so tough. But I am thankful for each moment when I was more deeply broken because this meant that I was more deeply able to come to Jesus in surrender.
Let me tell you: I am His.
This means so much for how I think and what I do. It's changing what my life looks like.
And one unexpected result? Freedom.
When we lose ourselves to Him, we truly find so, so much more.
---
Share Your Thoughts in the Comment Section!

There are currently __ Comment(s)
---