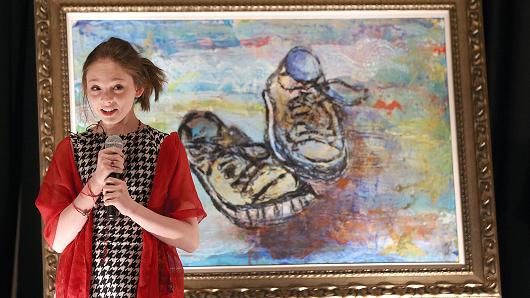 ---
(CNBC) – Doug de Forest discovered his daughter could paint when he was staining wood one day in his garage.
Autumn asked if she could help, so he set her up with a brush and a piece of plywood and got back to work. By the time he turned round again, the five-year-old had created something "like a Rothko".
That piece of wood now hangs in the kitchen of the de Forest home, in a quiet cul-de-sac on the sun-blasted perimeter of Las Vegas. There is an unmistakable talent in the hard lines, the slabs of colour and the sense of solid and void. "It was absolutely designed," says Doug. "There's no way it was by chance."
Wherever you look around the cool and spacious house, there are other pieces by Autumn, the US's foremost painting prodigy. A Picasso-esque canvas featuring a shapely figurine — modelled on her mother Katherine — hangs just inside the front door. In the corner is the inscription, "Autumn 2008". She was six.
There is another striking piece by the back door — a wax pastiche of the Grant Wood masterpiece of a glum-looking couple in front of a house. Instead of a pitchfork, the man is holding a huge crayon. It is called "American Graphic", and Autumn was nine when she made it.
Today she is a smart and pretty 14-year-old who cannot sit still. During our hour-long interview she jumps up several times to fetch books and other knick-knacks. In between posing for pictures she scrambles over furniture, skids around in her socks and cuddles Ginger, her "incredibly intelligent" seven-year-old poodle.
So far, Autumn's paintings have grossed about $7m in sales, according to Doug, who is descended from a line of artists connected to the Met in New York. He says he has set aside funds for college — Autumn has her eye on Yale — and has put mechanisms in place to prevent her from blowing the rest.
Yet it is hard to imagine his only child careening out of control. She says she admires Taylor Swift much more than Miley Cyrus.
In her free time she hangs out with children from the church down the road, where she volunteers.
Keep reading here.
Share Your Thoughts in the Comment Section!

There are currently __ Comment(s)
---
Photo courtesy of CNBC.
---