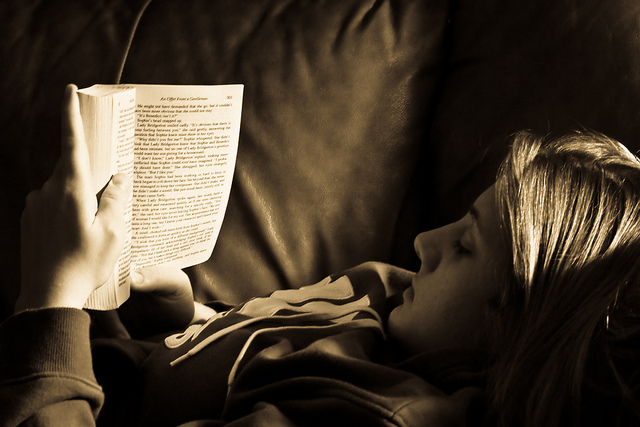 ---
For some, reading can be a pleasure. Yet to others it can be a burden too heavy to carry–let alone endure.
From a young age children are taught to read. They're taught to pace through sentences and pronounce words. As they grow up, education consistently emphasizes the important skill of reading.
As children we might have loved and enjoyed reading, but for some reason, growing up tends to make reading a problem. Perhaps it's due to the long hours we're forced to read academic books that we don't enjoy or even understand—or maybe it's just that we're too busy to read.
Whatever the excuse, it can't be argued that reading is not important.
In this article I have five ways you can create a habit of reading. I specifically focus on personal developmental reading, and not academic or work related reading.
Hopefully this will not only help you make reading a habit but also make your reading time enjoyable and fruitful.
1. Pray about it.
There's nothing in this world that surpasses the power and effectiveness of authentic prayer.
If you want reading to become a habit and something that you enjoy doing, then pray and ask God to give you the strength needed to endure such a habit.
In John 15:7, Jesus promises that, "If you abide in Me, and My words abide in you, you will ask what you desire, and it shall be done for you." Therefore, your praying and asking for this habit should be in the context of God's will as you abide in Christ.
2. Set reading goals.
After you've prayed about your desire to become a habitual reader, you then need to put in some work. The wisdom-filled Solomon tells us we shouldn't only desire but be diligent enough to work toward those desires (Proverbs 13:4). That starts by planning and setting some doable reading goals.
You don't have to wait for December to set resolutions for the upcoming months and years. Every day is an opportunity to look at Christ afresh and be inspired to live for Him. Therefore start being serious today.
Take a pen or device and write down where you want to see yourself, in terms of reading, in the next few months. You can start with three months, then six, then twelve. The next two points are meant to help you see how you can do that.
Why is it important to literally write down your reading goals? I mean, can't you just keep them in your head?
Writing down those goals is important because you'll be able to time and again visit them and remind yourself of where you're going. It will help you keep track of your progress from the beginning because they'll be there, waiting for you to look.
On the other hand, trying to remember your goals from memory can leave you confused, and you'll find yourself not doing anything progressive. Instead of being busy reading, you'll find yourself sitting and imagining where you could have been. Don't strain your mind with things that you could easily write down for later visitation.
Be organized and not sloppy. Be diligent enough to think and write down your reading goals in an orderly Christ-exalting manner.
3. Start small.
Your goal could be, "I want to see myself reading at least ten books a year." That's a start. Remember that habits are difficult to create or break, therefore you should be willing to start small and steadily move toward your goal.
Many people fail to finish reading one book a year. Besides the busyness of life, that is caused by unrealistic expectations. If you're not used to reading, you can't expect yourself to all of a sudden easily finish a four-hundred page book.
Start by reading small material like articles. Aim to read at least one article each day. You can do that before going to bed or while commuting or cooking. That will help you get used to reading and finishing what you're reading.
As you get used to finishing what you're reading, you'll be challenged to read more and more. That's when you can start reading small books of about sixty to ninety pages, and before you know it, you'll be reading long biographies and a dozen books a year.
The habit of reading is forged by consistently disciplining yourself to read and finish small materials.
4. Set aside reading time.
To become a reader who will last for the long haul, set aside time for reading. Just like when you would set aside a time of Bible study and prayer each day, make time to read.
Especially when reading full books, allocate a time in your day where you can just sit with a hot cup of tea and read. If you're unable to read each day due to other commitments, then set aside as much time as you possibly can each week.
You can also use your commuting time to read—although I discourage doing this every day, as meeting people and evangelism best happens when commuting. Weekends and holidays could be your best days for catching up.
Without intentionally allocating a certain time for reading, you can easily procrastinate. Even as a habit, reading requires some level of discipline.
5. Don't read merely for the sake of reading.
Apart from praying (as seen in the first point), this is the most important point. Don't relax and forget that as Christians we're at war, and Satan can use what we read to trample us and hold us captive.
Your heart and mind are precious, so keep them clean by reading pure, biblically-sound articles and books. Don't read just for the sake of reading.
The best way of discerning whether to keep reading a certain article or book, is to remember Paul's words in Philippians 4:8:
"Finally, brethren, whatever things are true, whatever things are noble, whatever things are just, whatever things are pure, whatever things are lovely, whatever things are of good report, if there is any virtue and if there is anything praiseworthy—meditate on these things."
As a Christian you need to exercise discernment (1 Thessalonians 5:21-22). That's why praying about what you read is very important. That's why your time of daily devotions and Bible study is very important.
Satan is fighting to hold your mind captive, therefore use Scripture to discern good from evil.
Asking your pastor or your fellow brothers and sisters in Christ who read to recommend books for you is also helpful. But biblically test all things first. You can also find good recommended reading lists on different Christ-saturated websites and bookstores, or even at your local church.
Following the above five points can help you create a biblical habit of reading.
That's how I moved from being a not-so-interested-in-reading guy who wasted most of his time playing video games, to becoming a reader and a writer who has published a book and is writing more.
Put off bad habits and put on God-exalting and Christ-magnifying habits that will fill your Christian life with an eternal passion for Jesus Christ.
---
Share Your Thoughts in the Comment Section!

There are currently __ Comment(s)
---
Photo courtesy of Rob Tolomel and Flickr Creative Commons.
---