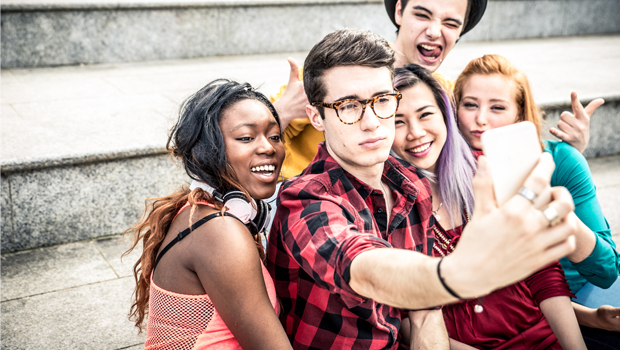 "Technology is so immersive, it's like oxygen."
So says Tony Reinke, a senior staff writer and researcher for desiringGod, who has studied culture and technology for years.
"It's so around us that we don't even recognize technology as what it is. We're sort of bathed in technology, if you will."
He's right. In our day and age, technology is pervasive, and, in our culture, ubiquitous – especially among our generation. Everybody's talking about teens and technology these days.
Which is why it's critical that Christian teens think about how to use media in a way that glorifies God.
To this end, I was privileged to sit down and talk to Tony Reinke about that very subject.
Tony has just written a phenomenal book called 12 Ways Your Phone is Changing You, which comes out on April 30, 2017. He's a non-profit journalist who has worked primarily online for the last nine years and he describes his beat as "where the dominant media of our culture intersect with the Christian life."
With insight and grace, Tony answers my questions about whether Christians can and should use technology, what advice he'd give a teen unboxing their first smartphone, how to use social media, why digital detox is so important, the greatest danger for teens and technology, and more.
Perhaps you're a teen who has just been gifted with new technology for Christmas, or perhaps you're a parent who's just done the gifting. This is a conversation for you.
You can listen to our interview in full below:
---
The Questions and Highlights
2:47 – Is technology inherently a bad thing, and, if not, how should Christians use technology?
4:15 – Tony gives an overview of the history of technology, from Eden to New Creation.
9:21 – What would you say to a teenager unboxing their first smartphone?
16:39 – Should Christian teens use social media, and, if so, what advice would you give us on usage?
21:36 – Do you think digital detoxes are a good idea? How should teens (or anybody) go about them?
25:43 – How should we deal with the pressure to constantly be digitally connected?
29:34 – What do you think is the greatest danger for teenagers and technology?
37:01 – What steps can teens take to engage in technology in a better, healthier, more biblical way?
40:45 – What is one book related to technology that you think every teen should consider reading?
Some Key Quotes
Technology has always been part of the world God created. It's just been unfolding at different speeds, and now I would say that we are living in an age where we have to adapt so fast because technology is changing faster than it probably ever has before. And so when we're talking about technology and whether it's good or evil, then it really becomes a question of, "How do we use the technology?" (8:16)

To a first time smartphone unboxer I would say, "See the power of the phone, embrace the potential of it, and stand in awe of just how wonderful this technology is and what you could do with it." (15:49)

I think the greatest danger for teenagers living in the digital age is that they will lose a sense of the true value of the local church. (29:57)

The world is looking for solutions about how the digital age is rewiring [teens], what it looks like to be healthy in social media, and the church stands here with arms open wide, doors open wide, saying, "Come here and experience what God intends for you as a whole person – not just as a brain that types words on a screen through thumbs but as a mind and a heart and a soul, a whole person that needs to be reborn, a whole person that can fellowship and worship and experience this fullness of joy." (35:57)

If you have Christ and you have a phone, you have a mission and you have a message. (37:44)

[Using social media well] is not just about talking about Scripture and doctrine and ethics, but it's about taking God's truth and His goodness and His beauty and letting that intersect with who we are and the story that He is writing for our lives. (39:42)

We need to keep thinking through what technology means for our lives, for the church, for our communities, for our families. That conversation isn't going to end, but I think it does need to start, and that's what I'm trying to do. (53:18)
Recommended Resources
Tony's Author Page at desiringGod
Pre-order 12 Ways Your Phone is Changing You
"Know When to Walk Away: A 12-Step Digital Detox" (Tony's article at desiringGod)
"Going Deep on Our Smartphone and Social Media Habits: An Interview with Alistair Roberts"
---
Also From Jaquelle Crowe: