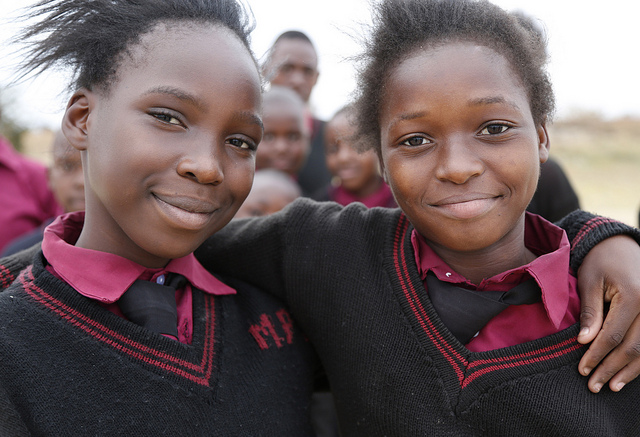 ---
What is your dream that you hope will make a difference? What is your work to change the world? Do you want to feed hungry children in Africa? Be a missionary to China? Cure diseases in impoverished areas or help communities affected by HIV/AIDS?
I've heard (or read) people say all of these things. The interesting thing about all those dreams I mentioned, is that a lot of them are said by people who are half a world away. An American girl wanting to be a missionary to Africa, an African girl wanting to be a missionary to China.
They are all good desires and aspirations, but what about where you are? What about the hungry man on the corner or the family that doesn't have enough money to eat properly?
I live in South Africa amid a mix of poverty and affluence. There are towns with expensive houses and malls mere meters from squatter camps. Although I've always known the poverty and need, I guess you become used to it. It's just there.
The team that I am a part of this year has the slogan: "We love. We serve". As a part of what we do, we play with and show love to orphaned and abandoned children, teach Bible Ed classes in a school, run youth ministries, visit sick people and an old age home, and help pack and hand out parcels in villages. In the past I've visited African villages to run programs for the children. It's interesting to me how these are things that others dream of doing. Travelling to Africa one day to feed children and introduce them to Jesus is something that I have read on blogs and in books many times.
Except this isn't one day. It is right here, right outside, right in my town. Yet to me; whilst all of this can be enjoyable, difficult, exciting, and needed; sometimes it seems that it is not as exciting as one day setting off on a mission trip to Japan. Yet it is just as important.
But you will receive power when the Holy Spirit comes on you and you will be my witnesses in Jerusalem, and in all Judea and Samaria, and to the ends of the earth. – Acts 1:8
This is my Jerusalem. Maybe one day I will have the opportunity of going to the "ends of the earth", but this is where I am. This is where I am meant to be now and this is the work I have been given to do. I still have chances to love like Jesus did, serve like Jesus served and that's the whole point, isn't it?
What about you? Maybe you dream of travelling somewhere, being a missionary far away, impacting the world in a specific way. Sometimes it takes time for the calling that you have to a certain place to come into action. So what about now? What about where you are? Wherever you are there is something you can do to show the world God's love.
What are you doing in your Jerusalem?
---
Share Your Thoughts in the Comment Section!

There are currently __ Comment(s)
---
Photo courtesy of DFID and Flickr Creative Commons.
---