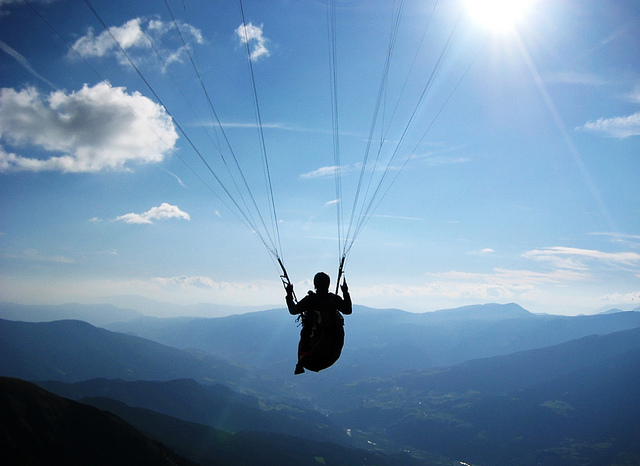 I have a question for you: What is holding you back from following God with all your heart?
Perhaps nothing is. If so, that's great! Keep it up!
But some of us just can't make up our minds about what to do with our lives. Others know what they should do, but don't have the time or finances to get started.
If you're like me, the big problem–the thing keeping you from fully entering into God's adventure–is fear.
Simple, raw, paralyzing fear.
Fear of the unknown, the risky, the uncomfortable.
Really, fear is at the bottom of everything that holds us back.
I can't make up my mind about what dream to pursue because I don't want to make the wrong decision. So in the end, I don't make any at all. I fear wasting my time and money on my dreams because I don't want to wake up at 30-years-old, dirt poor with nothing to show for it. So I maintain the status quo — which really isn't much, to be honest.
Fear keeps me from pursuing the beautiful but risky desires God has laid on my heart. It's easy to hold back, to make excuses, to say things like "I'm too young" or "I'm not ready."
It's safer to sit in boot camp instead of engaging the battle. Sure, the structure and rules of camp get old after awhile, but at least you don't risk your life.
This is true. Sitting in boot camp for the rest of your life is safe. But you know what else?
It's pointless. Meaningless. Unhelpful.
Boring.
Soldiers don't sit in boot camp for their entire careers. They either go to battle or they go home.
Going to battle is scary, though. It freaks me out. Perhaps it freaks you out, too.
But you know what? We don't have to give into fear. Why? Because Jesus didn't give us a spirit of fear, but of power, love, and self-control (2 Timothy 1:7). He said nothing is impossible with God (Luke 1:37). He declared we are more than conquerors through Him (Romans 8:37).
Therefore, we fear no evil.
If you don't believe me, I want to prove it to you. For the next month on my YouTube channel, Wild:Life, I am going to face a scary thing per week and I'm going to record and upload the experiences to the channel so you can see for yourself that it can be done.
The first several challenges are things I personally fear, but I'm not doing this just for myself. I want to show you that you can face your fears, and overcome them. If I can do it, you can do it, too!
So I need your help.
I want to know that one thing which scares you out of your mind.
Maybe that's talking to someone about Jesus. Maybe that's playing an instrument in front of your friends. Maybe it's jumping off a cliff.
Whatever it is, I want to prove to you it can be done.
Yep, that's right: if you're willing to tell me the one thing that freaks you out the most, I'm willing to do it with you.
I want as many people as possible to see their fears can be conquered. So do me a favor, comment, thumb-up, and share this video so your friends see it too. While you're at it, subscribe to my channel. It's a big help!
Do you think it can be done? Remember, it's not your neck on the line, it's mine. So why not give it a shot?
Let's not let fear hold us back! Let's conquer our fears.
P.S. I'm serious about this. What are your fears? Nothing is too big or too small. Let me know in the comments below!
---
Share Your Thoughts in the Comment Section!

There are currently __ Comment(s)
---
Photo courtesy of Reyner Media and Flickr Creative Commons.
---