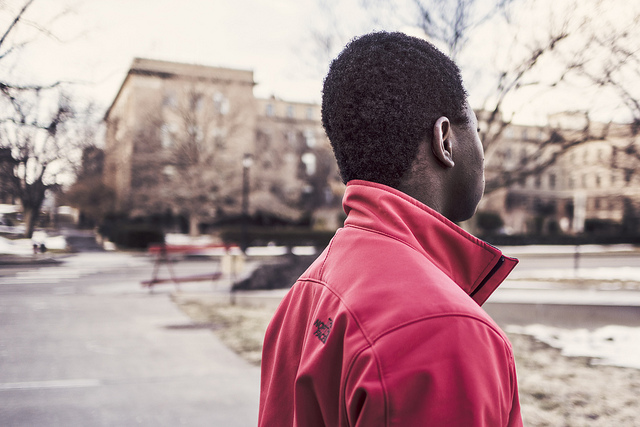 ---
Look, I'm young.
My mom, like every other parent who watches this cyclical thing called life turn little kids into grownups, would probably suggest otherwise. To acknowledge that her first child, once a boy without even an inkling of how to put one foot in front of the other, let alone pen to paper as a future writer, is now 22 years old would be to admit that I am, well, not a kid anymore.
But I am still young
I'm about as adept with social media and our digital age as one could be. You can find me on Twitter. I wear Joggers. Hip-hop mostly comprises my playlist.
It at least sounds Millennial, right? It sounds like I fit squarely into my generational mold.
Except, in many ways, I don't.
Because my – your – generation, which happens to be the largest in Western history, is also largely in staunch contrast to the type of life I want to live. Its opportunities, its freedoms, are unparalleled gifts. We have technology like never before and a world that tells us we can be whatever we want to be. Quite often, we have the avenues at school or at work to make those dreams come true, too.
But this generation also frequently overlooks a lifestyle I long to uphold – a path that, in only 22 years on this Earth, has unveiled a miraculous fulfillment unlike the kind our culture demands I seek elsewhere.
It is a path called Christianity. Not the one that ignores the unconditional love of Jesus Christ for the sake of standing up for the Republican or Democratic party. Not the one that many of us shrugged off post-Sunday School – the one that never amounted to more than a weekly tradition.
No, I am talking about the path that we've often ignored. The path that new and old friends alike hesitate to affirm. Heck, the path that some of my own family hesitates to affirm. The path that has me constantly looking to go back to the future.
Back to the old-fashioned, "outdated" pursuit of a relationship with Jesus Christ – a rebellion against a society that pushes for self-driven, self-sustained life. And, most of all, back to a journey that enriches my soul in ways far greater than the world's promises of sexual, material and emotional satisfaction.
Going Against The Millennial Wave
The weight of individualism in our society is heavy. It has smudged the "American dream" to the point that our nation and my generation, Christians included, seek personal comfort above all. We are trained to make ourselves happy before thinking or caring for others, let alone any kind of divine power that could rescue us from brokenness. We are molded by limitless information, convinced that we can have whatever we want, whenever we want, all the while being urged to perfect how we look and how we are perceived in a digital world.
In the past, it has taken no more than a string of unanswered, unpopular tweets from my iPhone to have me feeling uneasy, as if my words or my persona aren't being justified.
If nobody likes this post, maybe I'll just delete it and post it at a better time.
How conditioned to seeking superficial approval must I have been to put so much stock in a fleeting 140 characters? The scary part is this kind of thing can be an everyday issue, and it's indicative of the way we are all, knowingly or not, trying to find our worth in something.
High-school popularity. A boyfriend or a girlfriend. Lots of money. Nice clothes.
Thankfully, and undeservedly so, I know I've now found worth in something that lasts. Something much less flimsy than Instagram likes or big paychecks. It goes against that Millennial wave. But it's sure quieted fears that extend well beyond the scope of, say, a dud of a Twitter post.
Letting Go And Letting God
It was when I finally stopped centering my satisfaction on the idea of finding a relationship that I met the woman who is now my proudly wedded wife. It was when I finally stopped banking on other peoples' approval that I could embrace the personality with which God gifted me. It's a personality with a little weirdness, and it's one that had more fondness for reading a book than drinking beer at a can't-miss party, but it's who I am, and I'm unashamed to say so.
And it was when I finally stopped trying to sustain – and, more so, save – myself through efforts to be "good enough" that I decided to fully rest in the firmer foundation of Jesus Christ.
And to stop, to let go of ourselves and let God guide us, I knew I had to and still have to revert to those "old-fashioned" principles.
Doing so, of course, isn't always easy, nor should it be. Conforming to a me-first attitude is a lot easier. So is ignoring God altogether in a world rampant with pain. And, at the end of the day, why bother with church if I'm told I can build and live my life the way I want to without God?
The truth is that enduring the rigors of a narrow path is what leads to stronger faith and a better destination (Matthew 7:13).
In that fight to be an outcast, it was vital for me to let go of:
An urge to find worth in what other people think of us (Galatians 1:10)
A stubborn belief that some people "deserve" more or less than others, even though all people are imperfect (James 4:12)
Personal goals that revolved only around myself, causing me to seek "my will" rather than "thy will" (James 4:13-15)
The misconception that only certain parts of the Bible apply to my life or its circumstances (James 2:10)
The Ultimate Fulfillment
And why is it all worth it?
James 2:20 says that "faith without works is dead," but just by realizing that our only route to God is through trust and belief in Jesus Christ, the perfect one who sacrificed himself to pay the penalty for our sins (Romans 5:6-9), we have our motivation. We have a release from the strain to try to be perfect or to "save" ourselves.
It's real. It's fulfilling. It saved me.
Yes, I'm young. But I'm forever grateful to be old fashioned.
---
Share Your Thoughts in the Comment Section!
---
Photo courtesy of Free for Commercial Use via Flickr Creative Commons.
---