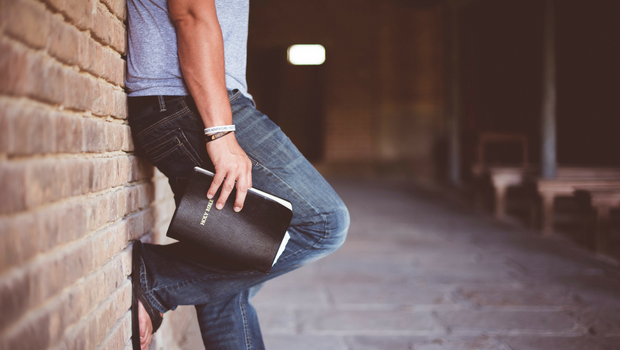 I sweated at a table in the middle of Starbucks.
The previous week, I had agreed to study the Bible with a customer, but now here he was with someone I didn't know. They came to the table and the customer introduced me to his friend, Diego.
"Yo, dog. So good to meet another believer!" he said, pulling me in for a hug. "Do not make eye contact," I repeated to myself, avoiding my coworkers' questioning glances and smirking faces. As I tried to steady my voice for the Bible study, Diego interjected, touching my arm.
"Bro, does your left arm hurt?" he asked.
"Is my left arm suppose to hurt?" I thought to myself before answering to the negative.
"Really, dog? Because I could totally pray for you if it did."
Moments later, the study derailed and I failed to keep everyone on track. At the finale, Diego requested a group hug and proceeded to pray in his outside voice. My face flushed as my coworkers stared at this strange sight. And I think my left arm twitched.
Leaving the disaster behind, I walked out of Starbucks weighed down with doubt.
I don't know how to initiate and continue a study.
I don't know enough or have enough experience.
My friends now think I'm weird.
What was standing between me and me sharing the gospel? Persistent, paralyzing doubt and fear.
Why is sharing the gospel so hard?
Sharing the good news can feel scary, but we're not alone. An 80-year-old man who led 2 million people through a wilderness for 40 years had doubts and fears too.
And his name is Moses.
Who Am I?
God gave the gigantic task of leading the Hebrews out of slavery to His man Moses. Moses looked from task to self, assessing his knowledge and qualifications. And the results were far from reassuring — gaping insufficiency and deficient ability.
Who am I?  (Exodus 3:11)
Moses called it quits, believing his insignificance exempted him from God's call. Instead of answering with a pep talk, God ignores his question. It's like God is saying, "You're insufficient? Not capable? Yeah, I know."
Moses' math was right: Moses + task = impossible. But his equation was wrong: Moses + God + task = possible. This wasn't about Moses' insignificance; it was about the God who was present.
"But I will be with you…" (Exodus 3:12)
If we go back to God's commission to Moses, we can see God was telling him this truth all along.
"Come, I will send you to Pharaoh…" (Exodus 3:10)
This is more than a commission to "go" — it's a promise. Wait! Where's the promise?
Let's see what happens when we translate verse 10 literally: "When you go, it will be me who sends you." What does it mean?
If Moses goes, then God is promising to send him with His backing, authority, and presence. This was not about what Moses could or couldn't do; it was about what God can do, will do, and promises to do.
And He promises to be present.
Who He Is
How is this going to help us overcome our doubts and fears of sharing the gospel?
Isaiah 7:14 gives us the answer. In this prophecy, God reveals His coming Son named Immanuel. In Hebrew, Immanuel means "God is with us". Now fast forward to the first chapter in the New Testament, Matthew 1:23.
Behold, the virgin shall conceive and bear a son, and they shall call his name Immanuel.
Sound familiar? It should because it's a direct quote from Isaiah! Now fast forward to the last chapter, Matthew 28:19-20.
Go therefore and make disciples of all nations… And behold, I am with you always, to the end of the age.
"I am with you…" Sound familiar?
In Isaiah, "God is with us" is coming.
In Matthew 1, "God is with us" is here.
In Matthew 28, "God is with us" will always be here.
This is more than a great commission — it's an incredible promise.
If we will just go, God promises to send us with His authority and presence. Once the LORD — the One who has always existed, exists, and will always continue to exist — is in the equation, proclaiming the gospel no longer hinges on our strengths and weaknesses. Once Jesus — the One who will be with us to the end of the age — is on our side, what doubts and fears shall cripple us?
Despite all our burdens and imperfections, His presence will be right there. Even at a table in the middle of Starbucks.
And that's a promise.
---