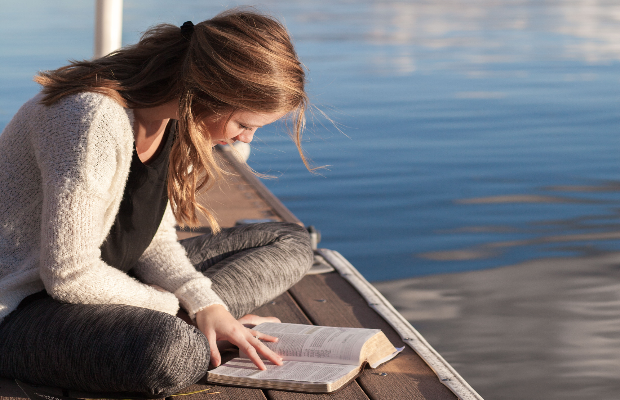 ---
Two years ago, my life changed: I started attending a girls' bible study each week.
Although I was going to church and reading my devotionals almost every day, I wasn't making time with the Lord a priority. As soon as I started going to this study, however, I was powerfully challenged in my walk with God.
At the end of that year, the leader gave me a book on prayer. As I read it, I started to develop a prayer/bible study time and eventually began my days with Jesus. It was such a beautiful transition in my life, and one that I am so thankful for.
However, since that time, I have noticed how easy it can be to let other things steal my attention away from my time with the Lord. For example, it can be tempting to look at my phone before I read the Word in the morning or check it during my time with Him. There have been mornings where I don't really feel like spending time with Jesus.
This can easily happen to any of us. If we allow them to, distractions can steal our attention from the One who our soul was designed to love.
So in the midst of a distracting world, how can we build our lives upon Christ? How can we make Him our all-in-all and our solid ground when our lives are full and we don't always feel like spending time with Him?
In this post I want to share with you 3 practical ways to start building your life around Christ, today. Don't be overwhelmed, but take them one step at a time and think about what God is saying to you.
Let's check them out!

 1. Spend time with the Lord
It's vital to intentionally cut out time each day to spend with the Lord, reading his Word and praying. If you're trying to grow a relationship with someone, how can you do it without spending time with them? It's the basis of all relationships, including our relationship with God. Matthew 6:33 says, "But seek first God's Kingdom, and his righteousness; and all these things will be given to you as well."
If you don't already, I highly encourage you to make time every day to spend with Jesus. This will look different for all of us, but we all need to do it. Maybe start with meditating on a verse or passage before you get ready for the day, if you're able, spend 30 minutes to an hour in prayer, worship, and reading God's Word. Simply make an effort and be intentional. Put aside your phone and any other distractions, get alone and just be with God.
For those of you already spending time with Jesus each day, that's awesome! I encourage you to constantly strive to go deeper in your time with the Lord. There's always more to find out about God, his Word, and you can always go deeper into his well of goodness.
Don't settle for being stagnant.
2. Hide His Word in your heart
It says in Psalm 119:11, "I have stored up your word in my heart, that I might not sin against you." His Word is truth and our help at all times. Be sure you know it and hide it in your heart. When you do this, you can redirect any thoughts that are not of God to his Truth.
Don't read the Bible like a novel. Slow down, read, and even reread passages. Take notes and pray about what you're studying.
As you meditate on and memorize his Word, remember that it's not your speed or skill that matters, but learning to know the heart of our Father.
3. Live Out the Word in Obedience
There are moments that I skim through the Word and don't slow down to think about it. In order that I live for Jesus, though, I must stop to understand what His Word is saying and what it looks like for me to live it out in everyday life.
Learn from what you're reading by hearing the truth and then obeying. Let God and His Word be your teacher. His Truth is what helps us keep our lives pure and holy before God, and it brings life.
I love what it says in Psalm 119:9, "How can a young man keep his way pure? By guarding it according to your Word." Know what it says (from Genesis to Revelation) and then do it. If there's something you don't understand, ask God to help you, and he will.

 What are some more practical ways that you can start building your life around Christ today?
---
Share Your Thoughts in the Comment Section!
---